February 23, 2021
$12 million facility brings athletes, sports medicine physicians, rehabilitation, fitness under one roof
ALLEN, Texas — Leaders from Texas Health Sports Medicine joined with Athlete Training and Health and Texas Health Sports Medicine Specialists, a Texas Health Physicians Group practice, to celebrate the official opening of a new sports medicine and sports performance facility at Texas Health Presbyterian Hospital Allen.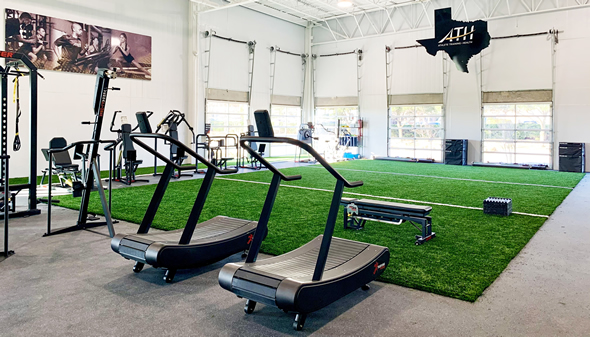 Texas Health Athlete Complex
Texas Health Athlete Complex, a collaboration with Athlete Training and Health, brings science-based wellness and athletic performance training to Allen and the surrounding Collin County communities.
"This collaboration is an exciting one for people of all athletic skill levels in our area," said Jared Shelton, FACHE, president of Texas Health Allen. "It brings together professionals from all aspects of human performance; injury prevention, treatment and rehabilitation; and fitness in a dedicated facility that helps us live our mission of improving the health and well-being of the people in the communities we serve."
The $12 million facility, located on the Texas Health Allen campus, offers sports performance training, testing and fitness programs for the general public — teams, organizations, families and individuals of all ages and abilities. The complex provides athletes and fitness enthusiasts with access to primary care sports medicine specialists, rehabilitation for injuries, fitness classes and performance training in one convenient location.
"Our vision for the Texas Health Athlete Complex is to provide multiple health and wellness services along with youth sports to serve the entire community," said Daniel Cooper, chief strategy officer at Athlete Training and Health. "We approach fitness through education and a clear understanding of where you are and where you want to go. That's why we have a small coach-to-member ratio in all our classes."
The new 31,000-square-foot building includes an indoor turf field and a full-length outdoor soccer field, as well as strength and conditioning equipment. Athletes and weekend warriors will also have access to on-site orthopedic physicians and expert performance coaches.
"The facility is centered on improving health in a way that brings together the best in sports science, sports medicine and research," said Dreux Bourque, executive director of operations at Texas Health Physicians Group.
One unique feature is an on-site 3-D motion lab where sports medicine specialists will be able to capture and understand athletes' movements to determine where injuries could occur. Motion capture allows movements to be viewed and analyzed at a high rate of speed in order to detect subtle deficiencies not seen by the human eye, Bourque said.
"We're committed to injury prevention as well as caring for athletes from the moment of injury to return-to-play and beyond," Bourque added.
Additional services offered at the new Texas Health Athlete Complex facility include:
Sports physical therapy and rehabilitation
Post-rehab return-to-play training
Speed and strength performance
NFL Combine training
Adult fitness and nutrition education
COVID-19 safety measures were put in place to help protect the health and safety of patients, members and staff. The facility is enforcing social distancing and mask guidelines, frequent cleaning and disinfecting of turf and equipment, and encouraging the use of sanitization stations in the training centers. Members are also required to register for classes ahead of time via their personal devices. Other COVID-19-related policies can be found here.
"Our large indoor facility, adjacent to our outdoor space, gives our members a lot of room to be active and improve health. We recognize this is even more critical during the pandemic," Cooper said.
Athlete Training and Health is collaborating with Allen ISD to provide benefits to both staff and students. Complimentary memberships to the Texas Health Athlete Complex will be provided to teachers and staff through the Allen ISD Employee Recognition program.
The facility is also offering free open gym access to Texas Health Allen employees and discounts to other Texas Health staff members. Follow this link for more information.
About Athlete Training and Health
This mission of Athlete Training and Health (ATH) is to utilize best practices from scientific research in human performance to provide a world-class training environment for athletes and adults of all fitness levels. ATH's forward-thinking approach of collaborating with hospital systems, professional sports teams, universities and independent school districts is setting new standards for health and performance training. ATH invests heavily in the post-graduate education of its performance coaches, who in turn develop evidence-led training programs guaranteed to deliver sustainable results. ATH's state-of-the-art facilities feature best-in-class turf fields, pro-style weight rooms and cutting edge technology to exceed the needs of our athletes, communities and healthcare partners. Based in Katy, Texas, ATH operates three training centers, two in the Houston metro area and one in Allen, Texas, where, thanks to ATH, the competition has never been healthier. For more, please visit athletetrainingandhealth.com.
About Texas Health Resources
Texas Health Resources is a faith-based, nonprofit health system that cares for more patients in North Texas than any other provider. With a service area that consists of 16 counties and more than 7 million people, the system is committed to providing quality, coordinated care through its Texas Health Physicians Group and 29 hospital locations under the banners of Texas Health Presbyterian, Texas Health Arlington Memorial, Texas Health Harris Methodist and Texas Health Huguley. Texas Health access points and services, ranging from acute-care hospitals and trauma centers to outpatient facilities and home health and preventive services, provide the full continuum of care for all stages of life. The system has more than 4,100 licensed hospital beds, 6,400 physicians with active staff privileges and more than 26,000 employees. For more information about Texas Health, call 1-877-THR-WELL, or visit www.TexasHealth.org.