December 20, 2021
Kathryn Callahan has crocheted holiday hats for Texas Health Southwest Fort Worth NICU babies for seven years
FORT WORTH, Texas — In the month leading up to most major holidays, you'll find Kathryn Callahan busy crocheting when not working as a NICU nurse at Texas Health Harris Methodist Hospital Southwest Fort Worth.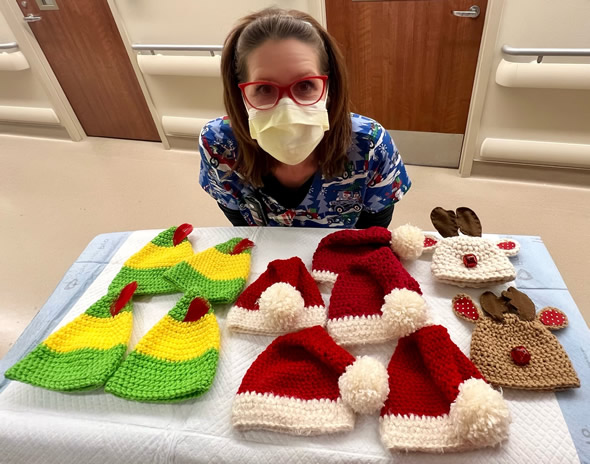 Kathryn Callahan has crocheted some 600 holiday caps for newborns over the past seven years.
For seven years, Callahan has been creating holiday-themed hats and other adornments for the NICU babies. With nine holidays celebrated in the unit each year, that's about 600 hats she's crocheted over the years.
"What motivates me to do this is my love for my patients and families, and I believe God gives each of us talents to share," Callahan said. "I am blessed to work in an awesome NICU where I can love on the babies and families and help them through a very stressful and scary time."
This holiday season, Callahan has crocheted more than a dozen Santa, elf and reindeer hats for the hospital's smallest patients. Each hat takes her about two to three hours to complete and is made using her own money and occasional contributions from co-workers.
"Kathryn is a ray of sunshine and truly a blessing to our NICU infants, parents and staff every day," said Melissa Alldredge, NICU manager. "I appreciate all of the time, hard work and creativeness she puts into making these precious keepsakes that bring so much joy to our patients' families."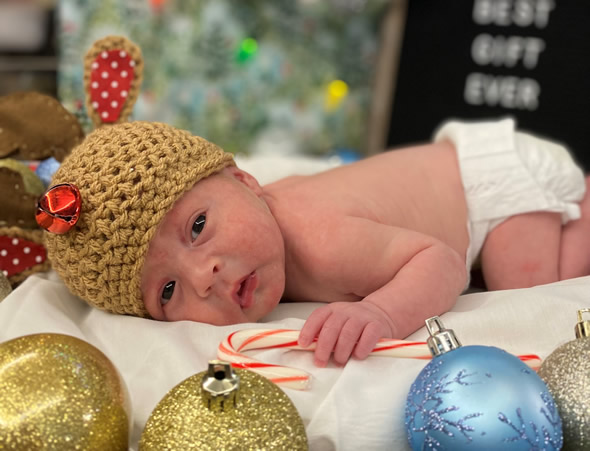 Babies in the NICU get crocheted caps to match nine different holidays during the year.
Callahan also sets up a holiday-themed photo booth, where parents can take pictures of their child showing off their new hat.
Callahan produces caps for seven different holiday themes each year.
"It's important for them to be able to celebrate all 'the firsts' with their babies," Callahan said. "I think the best thing about doing all this work is seeing how it touches the families and brings them joy."
About Texas Health Resources
Texas Health Resources is a faith-based, nonprofit health system that cares for more patients in North Texas than any other provider. With a service area that consists of 16 counties and more than 7 million people, the system is committed to providing quality, coordinated care through its Texas Health Physicians Group and 29 hospital locations under the banners of Texas Health Presbyterian, Texas Health Arlington Memorial, Texas Health Harris Methodist and Texas Health Huguley. Texas Health access points and services, ranging from acute-care hospitals and trauma centers to outpatient facilities and home health and preventive services, provide the full continuum of care for all stages of life. The system has more than 4,100 licensed hospital beds, 6,400 physicians with active staff privileges and more than 26,000 employees. For more information about Texas Health, call 1-877-THR-WELL, or visit www.TexasHealth.org.