September 28, 2021
Grant from Texas Health aids Eastside Ministries outreach into 76119 ZIP Code
FORT WORTH, Texas — Janelle Gonzales longed for a better future but often felt held back by her past.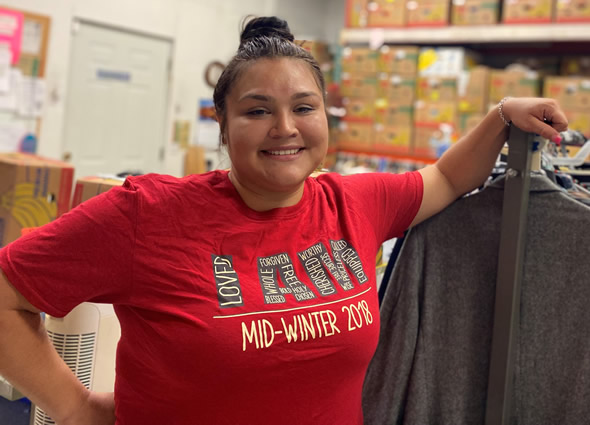 Janelle Gonzales
By age 13, she'd tried marijuana, alcohol and cocaine. By 15, she'd given birth to a son, followed by a second son the next year.
But after two stints in prison for drug convictions, Gonzales was determined to make a fresh start and in April, moved to a transitional home in Fort Worth.
"I took a leap of faith to come out here to Fort Worth on my own. Find my own direction," said Gonzales, now 33. "That's what was in my mind. I'm going to come out here and do it on my own."
But she wouldn't be on her own. What began as a volunteer job — a requirement of her transitional home at Eastside Ministries in east Fort Worth — led Gonzales to a new support group that has provided her not only services but also a job.
Under the Railroad project, a program supported by a Texas Health Community Health Impact grant, Gonzales has not only received services but is serving others, including as a translator for the project's Spanish-speaking clients.
"Working here in this environment and helping people has really helped me grow into the woman that I know I'm supposed to become," Gonzales said.
The Railroad Project
The $215,000 grant awarded by Texas Health to Eastside Ministries helps low-income adults living in the 76119 ZIP code in east Fort Worth with food, clothing and counseling with a goal of increasing their self-efficacy.
"Data collected in recent years shows almost 27 percent of the people in this ZIP code live below the poverty level," said Kimberlin Moore, M.S.N., R.N., program manager of the Texas Health Community Health Impact grant. "About 44 percent of residents have high blood pressure and almost 19 percent reported having more than 14 days of poor mental health. It's also a food desert with pretty much 100 percent of the population having limited access to healthy food so with this grant, in addressing those needs, we are really living our Mission and improving the lives of the people in the communities that we serve."
Rev. Denise Blakely, Eastside Ministries board president, first envisioned the Railroad project a decade ago while a senior pastor in Waco searching for ways to motivate people to change their lives. That dream finally took flight this past spring and has now expanded further into the 76119 ZIP code with help from a Community Health Impact grant. In addition to food and clothing, the project offers clients physical fitness classes, finance classes and mental health services, including depression assessments and access to counseling.
"Essentially what the Railroad does is break people out of stagnation; give them motivation for better lives as they determine what a better life should be," Blakely said. "What we do is we offer them the tools to continue to journey toward their better life. It's all about momentum."
Expanded Reach
Thanks to the grant, the Railroad project hosts mobile events in various settings within the 76119 ZIP code like church parking lots and community centers, where visitors are provided nonperishable items, produce and meat.
"They can shop for clothes and shoes and whatever hygiene items they need," said Jill Rodgers, treasurer for Eastside Ministries. "And they fill out our forms about mental health services with questions like if they're suffering from depression and if COVID has really caused a lot of stress in their lives. From that, we pick up on if they could use somebody to talk to and we have counselors available."
Blakely called the grant a "blessing."
"We've been able to triple the amount of people we serve every month," Blakely said. The agency is now serving about 2,500 people — or 632 families — a month.
The grant has also allowed Eastside Ministries to hire four additional staff members for the Railroad project, including Gonzales, who "has done for us is way more than we have done for her," Blakely said.
"We're having more Hispanic clients than ever, which was one of our goals. We wanted to bridge that gap and Janelle is the bridge. We thank God for the day she walked into our offices."
About Texas Health Resources
Texas Health Resources is a faith-based, nonprofit health system that cares for more patients in North Texas than any other provider. With a service area that consists of 16 counties and more than 7 million people, the system is committed to providing quality, coordinated care through its Texas Health Physicians Group and 29 hospital locations under the banners of Texas Health Presbyterian, Texas Health Arlington Memorial, Texas Health Harris Methodist and Texas Health Huguley. Texas Health access points and services, ranging from acute-care hospitals and trauma centers to outpatient facilities and home health and preventive services, provide the full continuum of care for all stages of life. The system has more than 4,100 licensed hospital beds, 6,400 physicians with active staff privileges and more than 26,000 employees. For more information about Texas Health, call 1-877-THR-WELL, or visit www.TexasHealth.org.