October 06, 2021
Texas Health Physicians Group oncologist discusses dangers of delaying mammogram or other diagnostic imaging
ARLINGTON, Texas — A Texas Health Physicians Group oncologist is cautioning women against delaying mammograms and other diagnostic imaging options during the pandemic, warning such delays could lead to higher stages of cancer and limited treatment options.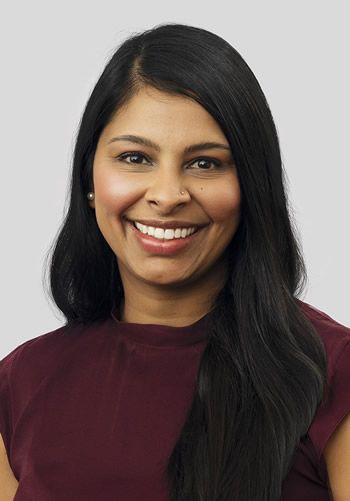 Radha Iyengar, M.D.
As October is Breast Cancer Awareness Month, it's a good time to remind women to schedule mammograms and diagnostic imaging if they've been putting it off, said Dr. Radha Iyengar, a breast surgical oncologist with the Texas Health Physicians Group who is on the medical staff at Texas Health Presbyterian Hospital Allen.
"When you're dealing with something that could be medically serious or life threatening, you should not delay getting evaluated or treated," Iyengar said. "The earlier we can find a cancer, the more options we have for treatment of that cancer."
A recent survey by the Prevent Cancer Foundation® of 2,003 women between the ages of 21 and 60 found 90 percent engaged in normal activities such as eating out and shopping after local pandemic restrictions were lifted but only 48 percent visited their doctor's office.
Before the pandemic, the Doris Kupferle Breast Center at Texas Health Harris Methodist Hospital Fort Worth and Texas Health's Mobile Health program averaged 682 screening mammograms a month. During the pandemic, however, that average has dropped 33 percent to 456 mammograms a month.
Iyengar said fear of catching COVID-19 and a lack of health insurance are among the most common reasons she's heard for women delaying getting a mammogram or diagnostic imaging of a breast issue during the pandemic.
"Almost all breast cancers have some sort of initial treatment that we can provide to help delay the spread or even kill the cancer," Iyengar said. "Stages 0, 1, 2 and 3 — these are all curable stages of cancer. But, if a patient already has signs of a Stage 3 cancer — large mass, enlarged lymph nodes, nonpainful swelling and redness in the breast — and then they delayed diagnosis and treatment, there's more of a chance of that cancer spreading and potentially becoming Stage 4. Stage 4 is still potentially treatable but no longer considered curable."
Catching breast cancer early, Iyengar said, also may provide women more treatment options.
"Most women don't want to have harsher therapies, like chemotherapy, if they can avoid it, so the earlier you get diagnosed with something, the less likely you are to potentially need to have those types of treatments," Iyengar said.
For those who fear they may catch COVID in a hospital or clinic setting, Iyengar points out that medical facilities have implemented rigid COVID-19 protocols to protect employees and patients seeking screenings and treatment.
"As long as you're maintaining safety precautions, it should be safe to have testing done," Iyengar said.
She said resources are also available for women who lack insurance or have financial concerns that may be preventing them from getting screened, tested or treated.
Texas Health Resources offers mammograms and well female exams through its mobile health program at no cost to women that do not have health insurance and meet 200 percent of Federal Poverty Guidelines. To schedule an appointment, call 1-855-318-7696.
The Texas Department of State Health Services offers breast and cervical cancer screenings and diagnostic services to eligible low-income, uninsured and underserved women and can help eligible women apply for a Medicaid program that assists in getting treatment for breast and cervical cancer.
Iyengar also recommends that individuals currently receiving treatment for cancer get the COVID-19 vaccine.
"You're going to potentially be immunocompromised either by having a cancer or going through treatments that could leave you immunocompromised," Iyengar said. "Especially if you have not been exposed to the disease and haven't had at least a mild illness with COVID, getting the vaccine would be protective and at least help reduce the severity of the disease if you were to catch it in the future."
If you are due for a mammogram and have recently received the COVID-19 vaccine, the Centers for Disease Control and Prevention recommends asking your doctor how long you should wait after vaccination to get your mammogram, due to the possibility of swelling in the lymph nodes from the shot that could cause a false reading on a mammogram.
For more information about who should have a mammogram or to schedule a mammogram at a Texas Health facility, visit the Texas Health website at TexasHealth.org/When-Mammogram.
About Texas Health Resources
Texas Health Resources is a faith-based, nonprofit health system that cares for more patients in North Texas than any other provider. With a service area that consists of 16 counties and more than 7 million people, the system is committed to providing quality, coordinated care through its Texas Health Physicians Group and 29 hospital locations under the banners of Texas Health Presbyterian, Texas Health Arlington Memorial, Texas Health Harris Methodist and Texas Health Huguley. Texas Health access points and services, ranging from acute-care hospitals and trauma centers to outpatient facilities and home health and preventive services, provide the full continuum of care for all stages of life. The system has more than 4,100 licensed hospital beds, 6,400 physicians with active staff privileges and more than 26,000 employees. For more information about Texas Health, call 1-877-THR-WELL, or visit www.TexasHealth.org.