January 14, 2021
Texas Health staffing three clinics in Tarrant County
TARRANT COUNTY, Texas — With a cheer and recognition that "we are making history," the Texas Health Community Clinic in Bedford opened and began vaccinating community members at noon on Tuesday.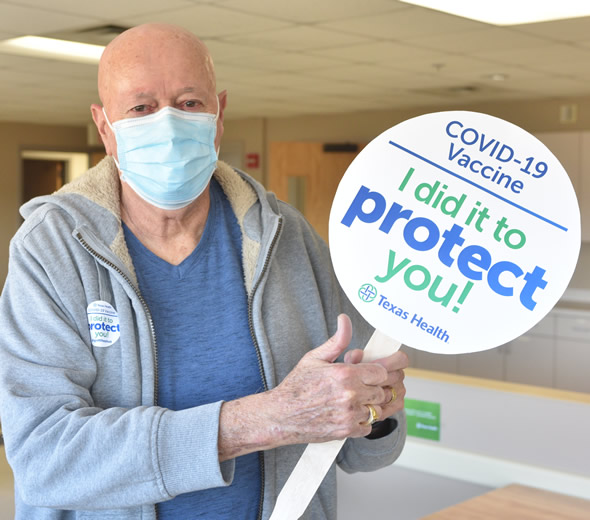 Jon Wingard picked up a souvenir after being the first individual vaccinated at the Bedford clinic.
Eighty-four-year-old Jon Wingard was first through the door.
"It's been difficult being housebound," he said. "I'm looking forward to everyone getting vaccinated, and we can get back to normal."
Within minutes, the clinic was buzzing with activity. A team was registering patients at the front of the clinic. Patients were escorted by a nurse to exam rooms. A team of nurses prepared vaccines in the middle of the clinic.
The positive emotions that accompanied the activity was clear. Sparkling eyes hinted at smiles behind masks. Laughter could be heard in exam rooms. Kindness could be seen as patients, many of them older adults who moved slowly, were escorted through the hallways.
The significance of the clinic and the compassion on display were not lost on Winjie Miao, senior executive vice president and chief experience officer, as she walked the halls.
"Every time we have been tested during this pandemic, every time we are asked to come through for the community, we show the best of who we are," she said, her voice choked with emotion.
Joni Padden, D.N.P., APRN, ACNS-BC, IN-BC, CPHIMS, chief nursing informatics officer, hustled through the clinic organizing nurses and processes.
"We finally have something proactive we can do, and this is so uplifting for us all," she said. "It is a prayer answered."
Exam Room One
Nurse Sonia Sims was encouraging patients and providing vaccines in Exam Room 1. Careful to speak loudly when needed, she and her patients could be heard celebrating the vaccine.
"Seeing the expressions on the patients' faces as they come in has been great," she said. "They're excited, and I'm excited. It's a great feeling all the way around."
Sims, M.S.N., R.N., SANE, ONC, SANE-A, northeast division manager of the Sexual Assault Nurse Examiner (SANE) program, volunteered to serve at the clinic.
"I was motivated to volunteer because this is a community effort, and I love giving back to the community," she said.
Creating a First Line of Defense
The Bedford location was one of Texas Health's three community clinics that began providing vaccines to the public on Tuesday. Created in only four days at the request of the Texas Department of State Health Services, the clinics required a massive effort by departments throughout Texas Health.
"People from throughout Texas Health, from Supply Chain to Real Estate to the Transformation Office to Human Resources to ITS and many more came together to do what we had to do," Miao said.
The clinics give Texas Health a new hope and prevention in fighting COVID-19.
"We have seen in our hospitals the true devastation caused by COVID-19, and the men and women who have been in our hospitals on the front line have made a valiant effort in fighting this disease," Miao said. "They have truly been our last line of defense. What's exciting about today is that these clinics are a new first line of defense."
By the end of the day, Texas Health's three community clinics had provided more than 500 vaccinations to community members with more appointments already on the books for the remainder of the week. Texas Health Physicians Group clinics also began vaccinating individuals 65 years old and older this week.
"You can see the hope and relief in the eyes of our patients. My hope as we continue these clinics is that we bring not just relief, but peace of mind to our communities," Miao said.
Taking a Souvenir
Wingard shared his thoughts on the clinic experience as he sat in the observation area after receiving the vaccine.
"I really appreciate everybody's efforts. Everybody seemed well organized," he said. "This went very quickly and smoothly. I'm impressed."
As he left, Wingard picked up a sign, intended to be used in photos on social media that says "COVID-19 Vaccine: I did it to protect you!"
"I'm going to take this with me and put it in my yard," he said with a laugh. "I hope to get people in my neighborhood to come get vaccinated."
About Texas Health Resources
Texas Health Resources is a faith-based, nonprofit health system that cares for more patients in North Texas than any other provider. With a service area that consists of 16 counties and more than 7 million people, the system is committed to providing quality, coordinated care through its Texas Health Physicians Group and 29 hospital locations under the banners of Texas Health Presbyterian, Texas Health Arlington Memorial, Texas Health Harris Methodist and Texas Health Huguley. Texas Health access points and services, ranging from acute-care hospitals and trauma centers to outpatient facilities and home health and preventive services, provide the full continuum of care for all stages of life. The system has more than 4,100 licensed hospital beds, 6,400 physicians with active staff privileges and more than 26,000 employees. For more information about Texas Health, call 1-877-THR-WELL, or visit www.TexasHealth.org.