September 17, 2021
Specialized nurses helping college students look beyond 'Red Zone'
ARLINGTON, Texas — More than six million adult Texans have experienced some form of sexual assault in their lifetime — more than 33 percent of all Texans. That's a number that doesn't sit well with Cindy Burnette, D.N.P., R.N., CA-CP SANE, SANE-A, the Sexual Assault Nurse Examiner (SANE) program director at Texas Health Resources.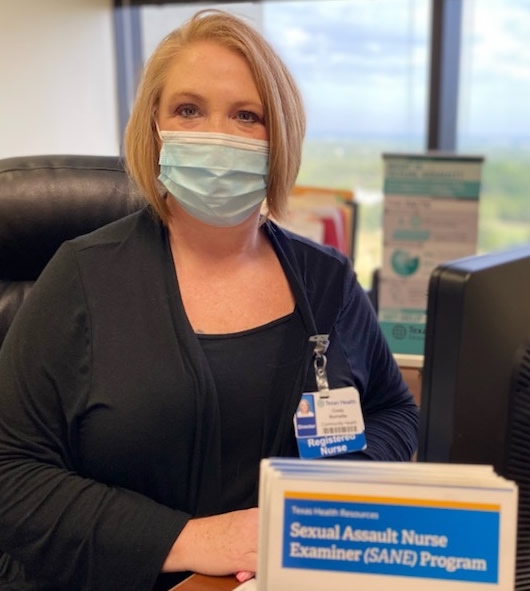 Cindy Burnette, D.N.P., R.N., preps for a virtual meeting with Tarrant County College representatives.
"Despite those alarming numbers, sexual violence is still underreported," Burnette said. "That's why [Texas Health] focuses on prevention. Our goal is to prevent it from happening in the first place."
In May, Texas Health and Tarrant County College (TCC) formalized a collaborative agreement to address sexual victimization by cultivating community resilience. Since 2016, Texas Health's SANE department has offered workshops as part of TCC's Drugs, Alcohol, Sex, Harassment, and Hazing (DASHH) program.
"The new agreement also allows us to provide pertinent statistics to TCC's administration," Burnette said. "With pre and post content surveys, the detailed data shows the knowledge base of all students, before and after course completion."
Data helps TCC demonstrate its campus initiatives are enhancing and empowering students' sexual assault awareness, which is a major component of the 2013 Campus Sexual Violence Elimination Act, or Campus SaVE Act — a national law that protects students from sexual violence and harassment. Students also are required to get sexual violence prevention education.
"With 13 percent of all college students subjected to some form of sexual violence during their college experience, it's imperative for the entire community to be informed and empowered to combat sexual violence," she said. More than 50 percent of campus sexual assault incidents occur between mid-August and Thanksgiving break — a time period called the Red Zone.
"Younger students are in a campus setting for the first time away from home. When it comes to sexual violence and consent, many either have limited knowledge or none at all," Burnette said.
"We know that sexual assaults are happening across the nation on college campuses, and unfortunately some are being ignored and swept under the rug."
Burnette explained that assaults sometimes go unreported because students don't want their parents to know. "Sometimes there's alcohol involved, but that doesn't mean the victim wasn't assaulted just because he or she couldn't verbally consent. That's still a sexual assault, and it's important to know what you can do if you are in that situation."
Texas Health educates TCC students on various forms of sexual assault awareness, which includes healthy relationships, cyber safety, dating violence, bystander intervention, consent, along with human trafficking.
When COVID hit, they implemented virtual learning instead.
Kateeka Harris, M.A., TCC's district Title IX compliance officer, couldn't agree more.
"Not only are the workshops beneficial for students, faculty and staff within our role at the college, this information benefits all of us as parents, guardians or caregivers and overall members of the community," she said.
The state of Texas spends more than $8 billion each year addressing sexual assault and sexual violence. "That large sum pays for medical treatment, counseling, a victim's lost wages and more," Burnette said. "Texas Health's SANE program is committed to addressing the issues of sexual violence before it happens, on the TCC campus and throughout North Texas."
Burnette said three goals are the driving factors behind Texas Health's sexual violence prevention curriculum:
Increasing the community's knowledge base against sexual violence (and letting victims know it's not their fault)
Creating a culture that encourages and supports sexual assault reporting
Decreasing the number of sexual assaults on the TCC campus and in North Texas
"In the long run, we want to make our communities healthier and safer," Burnette said. "When we're able to educate, empower and increase the emotional health of the community, a lesser amount of our services will be needed. That's a collective goal worth striving to achieve, and I think we're on the right path."
Follow this link to learn more about the Texas Health SANE programs.
About Texas Health Resources
Texas Health Resources is a faith-based, nonprofit health system that cares for more patients in North Texas than any other provider. With a service area that consists of 16 counties and more than 7 million people, the system is committed to providing quality, coordinated care through its Texas Health Physicians Group and 29 hospital locations under the banners of Texas Health Presbyterian, Texas Health Arlington Memorial, Texas Health Harris Methodist and Texas Health Huguley. Texas Health access points and services, ranging from acute-care hospitals and trauma centers to outpatient facilities and home health and preventive services, provide the full continuum of care for all stages of life. The system has more than 4,100 licensed hospital beds, 6,400 physicians with active staff privileges and more than 26,000 employees. For more information about Texas Health, call 1-877-THR-WELL, or visit www.TexasHealth.org.