March 12, 2021
Initiative reaps results for patients, garners third Bill Aston Award for Quality
ARLINGTON, Texas — Texas Health Resources was recognized this week by the Texas Hospital Association for the significant strides made to improve patient outcomes in fighting sepsis.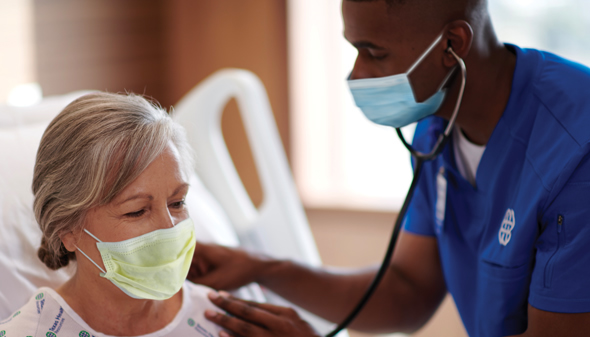 Hospital leaders formed a comprehensive sepsis workgroup to drive rapid improvement.
A life-threatening condition, sepsis occurs when an infection present anywhere in the body triggers a systemic chain reaction causing tissue damage and organ failure. With sepsis claiming the lives of one in three patients who die in hospitals nationwide, Texas Health intensified its focus on decreasing sepsis mortality.
To drive rapid improvement, a Comprehensive Sepsis Workgroup formed with representation from nursing, laboratory, pharmacy, physicians on the medical staffs, and other stakeholders. This team built on order sets and processes created in the Reliable Care BlueprintingTM process and further mobilized efforts to standardize Texas Health's sepsis care.
As a result, inpatient sepsis-related mortality at Texas Health decreased from 11.23 percent in 2015 to 7.12 percent in 2020. This performance puts Texas Health among the top decile of hospitals in the country according to Premier, a health care improvement company that looks at data nationally.
Because of this important work, the Texas Hospital Association named Texas Health as a recipient of the 2020 Bill Aston Award for Quality. With previous recognition in 2014 and 2018, Texas Health is the only health system in Texas to receive the Bill Aston Award more than once.
"At Texas Health, improving patient care and quality outcomes is central to all we do. When we demonstrate positive results for patients using an evidence-based approach, that's what matters most," said Barclay Berdan, FACHE, Texas Health CEO. "I'm proud of the impact Texas Health is having on sepsis care and for the recognition from the Texas Hospital Association."
Texas Health's multidisciplinary sepsis workgroup affected change by addressing all aspects of sepsis-related care. Meeting monthly to discuss best practices and review cases, the group analyzed patient data and identified the processes with the most impact on patient outcomes, such as the administration of antibiotics. Each hospital designated a team member to serve as sepsis coordinator and Emergency Departments implemented a Code Sepsis, initiating a rapid response for patients suspected of having sepsis.
"Through data analysis, innovative thinking and consistent implementation of best practices, we've seen a 30 percent decrease in sepsis mortality," said Sunita Koshy-Nesbitt, M.D., MBA, Texas Health hospital channel chief quality officer. "I'm thankful for the team's efforts thus far, and I know they will continue to advance sepsis care at Texas Health."
Created in 2010, the Bill Aston Award for Quality recognizes a hospital's measurable success in improving quality and patient outcomes through the sustained implementation of a national and/or state evidence-based patient care initiative.
"The ultimate reward is knowing that this work has saved lives across North Texas," Berdan said.
About Texas Health Resources
Texas Health Resources is a faith-based, nonprofit health system that cares for more patients in North Texas than any other provider. With a service area that consists of 16 counties and more than 7 million people, the system is committed to providing quality, coordinated care through its Texas Health Physicians Group and 29 hospital locations under the banners of Texas Health Presbyterian, Texas Health Arlington Memorial, Texas Health Harris Methodist and Texas Health Huguley. Texas Health access points and services, ranging from acute-care hospitals and trauma centers to outpatient facilities and home health and preventive services, provide the full continuum of care for all stages of life. The system has more than 4,100 licensed hospital beds, 6,400 physicians with active staff privileges and more than 26,000 employees. For more information about Texas Health, call 1-877-THR-WELL, or visit www.TexasHealth.org.