June 21, 2021
Annual review highlights sustainable practices that drove systemwide response to COVID-19, diversity strategies and new care options
ARLINGTON, Texas — Texas Health Resources fought COVID-19 relentlessly across North Texas in 2020 — with compassionate, quality health care, rapid response and the creation of community vaccine clinics — while also opening new options for care and targeting underserved populations. The efforts are outlined in the system's 2020 Social Purpose Report, released today.
The report is best viewed with a Google Chrome browser.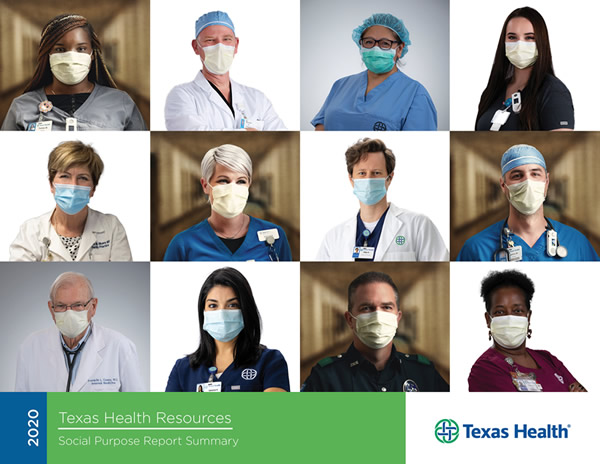 The annual report transparently reflects the system's efforts in direct patient care, stewardship of financial and natural resources, and other areas.
"It was a year like no other as our teams bravely cared for patients with COVID-19 and adjusted rapidly on both personal and professional levels to adjust to the pandemic," said CEO Barclay Berdan, FACHE. "In our 2020 Social Purpose Report, we share how caregivers brought health and healing to the sick, hope and encouragement to our communities and strength to one another. We also highlight how we are driving innovation across our system and into the communities we serve."
Now in its ninth year, the annual report transparently covers how the faith-based, nonprofit health system works in the communities it serves, not only in direct patient care, but also in stewardship of financial and natural resources, and many other areas.
The system is one of only a few health organizations in the nation to disclose how it is working to fulfill its Mission, steward its financial and natural resources, improve consumer products and services, and enhance its operational performance.
A 2020 Performance Summary provides an overview. The full online report details:
Mobilization of command centers and telehealth capabilities in the early days of the pandemic
A joint COVID-19 prevalence study with UT Southwestern Medical Center to help design effective public health, community outreach and education strategies
The support, $757 million, or more than $2 million a day, Texas Health provided in charity care and community benefit, along with other pandemic relief for underserved communities to address depression, social isolation, and food insecurity
A new strategy to support and further diversity, equity and inclusion within Texas Health's walls, supply chain and the communities it serves
Expansion of additional care sites, including: the opening of Texas Health Hospital Mansfield; the first set of 20 Texas Health Breeze Urgent Care™ clinics; groundbreaking on a women's tower at Texas Health Presbyterian Hospital Denton; and expansion at Texas Health Harris Methodist Hospital Alliance, Texas Health Presbyterian Hospital Allen and Texas Health Harris Methodist Hospital Hurst-Euless-Bedford
A new Community Health Ministry with North Texas faith communities to provide food, transportation, healthcare and other essential services
Consumer-centric changes in billing that helped patients directly impacted by the pandemic and an online tool to help consumers estimate out-of-pocket costs for roughly 300 services and procedures
Ways Texas Health leveraged data insights and analytics to monitor systemwide strategies and needs, tailor care management strategies for consumers and identify services that could improve their health and well-being
Continued recognition, including being named Fortune's Best Company to Work for in Healthcare and Biopharma™ for the sixth consecutive year. The system also was recognized by Great Place to Work® and Fortune as one of the Best Companies to Work For® (No. 15); Best Workplaces for Women (No. 24); and Best Workplaces for Millennials.
"Texas Health is committed to tackling the most pressing health care challenges our communities face, with a particular focus on advancing efforts to help the most vulnerable and underserved," said David Tesmer, chief community and public policy officer. "This report illustrates how we advocated for and delivered essential support during this unprecedented time and how the Texas Health family rises to be flexible, resilient, courageous and committed to our Mission of improving the health of the people in the communities we serve."
About Texas Health Resources
Texas Health Resources is a faith-based, nonprofit health system that cares for more patients in North Texas than any other provider. With a service area that consists of 16 counties and more than 7 million people, the system is committed to providing quality, coordinated care through its Texas Health Physicians Group and 29 hospital locations under the banners of Texas Health Presbyterian, Texas Health Arlington Memorial, Texas Health Harris Methodist and Texas Health Huguley. Texas Health access points and services, ranging from acute-care hospitals and trauma centers to outpatient facilities and home health and preventive services, provide the full continuum of care for all stages of life. The system has more than 4,100 licensed hospital beds, 6,400 physicians with active staff privileges and more than 26,000 employees. For more information about Texas Health, call 1-877-THR-WELL, or visit www.TexasHealth.org.