DALLAS, Texas — Texas Health Harris Methodist Hospital Fort Worth has been named "Best Place to Have a Baby" in Tarrant County for the 24th consecutive year by readers of FortWorthChild magazine.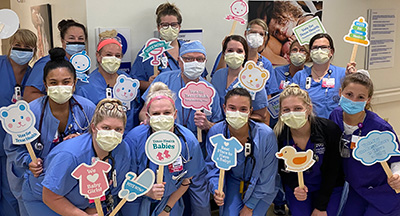 L&D team members at THFW
"We're committed to providing support and care for a safe, memorable childbirth experience," said Joseph DeLeon, president of Texas Health Fort Worth. "We are proud of the talented physicians on our medical staff, exceptional nurses, midwives and dedicated staff who collaborate each day to provide the amazing care to our patients who choose us to serve them in one of the most important times of their lives."
More than 9,000 readers voted in the contest.
Each year more than 2,000 families choose to bring their bundles of joy into the world at Texas Health Fort Worth. The hospital ended 2020 with 3,014 births, which included 82 sets of twins, four sets of triplets and one set of quadruplets.
The hospital features private maternity suites that are designed to comfortably accommodate families. Each spacious suite includes a flat-screen TV, full-size private bathroom, a bed for mom's support person and the ability to control room temperature in each suite. To help celebrate baby's arrival, parents can enjoy a complimentary meal during their stay.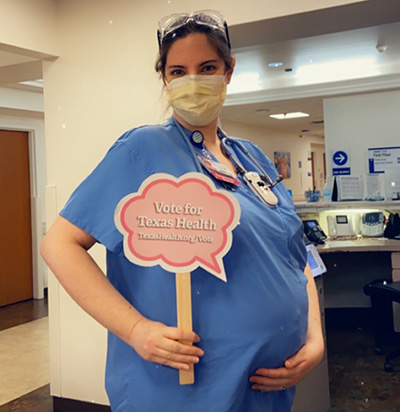 Angela Molder, R.N., for labor and delivery at THFW
"We are so proud to win this award for the 24th consecutive year," said Lindsey Canon, director of Women and Infant Services as Texas Health Fort Worth. "It shows we're providing the kind of care and environment that moms and dads want for their babies while keeping them comfortable and safe."
The hospital features family-focused rooms, breastfeeding support, childbirth education classes and car seat safety checks. Advanced care available for newborns includes a Level III neonatal intensive care unit for low birthweight and premature newborns, and a high-risk and antepartum program that provides monitoring for women and their babies with pre-existing medical conditions, women expecting multiples, and women with high-risk pregnancies.
Overall, more people choose Texas Health Resources hospitals to have their babies than any other health system in North Texas. More than 20,000 babies were born at Texas Health hospitals in 2020.
About Texas Health Resources
Texas Health Resources is a faith-based, nonprofit health system that cares for more patients in North Texas than any other provider. With a service area that consists of 16 counties and more than 7 million people, the system is committed to providing quality, coordinated care through its Texas Health Physicians Group and 29 hospital locations under the banners of Texas Health Presbyterian, Texas Health Arlington Memorial, Texas Health Harris Methodist and Texas Health Huguley. Texas Health access points and services, ranging from acute-care hospitals and trauma centers to outpatient facilities and home health and preventive services, provide the full continuum of care for all stages of life. The system has more than 4,100 licensed hospital beds, 6,400 physicians with active staff privileges and more than 26,000 employees. For more information about Texas Health, call 1-877-THR-WELL, or visit www.TexasHealth.org.