November 10, 2021
Health system named to Texan by Nature 20 list
ARLINGTON, Texas — The third annual Texan by Nature 20 list recognizes the best and most innovative work in conservation coming from Texas-based businesses, according to the group. Texas Health is the only healthcare organization to be honored.
"Congratulations to this year's TxN 20! Each year, I'm impressed by the leadership the TxN 20 honorees display. They are innovators, collaborators and changemakers. I am thrilled to celebrate their efforts, and I encourage other companies to follow their example. Together, we can secure a future where our economy, natural resources and communities thrive," Bush said.
Texas Health maintains wide-ranging initiatives that demonstrate a long-term commitment to conservation. Some initiatives for which Texas Health was recognized include:
Incorporating efficiency into new building design and retrofitting older equipment, lighting, and other systems to reduce expenses and carbon emissions
Installing water-efficient irrigation, sprinkler and plumbing systems and participating in a laundry cooperative that conserves millions of gallons of water annually
Diverting hundreds of thousands of pounds of materials, including medical devices and single-use products, from landfills through recycling, reusing or reprocessing initiatives. The system also hosts community shredding and recycling drives
Texas Health is committed to thinking ahead when it comes to conservation.
This focus on the future can be seen in Texas Health Hospital Mansfield, which opened last December. The campus, a joint venture involving Texas Health and AdventHealth, was designed to be energy efficient.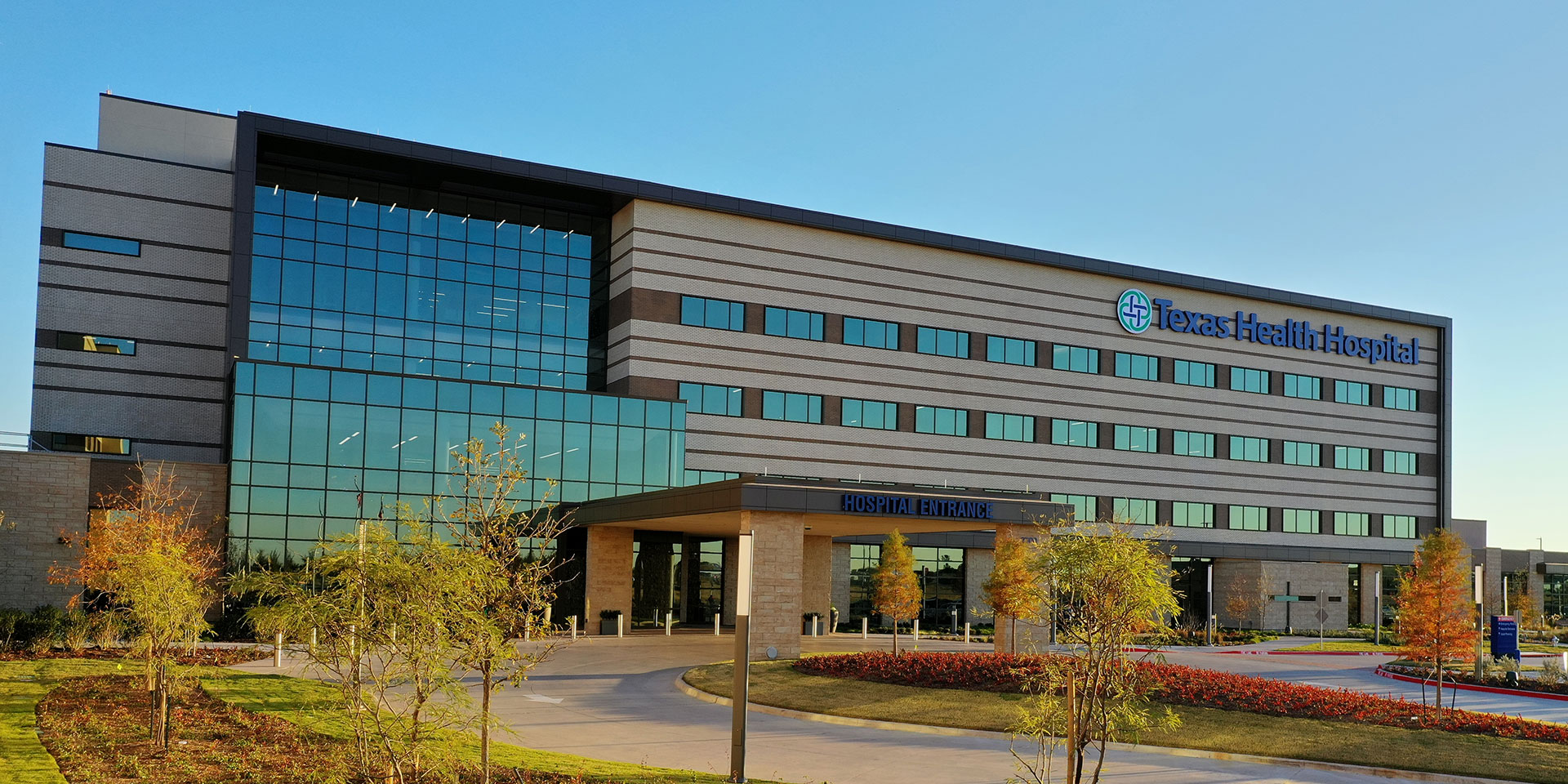 Texas Health Hospital Mansfield
Texas Health Mansfield uses the Framework for Design Excellence and the American Institute of Architects (AIA) 2030 Commitment goals to incorporate the greatest level of energy and water efficiency, healthy building materials, and occupant well-being.
The same methodology is being used on the new nine-story Jane and John Justin Patient Surgical Tower, the largest expansion in Texas Health history, opening at Texas Health Harris Methodist Hospital Fort Worth in 2022.
"Conservation of resources is vital to Texas Health's long-term sustainability and to the well-being of the people living in the communities we serve," said Shaun Clinton, senior vice president, Supply Chain Management.
Texas Health, through its Blue Zones Project® Fort Worth initiative, was also recognized by the city of Fort Worth for its conservation efforts. The Culled Produce Recovery Project, a joint effort between Blue Zones Project and G.E. Foodland grocery stores, received an Environmental Excellence Award. The awards recognize innovation and creativity in reducing waste and preserving the City's landfill.
The pilot initiative involves diverting produce that is culled by grocery stores into the hands of a community-based organization. The produce is either donated for consumption (if still safe to eat) or used for composting. The compost is donated to urban farms or school gardens within Fort Worth. To date approximately 1,500- 2,000 pounds of produce is diverted from the landfill each week.
Texas Health, Blue Zones Project Fort Worth and the city of Fort Worth staff are working on a sustainability plan for volunteers and logistics with Compost Carpool, an organization that turns wasted food into organic material for farms and gardens.
"We hope the program can be expanded to all Fort Worth stores to support more urban farms and to grow from not only composting but to be able to donate the food that is perfectly edible to our Good for You Pantries," said Matt Dufrene, vice president of North Texas Healthy Communities/Blue Zones Project Fort Worth.
Texas Health's conservation and sustainability work is vital to fulfilling the system's Mission to improve the health of the people in the communities it serves, Clinton said.
"For a health system, conservation is about providing the most affordable, accessible and appropriate resources that improve people's health."
Click here to learn more about the Texan by Nature 20 honorees.
About Texas Health Resources
Texas Health Resources is a faith-based, nonprofit health system that cares for more patients in North Texas than any other provider. With a service area that consists of 16 counties and more than 7 million people, the system is committed to providing quality, coordinated care through its Texas Health Physicians Group and 29 hospital locations under the banners of Texas Health Presbyterian, Texas Health Arlington Memorial, Texas Health Harris Methodist and Texas Health Huguley. Texas Health access points and services, ranging from acute-care hospitals and trauma centers to outpatient facilities and home health and preventive services, provide the full continuum of care for all stages of life. The system has more than 4,100 licensed hospital beds, 6,400 physicians with active staff privileges and more than 26,000 employees. For more information about Texas Health, call 1-877-THR-WELL, or visit www.TexasHealth.org.