December 27, 2021
Giving up alcohol temporarily could be advantageous but, in some cases, dangerous
ARLINGTON, Texas — Taking the Dry January pledge to give up alcohol for the month has grown in popularity in recent years, but can abstaining from booze for 31 days really improve one's physical and mental health?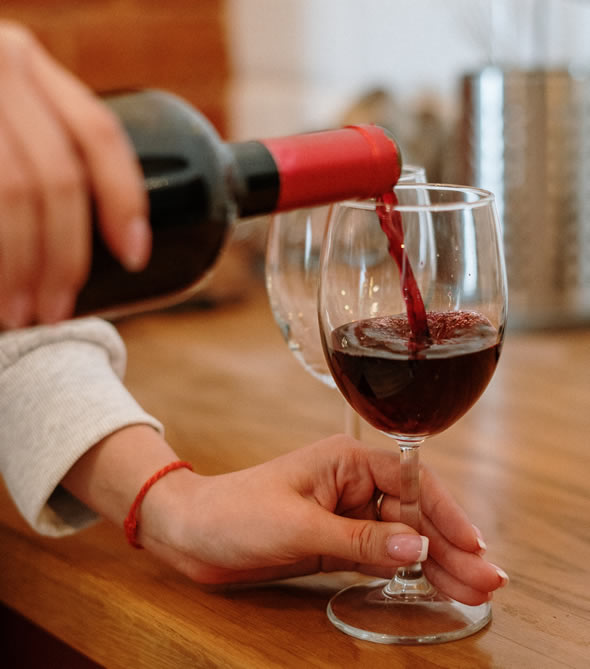 Experts caution that chronic alcohol use can lead to multiple medical issues.
The answer is not so clear-cut, according to behavioral health professionals with Texas Health Resources. Reneé Breazeale, M.S., LMFT, administrator of the Texas Health Recovery and Wellness Center, says that while many people say that alcohol makes them happy, it is actually a central nervous system depressant that increases depressive symptoms and can exacerbate underlying mental health issues.
"Without alcohol, the body and the mind actually function better, so yes, there is a distinct advantage to giving up alcohol," said Breazeale, who is a licensed chemical dependency counselor. "Some individuals might actually feel happier without it and, at the very least, there will likely be an increase in mental and physical clarity."
But if you're expecting tangible medical benefits, one month of abstinence isn't going to cut it, said Adnan Iqbal, M.D., M.B.A., medical director of psychiatry at Texas Health Recovery and Wellness Center and Texas Health Arlington Memorial Hospital.
"Chronic alcohol use can lead to multiple medical issues, including higher risks for pancreatitis, liver dysfunction and certain types of cancer, so giving up alcohol long-term leads to better health and reduced cancer risk, accidents and other health issues," Iqbal said. "But if one is looking for tangible medical benefits, stopping alcohol has to be long-term. It's more of a symbolic gesture to stop drinking for one month."
Caution for heavy drinkers
Iqbal said it also is not beneficial to one's health if participating in Dry January prompts a person to binge-drink before the month or compensate after the month by drinking more.
And for heavy or long-term drinkers, stopping drinking abruptly without help could even be dangerous or potentially fatal, Iqbal cautioned.
"Immediately cutting out alcohol could lead to alcohol withdrawal symptoms which can have significant medical consequences," he said. "A person can have seizures and/or dangerously elevated blood pressure. In cases of severe withdrawal, one can develop hallucinations called delirium tremens."
Iqbal recommends heavy and long-term drinkers consult with their physician first.
"There are medications which can be prescribed on an inpatient or outpatient basis which can help prevent any severe withdrawal symptoms," Iqbal said.
Tips to succeed
For those who plan to give up alcohol for a month or longer, Breazeale offers these tips:
Note your feelings, reactions and emotions that correlate with drinking and not drinking. For instance, if you have had a bad day at work and usually go home to have a glass of wine to "soothe" the stress, pay attention to what happens when you don't drink wine following a bad day. All of these factors can help you determine if you need to seek additional support or even professional help.
Come up with alternatives to that glass of wine, like working out, taking a walk or using a meditation app.
Have a plan to fill the time you would normally be using alcohol. If you routinely go to clubs on the weekend and drink as part of your social infrastructure, what will you drink instead, or will you choose not to go out?
Let your close support system know that you are choosing to not drink, so that they can support you. Think about specific ways they can do that, so they have direction and understand how to help if needed.
If not drinking leads to significant stress, anxiety and/or changes in personality or mood, consider seeking professional help. Assessments at most places are free of charge. You can obtain a free assessment from Texas Health by visiting our website or calling 682- 626-8719.
About Texas Health Resources
Texas Health Resources is a faith-based, nonprofit health system that cares for more patients in North Texas than any other provider. With a service area that consists of 16 counties and more than 7 million people, the system is committed to providing quality, coordinated care through its Texas Health Physicians Group and 29 hospital locations under the banners of Texas Health Presbyterian, Texas Health Arlington Memorial, Texas Health Harris Methodist and Texas Health Huguley. Texas Health access points and services, ranging from acute-care hospitals and trauma centers to outpatient facilities and home health and preventive services, provide the full continuum of care for all stages of life. The system has more than 4,100 licensed hospital beds, 6,400 physicians with active staff privileges and more than 26,000 employees. For more information about Texas Health, call 1-877-THR-WELL, or visit www.TexasHealth.org.