March 01, 2021
Expecting women stay connected and active through online prenatal yoga gathering
PLANO, Texas — They're weeks, even days, away from welcoming their babies into the world, but these moms-to-be found a new way to stay connected and active during the pandemic.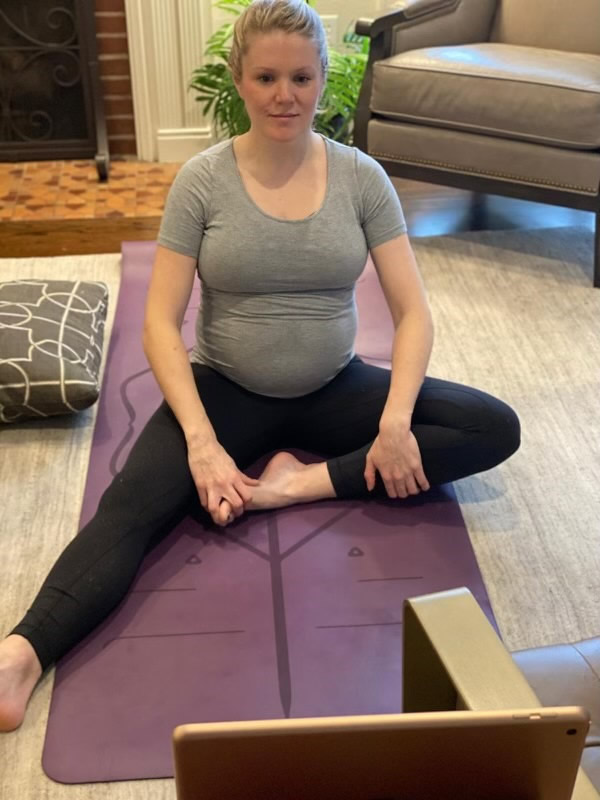 Emily Stone participates in prenatal yoga from the comfort of her own home.
Like many fitness classes, prenatal yoga at Texas Health Presbyterian Hospital Plano went virtual in 2020 to maintain the safety of patients and staff and prevent possible exposure to COVID-19.
"It's much more than an exercise class. I help prepare women for childbirth, whether they're having regular labor or a C-section," said Cheryl Walker, clinical childbirth educator with Patient and Family Education at Texas Health Plano.
Walker, a certified yoga instructor and mother of five, demonstrates safe yoga movements and positions virtually to help women strengthen their bodies and minds for labor.
"I've created a relaxing space and background, similar to a yoga studio, for moms to see on their computer screens," Walker said. "It's an open environment to share their stories and hopefully bond with other moms. You need that connection and community, especially when you're expecting."
Some participants have even bonded over heartache and tragedy. One mom had experienced 13 miscarriages and another struggled to get pregnant for seven years, Walker said.
Jessica Oviedo, who's expecting her second child, started prenatal yoga at 23 weeks pregnant.
"I like that it's tailored specifically for pregnant women, so you know whatever you're doing is safe for you and your baby," said Oviedo, mother and a prenatal yoga participant at Texas Health Plano.
The class also incorporates gentle stretching to help alleviate the discomforts of pregnancy, birth and post-delivery, including low back pain or sciatica, pain along the sciatic nerve from your lower back to the leg, trouble sleeping, as well as stress and anxiety.
"We've seen a significant rise in anxiety with pregnant women during the pandemic," Walker said. "I teach my students breathing and relaxation techniques so they can stay calm during labor or a C-section. It can be really powerful."
Anxiety affects roughly 13 percent of pregnant and postpartum moms, according to the American Psychological Association. Amid the pandemic, two Canadian studies of pregnant and postpartum moms found depression and moderate-to-high anxiety had more than doubled the pre-pandemic numbers.
"The pandemic has been scary and a little isolating, but the class keeps me connected to other moms and keeps me moving," Oviedo said.
Prenatal yoga and deep, slow breathing stimulate the parasympathetic nervous system, which decreases your heart rate and blood pressure, Walker said.
"A woman's stress hormones can affect their unborn child," she added. "So, when you slow down your breath, it oxygenates the baby and helps lower your stress level as well as the baby's stress level."
The class, offered most Saturdays from 10 a.m. to 11:15 a.m., is for women during any stage of pregnancy — with or without yoga experience. Up to 12 participants can register online per class and receive a link to join the virtual class on Microsoft Teams. It requires a small fee and a physician medical release to participate.
"Since the beginning of the pandemic, our Childbirth Education team has had to reevaluate how we serve our community and completely change class structures to help meet the needs of our patients and their families," said Kari McCord, M.S.N., RNC-OB, C-EFM, NE-BC, director of Women's, Infant's and Children's Services at Texas Health Plano. "They have done an amazing job to help moms stay connected through multiple avenues."
The hospital offers other classes for moms and families, such as prepared childbirth, advanced labor coping skills, breastfeeding, baby care basics and support groups.
Besides prenatal yoga, Walker often visits pregnant women who are high risk and on bedrest in the antepartum unit at Texas Health Plano. She helps them with relaxation, breathing techniques and affirmations.
"It's incredibly rewarding to help these women and be a small part of their prenatal journey," Walker said. "I hope they feel educated, supported and inspired."
Texas Health Presbyterian Hospital Dallas also offers a virtual prenatal yoga class every Thursday night. For more information, click here (Google Chrome recommended).
About Texas Health Resources
Texas Health Resources is a faith-based, nonprofit health system that cares for more patients in North Texas than any other provider. With a service area that consists of 16 counties and more than 7 million people, the system is committed to providing quality, coordinated care through its Texas Health Physicians Group and 29 hospital locations under the banners of Texas Health Presbyterian, Texas Health Arlington Memorial, Texas Health Harris Methodist and Texas Health Huguley. Texas Health access points and services, ranging from acute-care hospitals and trauma centers to outpatient facilities and home health and preventive services, provide the full continuum of care for all stages of life. The system has more than 4,100 licensed hospital beds, 6,400 physicians with active staff privileges and more than 26,000 employees. For more information about Texas Health, call 1-877-THR-WELL, or visit www.TexasHealth.org.