December 09, 2021
Grateful patient spends more than 20 days in two Fort Worth hospitals
FORT WORTH, Texas — One Saturday morning, breathing became painfully difficult for Keegan Vargas. The last thing he remembers is hearing the ambulance arriving. Suddenly, his eyes rolled back, he lost consciousness, and fell backward. An emergency medical technician caught Vargas before his head hit the ground, and he was immediately rushed to Texas Health Harris Methodist Hospital Southwest Fort Worth.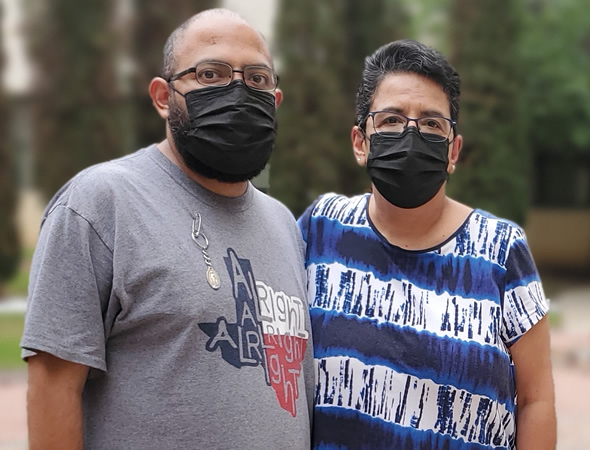 Fort Worth resident Keegan Vargas and his mother, Lisa visit the meditation garden at Texas Health Harris Methodist Hospital Southwest Fort Worth.
Having recovered from COVID-19, an asthma attack led to a combined total of 25 days for the 32-year-old at Texas Health Southwest and Texas Health Harris Methodist Hospital Fort Worth. Vargas is beyond grateful for the care he received at both hospitals, which included extracorporeal membrane oxygenation (ECMO).
About the size of a small suitcase, the ECMO machine pumps blood through an artificial lung back into the bloodstream of the patient.
"The ECMO program was driven by the necessity and desire to treat the sickest patients in our community," said Jonathan Besas, D.O., a pulmonologist on the medical staff at Texas Health Fort Worth.
According to Besas, ECMO is a simplified version of a heart and lung machine, except the process takes place outside of the body. It's also considered salvage therapy, used only after all standard treatments have been exhausted.
"With ECMO, the machine breathed for him as the inflammation in his lungs subsided," Besas said.
A long road
In early January 2021, Vargas was one of the more than 83 million confirmed COVID cases reported all over the world.
Vargas recovered, but like many survivors, he continued to struggle with labored breathing.
His mother, Lisa, recalls when she first saw him, "Keegan's test was negative, so thankfully, he didn't have COVID again, but he had all of these tubes stuck in his body, and his blood pressure was extremely low. They had to sedate him and give him oxygen, but he wasn't getting better, and that was scary."
A last chance
That's when physicians on the medical staff discussed ECMO use for her son.
Besas emphasizes the importance of ECMO programs having specific criteria when evaluating patients. "It's a very labor-intensive process that requires multiple staff to be present at the bedside, 24 hours a day," he said. "When selecting patients for ECMO, the care team must determine if the patient is sick enough, but not too sick that the patient won't benefit from the use of ECMO," he said.
Mrs. Vargas said, "As a mom, you want your child to get better, and when they explained it was the last resort, I became worried. Something that is going to help my son may not end up helping at all. That's a terrible situation to be in."
Besas added that ECMO is an option for sick patients with cardiac or respiratory failure, like Vargas. He remained on ECMO in a medically induced coma for seven days.
Road to recovery
Slowly, his health began to improve, and his lungs strengthened. Vargas started moving his toes and fingers as days went by.
"I wasn't in any pain, but it was hard doing little things," Vargas said. "It was even hard for me to write."
Despite major setbacks, Vargas began breathing on his own. Finally, Vargas was well enough to go home.
Vargas is grateful to breathe normally again, and thanks to physical and speech therapies, his gait and brain function continue to improve. Plus, Vargas has a renewed sense of hope.
"Our family has endured so much tragedy this year. The darkest of times was when we lost my dad to COVID in February," Vargas said. "God has a plan, and I know that if I keep the faith, I can get through anything. I can never give up."
About Texas Health Resources
Texas Health Resources is a faith-based, nonprofit health system that cares for more patients in North Texas than any other provider. With a service area that consists of 16 counties and more than 7 million people, the system is committed to providing quality, coordinated care through its Texas Health Physicians Group and 29 hospital locations under the banners of Texas Health Presbyterian, Texas Health Arlington Memorial, Texas Health Harris Methodist and Texas Health Huguley. Texas Health access points and services, ranging from acute-care hospitals and trauma centers to outpatient facilities and home health and preventive services, provide the full continuum of care for all stages of life. The system has more than 4,100 licensed hospital beds, 6,400 physicians with active staff privileges and more than 26,000 employees. For more information about Texas Health, call 1-877-THR-WELL, or visit www.TexasHealth.org.