November 17, 2021
Grateful patient emphasizes importance of delegating more, stressing less
DALLAS, Texas – "I was constantly going at 200 miles per hour, so I knew I was bound to crash one day," said Erika Livingston.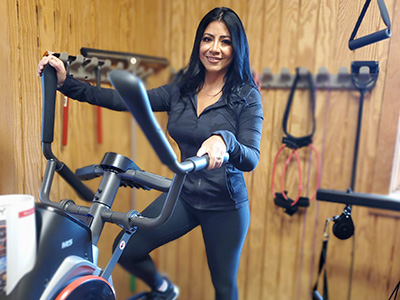 Reflecting on her recent health scare, she's sharing words of wisdom — not about reckless driving but how she almost died from a heart attack at 41 years old. Thanks to the quick actions of individuals at Texas Health Hospital Rockwall and Texas Health Presbyterian Hospital Dallas, Livingston is grateful for the ability to tell her survival story.
"I'm young, I work out at least three times a week, and I eat healthy, but here I was having a heart attack," Livingston said. "It was scary, and I didn't know why or if I was going to die."
One early morning in June, severe chest and back pain woke Livingston.
"I was freezing and sweating profusely, and it was dripping off my body onto the floor," she said. "It felt like someone was stabbing me in the chest. I knew something wasn't right."
Livingston yelled for her husband, Jack, who was still asleep. She frantically explained what was happening. They quickly dressed and immediately drove to Texas Health Rockwall.
After several tests, an EKG showed signs of an ST-segment elevation myocardial infarction, or STEMI heart attack, which is a major heart event where one of the heart's main arteries is completely blocked. Livingston was transferred to Texas Health Dallas, one of several Texas Health facilities serving as a STEMI Receiving Center and certified by The Joint Commission. An operational STEMI program must have the necessary resources and staffing to provide percutaneous coronary intervention – a procedure used to treat blocked arteries – to heart attack patients, 24 hours a day, seven days a week.
"Mrs. Livingston's left anterior descending (LAD) artery was severely blocked, but thankfully, she didn't sustain any significant damage to her heart muscle," said Kenneth Saland, M.D., an interventional cardiologist on the Texas Health Dallas medical staff.
Saland, who is also a member of Texas Health Heart & Vascular Specialists, a Texas Health Physicians Group practice*, placed a coronary stent in Livingston's artery.
Younger women are facing increased risk
According to a recent study conducted by Louisiana State University Health Sciences Center, the pandemic is putting more women, specifically young women, at a higher risk for heart disease complications.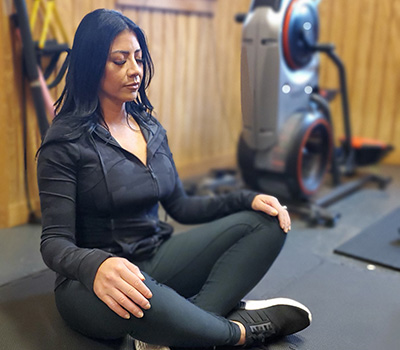 The study cited the pandemic as a factor, saying it significantly raised anxiety and depression levels of young and middle-aged women because of their demanding job schedules and family responsibilities. Statistically speaking, the American Heart Association recently determined that women also face a 20% increased risk of developing heart failure or dying within five years of their first severe heart attack, compared with men.
Still, Stephanie Koepke, ACNS-BC, emphasizes that heart attacks can happen to anyone. "Even if you're young and healthy, you've got to know your body, and if something doesn't feel right, don't be embarrassed to seek immediate help," she said.
Koepke, who serves as Texas Health Dallas' chest pain program coordinator, said Livingston's positive outcome was helped when she quickly sought medical attention. "The longer a patient waits, the longer the heart is without oxygen," she said. "Unfortunately, when the heart lacks oxygen for a prolonged period, it can sometimes cause irreversible damage that can be potentially fatal. We're glad that we had the dedicated staff and necessary resources to provide Mrs. Livingston with the immediate care she needed."
Three months after surviving a heart attack, Livingston said she's living pain-free, enjoying the present and looking forward to the future. Reflecting on her past, she has always been extremely motivated to succeed – serving as an account executive in the corporate arena, managing her own hair salon and even managing finances for her husband's air conditioning company.
Her health scare, however, has taught her an important lesson she wants to share with others.
"I've always been a workaholic, but my heart attack made me rethink my lifestyle," Livingston said. "Now I work smarter by delegating more and stressing less. My life is worth it."
To learn more about cardiac care in North Texas, click on Texas Health's Heart & Vascular Services for detailed information.
*Physicians employed by Texas Health Physician Group practice independently and are not employees or agents of Texas Health Resources hospitals.
About Texas Health Resources
Texas Health Resources is a faith-based, nonprofit health system that cares for more patients in North Texas than any other provider. With a service area that consists of 16 counties and more than 7 million people, the system is committed to providing quality, coordinated care through its Texas Health Physicians Group and 29 hospital locations under the banners of Texas Health Presbyterian, Texas Health Arlington Memorial, Texas Health Harris Methodist and Texas Health Huguley. Texas Health access points and services, ranging from acute-care hospitals and trauma centers to outpatient facilities and home health and preventive services, provide the full continuum of care for all stages of life. The system has more than 4,100 licensed hospital beds, 6,400 physicians with active staff privileges and more than 26,000 employees. For more information about Texas Health, call 1-877-THR-WELL, or visit www.TexasHealth.org.