August 18, 2022
Retiree back home three days after robotic surgery to reconstruct abdominal wall
FORT WORTH, Texas — For Norma Thayer, undergoing hernia repair meant getting back to enjoying retirement.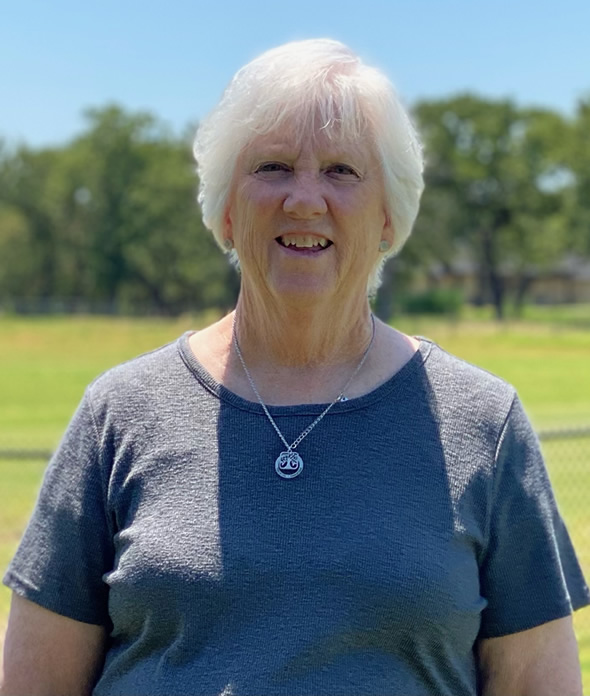 Norma Thayer
The retired nurse developed her first abdominal hernia — a condition in which an internal organ or tissue bulges through a weak area or hole in the abdominal wall — following a temporary colostomy needed after she suffered a ruptured diverticulitis in 2017.
The National Center for Health Statistics reports approximately 5 million Americans live with a hernia, yet only about 750,000 of them seek medical treatment each year.
Thayer's hernia was repaired in 2018, but another was found later when Thayer had gallbladder surgery, though it rarely gave her issues.
Then in late December, after two days of nausea and vomiting and a trip to the emergency room, a CT scan revealed Thayer's abdominal wall was, as one doctor put it, "like Swiss cheese."
"I had three hernias from infection," said Thayer, 71.
Doctors were able to push the incisional hernias back in, but referred Thayer to Paul Gray, M.D., a surgeon on the medical staff at Texas Health Harris Methodist Hospital Fort Worth who specializes in complex hernia repair.
In March, Thayer underwent a six-hour minimally invasive surgery in which Gray reconstructed her abdominal wall using a robotic transversus abdominis release (rTAR) procedure.
"I got out of surgery at 4:30, was up in my room by 6:30 and at 10 o'clock, they had me up walking the hall," Thayer said. "I took very little pain medication."
Just three days after her surgery, Thayer was back home.
Joseph DeLeon, president of Texas Health Fort Worth, said the case exemplifies how Texas Health is delivering on its Vision to partner with those it serves for a lifetime of health and well-being.
"Texas Health Fort Worth and our entire healthcare system is committed to offering the latest advanced care treatments so that our patients can heal quicker and return to enjoying life, whether dealing with routine or more complex health needs," DeLeon said.
The robotic TAR procedure, done through small incisions in the abdominal wall, involves separating the innermost layer of the abdominal wall from the outermost layer. A piece of reinforced mesh is then placed in between the layers, reducing tension where the abdominal wall is stitched back together and allowing for better healing and strengthening of the wall to help prevent future hernias.
Gray, one of only a handful of general surgeons who perform the robotic TAR procedure in North Texas, said the main benefit that the robotic procedure offers is less pain and a quicker recovery for patients. The average hospital stay is two to four days with the robotic TAR procedure, compared with five to seven days with open surgery.
"Another benefit of the robotic approach is that it is shown to decrease the risk of wound complications, especially infection," Gray said. "By avoiding the large wound at the site of the hernia, it can protect against infection."
Gray said that while small asymptomatic hernias can often just be monitored, any hernia causing pain or getting larger should be evaluated for repair. In rare cases, hernias that go without treatment could cause bowel obstruction and bowel strangulation or lead to back pain, difficulty breathing, urinary and stool continence issues or pelvic prolapse.
"Most patients actually want to get their hernias repaired, but many of them may erroneously believe that they don't need them fixed and have thus not sought care," Gray said. "If the hernia is causing pain, it will probably continue to be painful until the hernia is repaired. Hernias simply do not go away on their own."
Since her surgery, Thayer has been able to resume her active lifestyle and travel with no pain or need for food restrictions.
"I wanted to be able to go places and do things and not worry about that." Thayer said. "It was always in the back of my mind when I was traveling. 'What if I have a problem?' Now, I don't have to worry about that."
Follow this link to find physicians or surgeons in your area.
About Texas Health Resources
Texas Health Resources is a faith-based, nonprofit health system that cares for more patients in North Texas than any other provider. With a service area that consists of 16 counties and more than 7 million people, the system is committed to providing quality, coordinated care through its Texas Health Physicians Group and 29 hospital locations under the banners of Texas Health Presbyterian, Texas Health Arlington Memorial, Texas Health Harris Methodist and Texas Health Huguley. Texas Health access points and services, ranging from acute-care hospitals and trauma centers to outpatient facilities and home health and preventive services, provide the full continuum of care for all stages of life. The system has more than 4,100 licensed hospital beds, 6,400 physicians with active staff privileges and more than 26,000 employees. For more information about Texas Health, call 1-877-THR-WELL, or visit www.TexasHealth.org.