March 08, 2022
Young mother rebuilding strength and confidence, grateful for compassionate care at Texas Health Arlington Memorial Hospital
ARLINGTON, Texas — Domonique Reagan makes healthy food choices. Her cholesterol and blood pressure levels were always normal. But at 33 years old, a heart attack on Christmas Eve put her life in jeopardy. Reagan knew what she needed to do. The young wife and mother turned to individuals at Texas Health Arlington Memorial Hospital to enhance her knowledge about heart disease.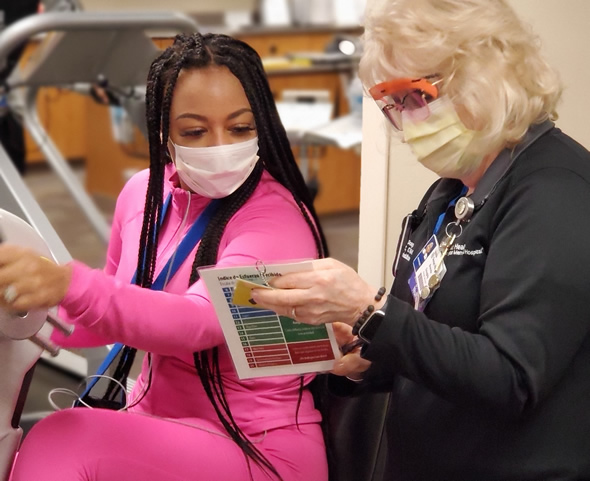 Cardiac rehab patient Domonique Reagan exercises under the supervision of Brenda Doughty, cardiac rehabilitation manager at Texas Health Arlington Memorial Hospital.
Reagan's epiphany happened during Bible study. She had a heart-to-heart conversation with a fellow church member, who happens to be a nurse.
"She told me one of her former patients decided not to be monitored while exercising after his heart attack. He died at the gym," Reagan said. "He didn't think he needed cardiac rehab. I didn't want that to be me, so I immediately signed up for it."
Reagan's grandfather died from a heart attack in 2019, not long after her mother died from heart complications the year prior.
"With the patient's personal history of heart attack at a very young age, cardiac rehab offers her an improved likelihood of doing well in the future," said Michael Graceffo, M.D., a cardiologist on the medical staff at Texas Health Arlington Memorial. "Additionally, patients can be more comfortable increasing exercise levels in a setting where they are monitored for any cardiac problems. This will help improve confidence in any exercise."
According to the Centers for Disease Control and Prevention, for some patients, cardiac rehabilitation is an important part of recovery. It can help curtail future heart attacks and enhance patients' heart-healthy habits. The Texas Health Arlington Memorial Hospital program lasts 12 weeks.
While undergoing cardiac rehab, patients wear a telemetry monitor as they exercise, and their heart rhythms are displayed on a large monitor that is in constant view by staff and each patient.
"They find comfort in knowing that we're closely monitoring their workout," said Brenda Doughty, M.B.A., R.N.-B.C., CVRN-B.C., Cardiac Rehabilitation manager. Exercise physiologists constantly check patients' heart rhythms, heart rates, blood pressure and oxygen saturation while also watching for negative reactions.
"You can tell when your legs are tired or you have shortness of breath, but you have no idea how your heart is responding to that activity," Doughty said. "Many heart rhythm problems can occur during exercise, and they aren't immediately felt. While recovering from a heart episode, you need to gradually ease back into your normal routine. Cardiac rehab supports that practice."
Reagan describes the cardiac rehab team as helpful and kind, as they work to rebuild her stamina at a comfortable pace.
"It's rebuilding my stamina back to where it needs to be, and it's at a good pace."
And so, as she continues recovering, Reagan is sharing her story.
"A lot of people look at me and think I'm too young to have had a heart attack," she said. "You're never too young, and you never know what's going to happen. I do know that God still has me here for a reason, and I plan to share my testimony with everyone willing to listen."
Learn more about Texas Health's Heart & Vascular Services.
About Texas Health Resources
Texas Health Resources is a faith-based, nonprofit health system that cares for more patients in North Texas than any other provider. With a service area that consists of 16 counties and more than 7 million people, the system is committed to providing quality, coordinated care through its Texas Health Physicians Group and 29 hospital locations under the banners of Texas Health Presbyterian, Texas Health Arlington Memorial, Texas Health Harris Methodist and Texas Health Huguley. Texas Health access points and services, ranging from acute-care hospitals and trauma centers to outpatient facilities and home health and preventive services, provide the full continuum of care for all stages of life. The system has more than 4,100 licensed hospital beds, 6,400 physicians with active staff privileges and more than 26,000 employees. For more information about Texas Health, call 1-877-THR-WELL, or visit www.TexasHealth.org.