May 04, 2022
Kidney Recipient Meets Family of Organ Donor at Texas Health Fort Worth
FORT WORTH, Texas — Exactly one year after their 23-year-old daughter, Ambriana, was fatally injured in a car wreck, Amber and David Ricks got to meet the young man who, through their loss, received a second chance at life.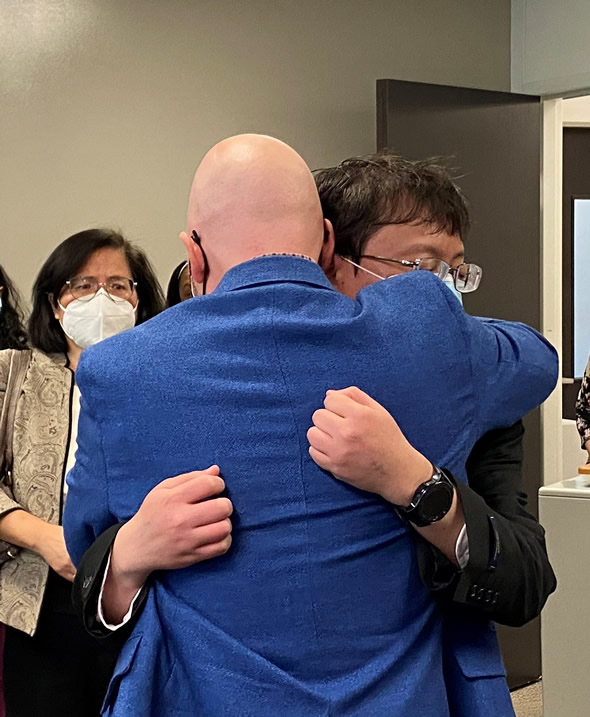 David Ricks, left, embraces Jason Wu at a reception honoring Ambriana Ricks for her selfless gift of organ donation.
Jason Wu, 27, and his mother, Debbie Dunn, fought back tears as they expressed their gratitude to the Ricks family for the health that Ambriana's donated kidney has restored in Wu. A college student and musician who previously had to stop playing the violin due to his poor health, Wu even performed Mendelssohn Violin Concerto, 2nd Movement for the family as a token of his appreciation.
The Ricks said they were thankful to see Wu doing so well and his mother so happy to have a healthy son again.
"I reflect back on what was my worst day as a dad, an unimaginable day, and with my loss I can now look across the table at a parent who was desperately hanging on to their son," David Ricks said. "Now my daughter has given you an opportunity to live a normal life, and I can't express how priceless that is to me."
The emotional meeting took place Tuesday, a short time prior to the hospital's Wall of Life celebration, a yearly event to honor those who gave or received an organ at Texas Health Harris Methodist Hospital Fort Worth.
Since its inception in 1986, almost 1,200 patients have received kidney transplants through the hospital's Kidney Transplant Program, the first of its kind in Fort Worth. About 150 of those transplants involved living donors.
"Every organ donated, whether from the recently deceased or a living donor, is a precious gift of life," said Joseph DeLeon, president of Texas Health Fort Worth. "We are honored that through our Kidney Transplant Program at Texas Health Fort Worth, we can be a part of delivering these selfless gifts to patients in need, improving their health and their lives."
A motivation
Wu had been diagnosed at age 16 with systemic lupus, a chronic autoimmune disease that can potentially affect multiple organs in the body. Despite years of treatment, the lupus later developed into kidney disease, eventually leading to kidney failure and requiring him to receive nightly dialysis.
He was on the kidney transplant list for six years and five months before receiving a call last April that a kidney was available. While his body took weeks to adapt to the new organ and for his health to improve, Wu said he was helped every step of the way by caregivers at Texas Health Fort Worth.
"There were so many good nurses on the floor, really encouraging and always knowing what to do," Wu said. "I recovered so well because of that."
Today, Wu takes about 15 medications a day; a large pill organizer helps him keep track of his morning, midday, early evening and night meds. He monitors his blood pressure, fluid intake and output and maintains a potassium restricted diet.
"This is the best thing I've ever done. This is the easiest decision I've ever made. Was it the easiest thing I've ever done? No, but it has the biggest payoff of anything I've ever done," he said.
He said he thinks frequently about the young woman whose tragic death gave him another chance at life and strives to live it fully and appreciate it.
"It's not really a weight on my shoulders," Wu said. "Honestly, it's something that motivates me to keep going."
Finding hope in grief
Ambriana Ricks was a petite, blond, blue-eyed "wild child" who was as outspoken as she was pretty.
When she got her driver's license as a teen, Ambriana decided to follow her mother's lead and become an organ donor. It was a decision that Amber Ricks had forgotten about until she was reminded by a hospital liaison as she and her husband grappled with the news that Ambriana would not recover from her injuries.
"It was a good thing," Ricks said of her daughter's heart and two kidneys being donated. "It was the one little positive thing in all of it."
When they received a letter from Wu this past fall, Amber Ricks was grateful and recalls how It took her and her husband awhile to craft their response.
"It seemed he felt that now he had to earn his kidney by living a better life, and so, I just let him know that Ambriana was the kind of person who was very giving and very caring," Ricks said. "She was a good gift giver and I hoped that he would be able to see her kidney as just a gift and only because he needed it and that's it."
Ricks said her daughter's donation also gave comfort to her own family.
"It's something that could have been just dark and sad in every way, and in this way, it isn't," Ricks said. "It's been the one thing out of all of it that feels hopeful."
About Texas Health Resources
Texas Health Resources is a faith-based, nonprofit health system that cares for more patients in North Texas than any other provider. With a service area that consists of 16 counties and more than 7 million people, the system is committed to providing quality, coordinated care through its Texas Health Physicians Group and 29 hospital locations under the banners of Texas Health Presbyterian, Texas Health Arlington Memorial, Texas Health Harris Methodist and Texas Health Huguley. Texas Health access points and services, ranging from acute-care hospitals and trauma centers to outpatient facilities and home health and preventive services, provide the full continuum of care for all stages of life. The system has more than 4,100 licensed hospital beds, 6,400 physicians with active staff privileges and more than 26,000 employees. For more information about Texas Health, call 1-877-THR-WELL, or visit www.TexasHealth.org.