October 31, 2022
How leftovers can help you manage diabetes
ARLINGTON, Texas — For Courtney Wilson, dinner leftovers are often the main ingredients for tomorrow's healthy diabetes friendly lunch.
It's a menu planning approach that helps keep diabetes management on course, said Wilson, R.D., L.D., CDCES, a diabetes care and education specialist with Texas Health Resources.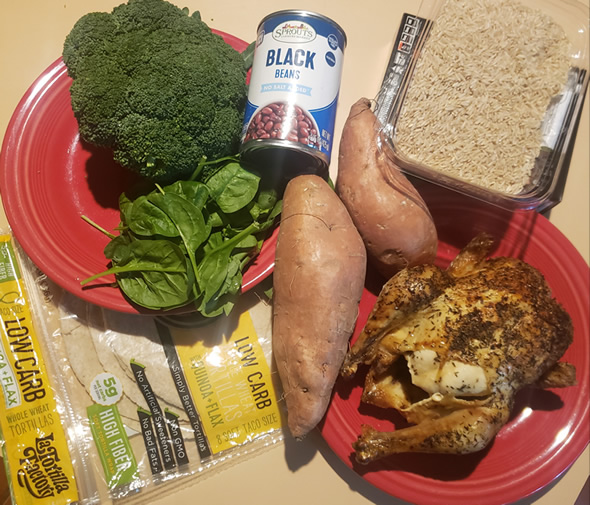 Too often people think healthy food means mundane and repetitive. "It has to be grilled chicken and broccoli, right?" she said, adding that those key ingredients don't have to signal boring.
Wilson urges people with diabetes to use a dinner-lunch variation or repurposing technique for meal planning. That means today's dinner leftovers can become a tasty, packed lunch for the next day, she said.
"It's about thinking outside the box," Wilson said.
Diabetes is a chronic health condition that affects how food is turned into energy. According to the Centers for Disease Control and Prevention, more than 37 million U.S. adults have some form of diabetes — Type 1, Type 2 or gestational diabetes, which occurs during pregnancy. It is the seventh leading cause of death in this country.
November is American Diabetes Month. Educating the public about diabetes is a global mission on World Diabetes Day every year on Nov. 14.
"Even though we are working to better educate the public about diabetes this month, it is a year-round effort for healthcare professionals," Wilson said. "We want to help people with diabetes lead healthy, active lives."
Wilson said eating well is key to managing one's blood sugar. Wilson helps patients with diabetes develop healthy eating plans.
The ideal lunch combination includes non-starchy vegetables such as carrots and lettuce, lean proteins and foods that are high fiber carbohydrates (quinoa/brown rice, beans, fruit).
"We can eat healthy and have flavor in our food," Wilson said. "It's all about finding the recipes that help us get there."
Wilson said creating shopping lists and finding new recipes help keep lunches interesting and tasty while boosting motivation. She recommends incorporating recipes that repurpose leftovers. For example, leftovers from a dinner that includes a rotisserie chicken, sauteed spinach and sweet potato can be wrapped in a low carb tortilla the next day.
"I'm a big fan of having some kind of little treat that is portion controlled," Wilson said. "Something sweet like fruit or a small piece of dark chocolate."
The goal is to eat healthier without adding stress, she said.
Instead of hard rules, set attainable expectations, Wilson said. If that means packing lunches on certain days instead of every day, that is OK.
"Making an effort to eat healthier is already a step in the right direction," Wilson said.
Texas Health offers diabetes education and support to patients and families. More information is available at www.texashealth.org/Health-and-Wellness/Diabetes/Education. Medical plan members can visit BeHealthyTHR.org to learn which diabetes resources are available.
Healthy Lunchbox Tips
Search for recipes on sites such as eatright.org or diabetesfoodhub.org
Create lists of new foods to try
Make shopping lists
Cook larger batches of foods with repurposing in mind
Think about your portions. Food containers with sections can help with portion control
Be flexible
Add a special treat
Sample meal plans
Dinner: Baked chicken, sauteed spinach and sweet potato.
Lunch: Tacos. Use leftover chicken and vegetables to build a taco in a low-carb tortilla. Add pico de gallo or salsa and avocado.
Dinner: Pan nachos. Use chicken, lean ground beef or turkey, sweet potatoes, low sodium canned black beans, cheese, pico de gallo or salsa, tortilla chips and avocado.
Lunch: Salad. Use leftover meat, beans, salsa or pico de gallo. Add lettuce, broccoli, tomatoes, carrots and cheese.
Dinner: Spaghetti with meatballs. Alternative pasta (made with beans or vegetable noodles), meatballs made with lean beef, spaghetti sauce. Side salad of lettuce, tomatoes, carrots and broccoli and salad dressing like Italian.
Lunch: Add frozen vegetables to leftover meatballs and sauce and serve with brown rice.
About Texas Health Resources
Texas Health Resources is a faith-based, nonprofit health system that cares for more patients in North Texas than any other provider. With a service area that consists of 16 counties and more than 7 million people, the system is committed to providing quality, coordinated care through its Texas Health Physicians Group and 29 hospital locations under the banners of Texas Health Presbyterian, Texas Health Arlington Memorial, Texas Health Harris Methodist and Texas Health Huguley. Texas Health access points and services, ranging from acute-care hospitals and trauma centers to outpatient facilities and home health and preventive services, provide the full continuum of care for all stages of life. The system has more than 4,100 licensed hospital beds, 6,400 physicians with active staff privileges and more than 26,000 employees. For more information about Texas Health, call 1-877-THR-WELL, or visit www.TexasHealth.org.