May 05, 2022
Fate led 46-year-old to Texas Health Dallas and immediate receipt of coordinated, high-quality care
DALLAS, Texas — For more than a year, Stephanie May's blood sugar levels were teetering above 300, more than twice the normal level for an adult, and diabetes medication wasn't helping. Then, each time she tried to drink or eat, her upset stomach pushed everything back up, but she chalked it up to the medication. It became unbearable, and suddenly, she found herself undergoing emergency surgery at Texas Health Presbyterian Hospital Dallas.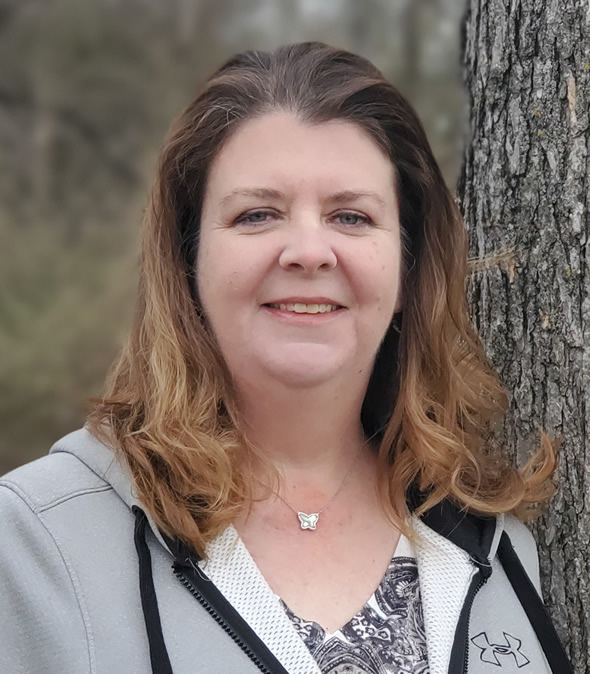 Stephanie May
A lemon-sized tumor nearly ended her life, but thanks to the collaborative efforts of a dedicated group of hospital employees and medical staff physicians, a dire situation turned into one of triumph.
May, a resident of Fate, Texas, began her patient journey at Texas Health Hospital Rockwall. After several tests, an X-ray located a large growth above her kidneys. She was transferred to Texas Health Dallas for additional testing. Upon arrival, the 46-year old went into cardiac arrest — twice.
May would spend more than two weeks in ICU on a ventilator before learning the name of her illness — pheochromocytoma — a tumor on the adrenal gland.
"It completely shut down my kidneys, and my heart pretty much stopped beating on its own," May said.
Along with her failing heart and kidneys, May's lungs and brain function were deteriorating as well. Doctors determined a mechanical pump — one of the world's smallest heart pumps — would help improve her heart function and save her life.
"Her condition was life-threatening, and she developed severe heart failure that led to respiratory failure," said Hassan Pervaiz, M.D., a cardiologist on the Texas Health Dallas medical staff and a member of Texas Health Heart & Vascular Specialists, a Texas Health Physicians Group practice.*
Using a catheter, Pervaiz, guided the small, mechanical pump through an artery into the heart. "It sucks blood from within the heart and pumps it to the aorta. Gradually, her heart failure improved, and she was taken off the pump and the ventilator."
Still, medical staff physicians were concerned about May's growing tumor. Among them was G. Tom Shires III, M.D., a surgeon on the medical staff and member of Texas Health Surgical Care, a Texas Health Physicians Group practice.* He performed a laparoscopic left adrenalectomy, which involved guiding a thin, lighted tube attached to a video camera to May's adrenal gland. Surgical instruments were then inserted through two small incisions to remove the noncancerous tumor. Shires added that a patient's treatment before surgery is just as important as the surgery itself.
"Administering medication to block excess adrenaline secretion of the tumor is extremely important for a safe surgery," Shires said. "Mrs. May's survival was based on an excellent team approach, and her care involved appropriate diagnosis and a very high level of coordinated care."
According to Deborah Willard, Texas Health Resources Clinical Outcomes Service Line director, that well established coordination between Texas Health hospitals, and within hospital departments, creates the necessary link so that North Texans receive the highest level of care required. "We'll continue to amplify that cohesion to give critical patients just like Mrs. May the best chance to make it back home to their families."
And that comprehensive care didn't go unnoticed or unappreciated by May. She's grateful to all the individuals involved in keeping her alive.
"I can't express enough how amazing they are. They're good at what they do, and I felt like I was actually important to them."
Six months after her health scare and no longer on diabetic medication, May is back at work, and even playing the piano again — a talent she started displaying in the second grade. But more important, May's second-degree black belt is not letting anything kick her down for long.
"Going into cardiac arrest, I kind of came back from the dead twice, but living in North Texas I still can't get home without getting stuck in traffic," May said with a laugh. "But I'm grateful to be here with my family, and I'm able to do that because there were people in the right place, at the right time, who knew how to heal me."
Follow this link to learn how Texas Health is advancing cardiovascular care throughout North Texas.
* — Physicians employed by Texas Health Physician Group practice independently and are not employees or agents of Texas Health Resources hospitals.
About Texas Health Resources
Texas Health Resources is a faith-based, nonprofit health system that cares for more patients in North Texas than any other provider. With a service area that consists of 16 counties and more than 7 million people, the system is committed to providing quality, coordinated care through its Texas Health Physicians Group and 29 hospital locations under the banners of Texas Health Presbyterian, Texas Health Arlington Memorial, Texas Health Harris Methodist and Texas Health Huguley. Texas Health access points and services, ranging from acute-care hospitals and trauma centers to outpatient facilities and home health and preventive services, provide the full continuum of care for all stages of life. The system has more than 4,100 licensed hospital beds, 6,400 physicians with active staff privileges and more than 26,000 employees. For more information about Texas Health, call 1-877-THR-WELL, or visit www.TexasHealth.org.