August 02, 2022
Heat illness can occur in as little as 20 to 30 minutes, depending on conditions and level of activity
ARLINGTON, Texas — School supplies are on store shelves, invites for "Meet the teacher" events are arriving via email and many high school students are practicing for extracurricular activities such as football or marching band.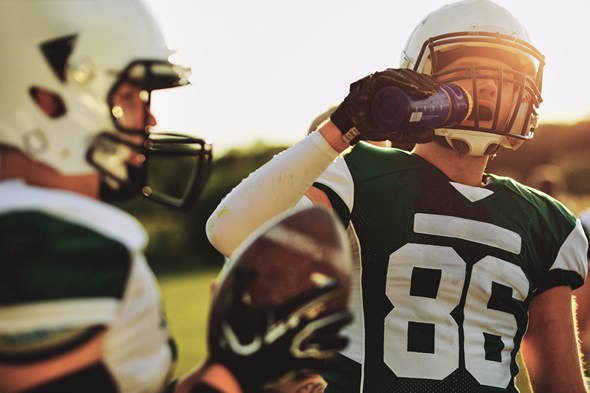 Athletes are encouraged to hydrate before activities to combat high humidity, high temperatures and excessive sweating.
Even though summer break is ending, headline-grabbing hot temperatures haven't disappeared.
"Texas summers — especially this year — are hot all day," said Andrew Morris, D.O., an emergency medicine physician and associate medical director of emergency medicine at Texas Health Presbyterian Hospital Plano. "It's best to limit outside activities to early morning or early evening if possible."
At Texas Health emergency departments, June, July and August are typically when the highest number of patients arrive complaining of heat stroke or heat exposure. In June, there were 169 such cases. There were 277 cases in July.
Heat illness can occur in as little as 20-30 minutes depending on the conditions and level of activity. Being dehydrated, not well conditioned for an activity, or having an infection can make otherwise healthy people prone to heat-related illnesses, Morris said.
When students start to feel ill in the heat, they need to tell someone and move to the shade or an air-conditioned space. Younger students need adult supervision while in the heat and to be encouraged to drink more fluids even when they are not thirsty.
Athletes need to hydrate more before their activities, Morris said. The combination of high humidity, high temperatures and excessive sweating can also be dangerous.
"We tend to sweat a lot with the degree of heat and humidity we are having, which can cause you to lose sodium," Morris said, explaining that sports drinks replace sodium and other electrolytes.
Schools, coaches, and other activity directors need to incorporate heat safety in plans. For example, some marching bands practice at night in school parking lots to limit heat exposure.
"Fortunately, over the past several years preventing heat illness has become a priority at schools," Morris said, explaining that secondary school athletic programs use heat acclimatization guidelines.
Heat acclimatization guidelines for secondary sports have been endorsed by the National Athletic Trainers' Association since 2009 and help build heat tolerance.
Another must for parents and educators is knowing the difference between heat exhaustion and heat stroke.
Heat stroke is the body's inability to regulate temperature and is an emergency, said Paul Whatley, M.D., an orthopedic and sports medicine specialist on the medical staff at Texas Health Presbyterian Hospital Denton, and with Texas Health Physicians Group.
Heat exhaustion is basically dehydration from significant sweating.
Symptoms for heat stroke include elevated body temperature (104 degrees), strong and rapid pulse, confusion, and hot or red skin.
"If someone you know is experiencing these symptoms, you should call 911," Whatley said.
He said cold compresses can be used to lower body temperature quickly.
Symptoms for heat exhaustion include weakness, increased sweating, weak, but elevated heart rate, nausea/vomiting, and cool, clammy skin. Treatment includes lying down, getting to a cool place, and hydrating with water and/or sports drinks with electrolytes.
Safety Tips for Outdoor School Activities
Hydrate. Drink 10-16 ounces of water about 30 minutes before you are going to start outdoor activities.
Wear light colored, breathable clothing, and listen to your body. If you start to feel sick when out in the heat, get somewhere cool and hydrate.
Protecting skin with a hat, sunscreen, and sunglasses.
During outdoor practices, students should drink at least 4-8 ounces of water every 20 minutes. During activities longer than about an hour or with excessive sweating, add a sports drink to help replace electrolytes. Rehydrate after practice (within one to two hours).
Never participate in activities in the heat alone.
About Texas Health Resources
Texas Health Resources is a faith-based, nonprofit health system that cares for more patients in North Texas than any other provider. With a service area that consists of 16 counties and more than 7 million people, the system is committed to providing quality, coordinated care through its Texas Health Physicians Group and 29 hospital locations under the banners of Texas Health Presbyterian, Texas Health Arlington Memorial, Texas Health Harris Methodist and Texas Health Huguley. Texas Health access points and services, ranging from acute-care hospitals and trauma centers to outpatient facilities and home health and preventive services, provide the full continuum of care for all stages of life. The system has more than 4,100 licensed hospital beds, 6,400 physicians with active staff privileges and more than 26,000 employees. For more information about Texas Health, call 1-877-THR-WELL, or visit www.TexasHealth.org.