December 16, 2022
Tips on coping from a Texas Health licensed clinical social worker
DALLAS — Not all holiday get-togethers are fit for a Norman Rockwall painting.
"Holiday gatherings can be really overwhelming," said Olivia Hopkins, D.M., LCSW-S, director of clinical services at Texas Health Behavioral Health Dallas. "You're dealing with large groups of people, expectations and traditions that have been set in place, like making sure you made the stuffing as well as Grandma did."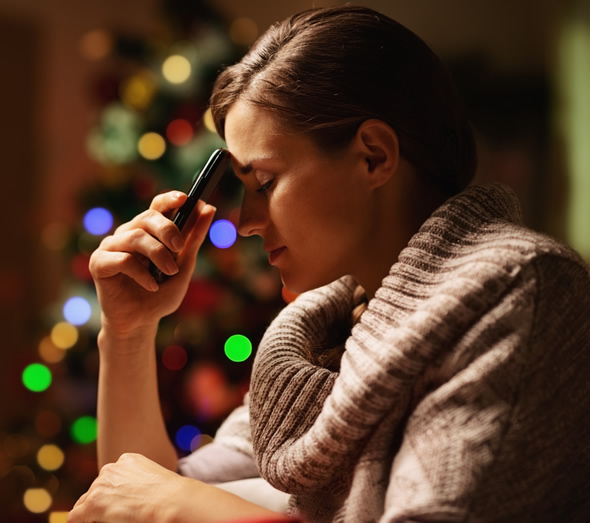 Adding to those stressors, Hopkins said, are often complex family structures like blended families or toxic family members. Toss in changes such as divorce and it's no wonder some may feel anxious or depressed.
"If you have bad memories from holidays or poor experiences with certain family members, all of these can correlate together and make it a really stressful time," Hopkins said.
She recommends these tips for surviving holiday gatherings:
Simplify
If you're hosting, make things easier on yourself and keep things simple. Delegate some responsibilities to others, like having someone else pick up that relative at the airport.
"You should communicate when you need help versus putting everything on your shoulders alone and struggling with that," Hopkins said.
Create a plan, then create a backup plan
"A lot of anxiety is the fear of the unknown," Hopkins said.
Hopkins recommends asking yourself, 'What is the worst that can happen?' to put things into perspective, then plan for the things that really matter.
Burned the turkey, ham or tamales? Have an alternative dish you can quickly whip up or know where the nearest open restaurant is to order takeout.
"Find those little backup plans for yourself so that when your anxiety starts to come up, you can say, 'Cool. I have options A, B and C.'"
Show yourself empathy
Even with the best of planning, there likely will be a wrinkle in the day, and that's OK.
"We're really hard on ourselves as humans and very unforgiving," Hopkins said. "Show yourself that self-empathy and know that it's OK to make mistakes and for everything not to be perfect."
When your anxiety ramps up, practice grounding techniques such as stopping and counting to 10 and doing deep-breathing exercises.
Set healthy boundaries
If a topic comes up that makes you uncomfortable — like, when are you going to start having children — make it clear that it is not something you wish to discuss, then move on.
If conversation turns to polarizing topics like politics, Hopkins recommends steering the conversation elsewhere or simply removing yourself from the discussion.
"Especially if it's your own home, lay some ground rules prohibiting discussing polarizing topics at the dining room table, telling those gathered you'd prefer to focus on enjoying each other's company and having a good time," Hopkins said. "If you don't feel comfortable doing that, it's OK to say, 'I'm going to step out of the room. You guys enjoy this conversation. It's not for me.'"
Yes, you can ditch the gathering or cut someone from the invite list
"Toxic family members are a real thing, especially if you have family members who have been abusive to you or to other members," Hopkins said. "It can be really traumatizing and damaging to people to force them into an environment with someone who has abused them or who you've noticed haven't treated them well."
So, it's OK to cut that toxic relative from the invite list if you're hosting, or skip that gathering you've been dreading, Hopkins said.
"It's OK to say, 'Hey, I'm going to stay home this year,'" Hopkins said. "Meet the ones who you do have that strong bond with separately. You can bring them a gift and visit days earlier or in the days after."
If you or a loved one is struggling with mental health issues, help is available. Visit https://www.texashealth.org/Health-and-Wellness/Behavioral-Health to schedule a free assessment or learn about behavioral health services offered by Texas Health.
About Texas Health Resources
Texas Health Resources is a faith-based, nonprofit health system that cares for more patients in North Texas than any other provider. With a service area that consists of 16 counties and more than 7 million people, the system is committed to providing quality, coordinated care through its Texas Health Physicians Group and 29 hospital locations under the banners of Texas Health Presbyterian, Texas Health Arlington Memorial, Texas Health Harris Methodist and Texas Health Huguley. Texas Health access points and services, ranging from acute-care hospitals and trauma centers to outpatient facilities and home health and preventive services, provide the full continuum of care for all stages of life. The system has more than 4,100 licensed hospital beds, 6,400 physicians with active staff privileges and more than 26,000 employees. For more information about Texas Health, call 1-877-THR-WELL, or visit www.TexasHealth.org.