April 19, 2022
Finalists from Ohio, South Carolina and Massachusetts also honored
WASHINGTON — Texas Health Resources is the 2022 winner of the Foster G. McGaw Prize for Excellence in Community Service. Texas Health, based in Arlington, Tex., is recognized for its leadership and breadth in building community initiatives that address the health needs of its community. The health system will receive $100,000 toward programs that further these goals during the AHA Annual Membership Meeting in Washington, D.C. on April 26.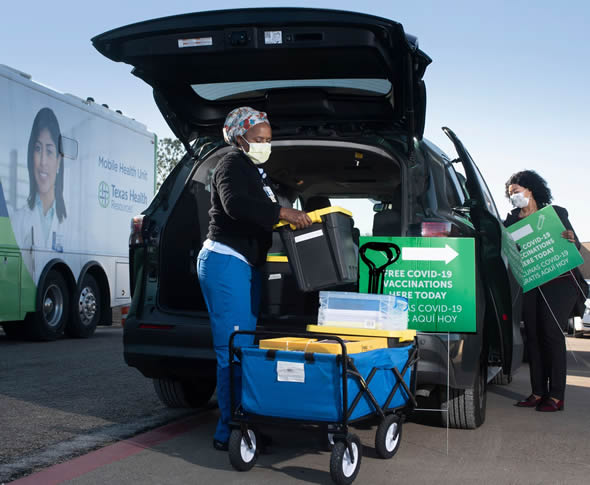 McGaw jurors honored Texas Health in part for its efforts operating mobile health vaccine clinics.
The Foster G. McGaw Prize is sponsored by the Baxter International Foundation, the American Hospital Association and its non-profit affiliate Health Research & Educational Trust. The prize is given to a health care organization that has shown exemplary commitment to establishing and facilitating programs that improve the overall health and well-being of its community.
Texas Health is a faith-based, nonprofit health system that cares for more patients in North Texas than any other provider. The system serves North Texas through Texas Health Physicians Group, hospitals, outpatient facilities, urgent care centers,, home health and preventive and fitness services.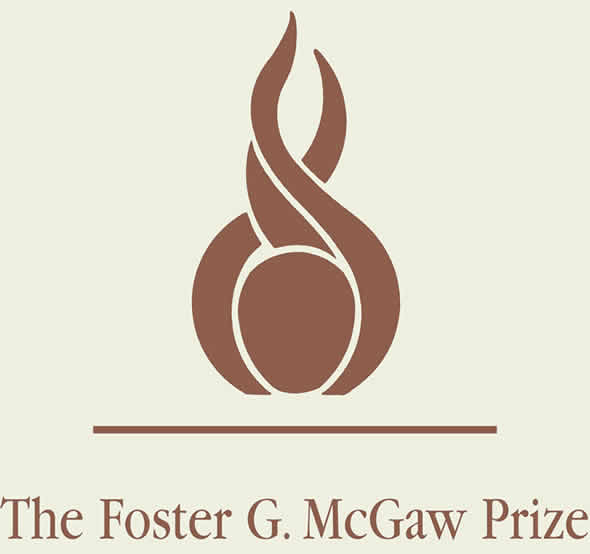 "Every single day Texas Health Resources, in collaboration with numerous partners, advances the health and well-being of its communities," said Rick Pollack, AHA president and CEO. "Despite unprecedented challenges brought on by COVID-19, Texas Health Resources delivered hope and healing to patients, comforted families and protected communities."
"We congratulate Texas Health Resources on the impact they have had to advance care and well-being in their communities, along with all of this year's Foster G. McGaw Prize finalists who are inspiring new ways to deliver healthcare and adapt to meet evolving local needs," said Verónica Arroyave, executive director of the Baxter International Foundation. "We are proud to help recognize their efforts aligned with our 2030 Corporate Responsibility Commitment to champion our communities and empower patients."
"We are honored to be recognized by the American Hospital Association with the prestigious Foster G. McGaw Prize," said Barclay Berdan, FACHE, CEO of Texas Health Resources. "At Texas Health, we believe that building healthy communities requires working with partners, responding to health disparities, eliminating root causes of chronic disease and providing tools that instill life-long health and well-being for all North Texans."
Texas Health's particularly strong initiatives include:
Blue Zones Project Fort Worth: This community health initiative encourages residents to make healthy choices. Since 2014, Fort Worth has undergone a neighborhood-by-neighborhood transformation, exceeding targets set to engage individuals and organizations and to implement citywide policy changes. The demonstrated impact this initiative had on the community was especially noteworthy, serving as a model for improving the health status of a community.
Community Engagement: Texas Health proactively sought community input in determining local needs. This was accomplished through use of the Community Health Needs Assessment along with focus groups, interviews and surveys to identify where best to focus engagement efforts.
Response to COVID-19: Texas Health's response to the pandemic prioritized at-risk community members for vaccination through clinics and mobile health units, as well as through culturally- and linguistically-appropriate outreach and education about the virus and vaccines. The organization served as an example for how to redeploy resources, sustain operations and support staff and community members during a public health emergency.
2022 Finalists
Three Foster G. McGaw Prize finalists are also recognized for their community health programs and will each receive $10,000. These finalists include:
Adena Health System in Chillicothe, Ohio, for its comprehensive approach to community well-being and its specific contribution to economic development through revitalization of the downtown. Adena Health's effective community outreach to address substance use disorder also provided a model for other organizations. The health system CEO was proactive in reaching out to other hospitals in the region as part of the response to the pandemic.
MUSC Health in Charleston, S.C., for its engagement with state legislators to secure enhanced access to telehealth, particularly in rural areas. This increased use of telehealth also allowed MUSC Health to focus its health equity efforts across South Carolina. MUSC Health's community engagement efforts also helped ensure access to healthy foods in areas with limited options. The system used targeted messages to communicate with risk populations about the COVID vaccine.
UMass Memorial Medical Center in Worcester, Mass., for its response to COVID-19 and its role supporting the region's public health infrastructure, especially in regard to the COVID vaccine rollout. The system CEO was active in the community through a "feet on the street" approach to engagement. UMass Memorial also created a worthy model through its "food as medicine" philosophy, which educates about how to establish sustainable food resources.
About the Foster G. McGaw Prize
The Foster G. McGaw Prize recognizes health care organizations that are committed to community service through a range of programs that demonstrate a passion and continuous commitment to making communities healthier and more vital. The prize, first awarded in 1986, inspires hospitals, health systems and communities to assess and implement programs that improve their communities. For more information, visit www.aha.org/fostermcgaw.
About the American Hospital Association
The American Hospital Association (AHA) is a not-for-profit association of health care provider organizations and individuals that are committed to the health improvement of their communities. The AHA advocates on behalf of our nearly 5,000 member hospitals, health systems and other health care organizations, our clinician partners – including more than 270,000 affiliated physicians, 2 million nurses and other caregivers — and the 43,000 health care leaders who belong to our professional membership groups. Founded in 1898, the AHA provides insight and education for health care leaders and is a source of information on health care issues and trends. For more information, visit the AHA website at www.aha.org.
About Baxter and Baxter International Foundation
Every day, Baxter and the Baxter International Foundation strive to make a meaningful difference in the lives of people who depend on the company's products, and in the communities where employees live and work. The Foundation has helped advance Baxter's mission to save and sustain lives through global partnerships across the same three pillars for 40 years – increase access to healthcare for the underserved, bolster STEM education to develop the next generation of healthcare innovators and promote overall community resilience. For more information, please visit Baxter's Corporate Responsibility page.
About Texas Health Resources
Texas Health Resources is a faith-based, nonprofit health system that cares for more patients in North Texas than any other provider. With a service area that consists of 16 counties and more than 7 million people, the system is committed to providing quality, coordinated care through its Texas Health Physicians Group and 29 hospital locations under the banners of Texas Health Presbyterian, Texas Health Arlington Memorial, Texas Health Harris Methodist and Texas Health Huguley. Texas Health access points and services, ranging from acute-care hospitals and trauma centers to outpatient facilities and home health and preventive services, provide the full continuum of care for all stages of life. The system has more than 4,100 licensed hospital beds, 6,400 physicians with active staff privileges and more than 26,000 employees. For more information about Texas Health, call 1-877-THR-WELL, or visit www.TexasHealth.org.