November 03, 2022
Texas Health among 20 businesses awarded Texan by Nature honor
ARLINGTON, Texas — Texas Health Resources' focus on conservation in recent construction projects in North Texas — expansions and renovations — with green initiatives helped the system garner the Texan by Nature TxN 20 honor for the fourth year in a row.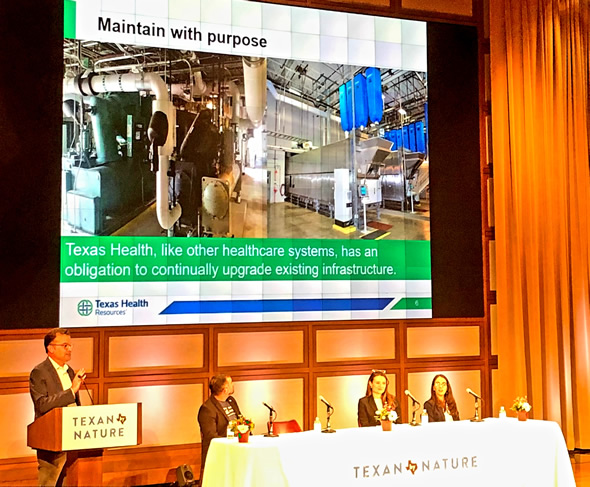 The nonprofit, founded by former first lady Laura Bush, annually recognizes 20 Lone Star businesses that show dedication to conservation and sustainability through corporate leadership.
Texas Health is the only health organization on this year's list. The system's conservation efforts stretch across many service areas, from patient care to growing healthy communities to expanding hospitals and facilities. The mission to better serve North Texas by caring for the environment is included in projects, programs and best practices.
"This recognition is a great honor for Texas Health," said Barclay Berdan, CEO of Texas Health. "Conservation is much more than simply using less energy and water. It's about providing the most affordable, accessible and appropriate resources that improve people's health."
The honor recognizes Texas Health's industry leadership in integrating environmentally friendly practices throughout the system. There are about 400 employees systemwide whose jobs have some aspect of conservation related to them.
"Conservation of resources is vital to Texas Health's long-term sustainability and to the well-being of the people living in the communities we serve," said Shaun Clinton, senior vice president, Supply Chain Management.
The nine-story Jane and John Justin Surgical Tower construction project at Texas Health Harris Methodist Fort Worth is an example of Texas Health meeting green building guidelines and design excellence standards with the greatest level of energy and water efficiency.
Texas Health is also fostering a culture of environmental stewardship among its employees. Since 2009, Texas Health employees have contributed 146,422 Community Time Off (CTO) hours and provided the equivalent of $2.2 million in service to communities, including farmers' markets, community gardens, urban farms and park revitalization projects
Texas Health, through its Blue Zones Project® Fort Worth initiative, is promoting healthy, sustainable communities. It supports Grow Southeast, a community group that incubates urban farms in southeast Fort Worth, an area designated as lacking access to healthy food sources.
"Making sure Fort Worth residents have equitable access to healthy foods is always a priority," said Matt Dufrene, vice president of Blue Zones Project/ North Texas Healthy Communities. "Our projects help grow healthier communities that embrace sustainable practices."
The Texan by Nature honorees are among the best and most innovative organizations across 12 industries.
"I'm thrilled to celebrate this year's TxN 20! They are pioneers, collaborators and changemakers," Bush said. "I encourage other companies to follow their example and engage in conservation. Together, we can set the standard for sustaining a prosperous economy, rich natural resources and a secure future for the next generation."
Some initiatives for which Texas Health was recognized include:
Leveraging buying power to keep a steady supply of lifesaving equipment and supplies while conserving resources and lowering waste
Building and operating hospitals and facilities that reduce waste, energy and water consumption — an effort that includes installation of low-flow toilets, waterless urinals and water-efficient irrigation
Recycling devices, such as pulse oximeters, harmonic scalpels, EGG leads, cables and more, to avoid landfill waste
Exchanging single-use devices for points toward tree planting through a program with the National Forest Foundation. In 2021, Texas Health diverted approximately 9,000 pounds of these devices from landfills, resulting in the planting of 1,989 trees.
Diverting more than 37,000 pounds of produce from local landfills through a culled produce recovery project that supplies compost and organic materials to urban farms
Participating in the North Texas Healthcare Laundry Cooperative, which allows Texas Health to wash linens using 50% less water, chemicals and energy than traditional laundry services
Follow this link to learn more about the 20 Texan by Nature honorees.
About TxN
Texan by Nature (TxN) brings conservation and business together to advance conservation - positively impacting natural resources, prosperity, and health across Texas and beyond. TxN partners deeply with conservation groups and business, acting as an accelerator for conservation groups and a strategic partner for business. Their projects and programs have impacted 7M+ people, 19.5M acres, and all of Texas' 254 counties over the last 2 years. Get involved and learn more at www.texanbynature.org and follow on Facebook @TexanbyNature, Twitter @TexanbyNature, and Instagram @texanbynature.
About Texas Health Resources
Texas Health Resources is a faith-based, nonprofit health system that cares for more patients in North Texas than any other provider. With a service area that consists of 16 counties and more than 7 million people, the system is committed to providing quality, coordinated care through its Texas Health Physicians Group and 29 hospital locations under the banners of Texas Health Presbyterian, Texas Health Arlington Memorial, Texas Health Harris Methodist and Texas Health Huguley. Texas Health access points and services, ranging from acute-care hospitals and trauma centers to outpatient facilities and home health and preventive services, provide the full continuum of care for all stages of life. The system has more than 4,100 licensed hospital beds, 6,400 physicians with active staff privileges and more than 26,000 employees. For more information about Texas Health, call 1-877-THR-WELL, or visit www.TexasHealth.org.