February 16, 2022
Young patient at Texas Health Fort Worth deals with two medical procedures in a week's time to address patent foramen ovale
FORT WORTH, Texas — At a time when most college students were finalizing holiday plans, Sam Gladys found herself dealing with not one but two medical procedures.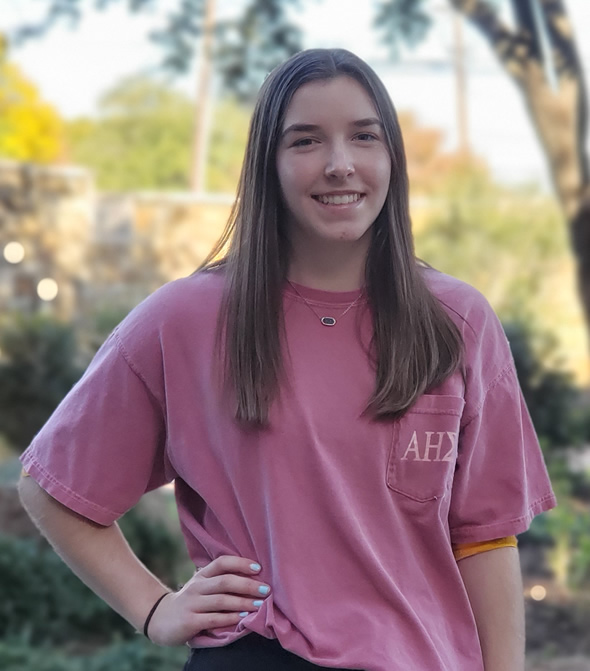 Sam Gladys
A normal morning began with a light workout and a brisk walk with the dogs, but it instantly turned drastic for the college freshman when Gladys lost control of her body and then lost consciousness. She is grateful that an emergency procedure completed at Texas Health Harris Methodist Hospital Fort Worth helped save her life.
At just 18 years old, the former high school cheerleader and soccer player suffered a stroke.
More specifically, Gladys had a complete blockage of her distal basilar artery, a major artery that supplies blood flow to the brainstem.
"A lack of blood flow can cause the brainstem to become irreversibly damaged," said Matthew Fiesta, M.D., an interventional neuroradiologist on the medical staff at Texas Health Fort Worth. "In some patients, it can lead to total-body paralysis, which is referred to as locked-in syndrome. Without treatment, Ms. Gladys had a low chance of survival."
After arriving at an ER in Argyle, Gladys was administered the clot-busting drug alteplase, but it didn't dissolve her clot. She was immediately airlifted to Texas Health Fort Worth, where Fiesta performed an emergency endovascular mechanical thrombectomy.
Treatment at a comprehensive stroke center
Texas Health Fort Worth is one of fewer than 40 comprehensive stroke facilities in the state of Texas. It's also the only advanced comprehensive stroke center in Tarrant County certified by The Joint Commission. The designation encompasses the full spectrum of stroke care — diagnosis, education, rehabilitation and treatment.
In fact, Texas Health Fort Worth cares for the highest number of stroke patients* in North Texas.
Fiesta made a small incision in Gladys' upper leg, threaded a small catheter and suction device through an artery, and then removed the blood clot.
"We actually discovered two separate clots in her brainstem, and each was about the size of a peanut," he said. "It's important to know that strokes can affect all ages, but the faster you seek medical treatment, the better your chance of a favorable outcome."
Gladys didn't have any conditions typically expected to lead to ischemic stroke, such as atrial fibrillation, carotid artery stenosis, high blood pressure, smoking, diabetes or high cholesterol. Hers was a cryptogenic stroke, or one of unknown cause, that affects close to 175,000 people in the U.S. each year, according to the American Stroke Association.
Unbeknownst to Gladys, her patient journey was far from over. Physicians ran additional tests to determine why a healthy teenager would suffer a stroke. Specialized echocardiograms soon revealed a patent foramen ovale (PFO), which is a small opening between the upper two chambers of the heart that doesn't close properly after birth.
Understanding a PFO diagnosis
"I was confused, because I have lived 18 years not knowing there was a hole in my heart," Gladys said.
According to Vijay Kalaria, M.D., FACC, FSCAI, an interventional cardiologist on the Texas Health Fort Worth medical staff, clinical research in the past decade, including documentation from the National Institutes of Health, has found a PFO to be a leading cause of cryptogenic stroke, "especially in younger patients with low risk factors for stroke."
Kalaria added that 15% to 20% of the population may have a PFO, but not all require closure.
"A PFO is usually closed in the majority of patients only after a stroke or mini-stroke occurs and there are no other risk factors or causes of stroke identified."
Just seven days after her brain procedure, Kalaria closed Gladys' PFO by making a tiny incision in her groin area, and using intracardiac ultrasound guidance, he maneuvered an expandable device that looks like two metal mushroom disks through a vein all the way to her heart.
"The device remains in the heart, and within a few months, the body's cells and scar tissue gradually envelope the device. Over time, the PFO closure eliminates any shunting of blood between the right and left sides of the heart, helping prevent future strokes," Kalaria said.
New year, new outlook
Three months out and fully recovered without the aid of rehabilitation, Gladys is thankfully enjoying the new year with her family. Because of successful procedures and the compassionate care received at Texas Health Fort Worth, Gladys is back in school and back at work.
"Dr. Fiesta, Dr. Kalaria and the entire care team checked up on me a lot, just to see how I was doing. That meant a lot to me," Gladys said.
She credits her successful patient journey to a higher power as well.
"I've always loved Philippians 4:13, because it gives me the motivation that I need," Gladys said. "It's really hard to be in a situation like mine, but I know that no matter what, Christ is always there."
Follow this link to learn more about cardiac care available from Texas Health Heart & Vascular Services.
* Source: Statistical information provided by Texas Health Care Information Collection.
About Texas Health Resources
Texas Health Resources is a faith-based, nonprofit health system that cares for more patients in North Texas than any other provider. With a service area that consists of 16 counties and more than 7 million people, the system is committed to providing quality, coordinated care through its Texas Health Physicians Group and 29 hospital locations under the banners of Texas Health Presbyterian, Texas Health Arlington Memorial, Texas Health Harris Methodist and Texas Health Huguley. Texas Health access points and services, ranging from acute-care hospitals and trauma centers to outpatient facilities and home health and preventive services, provide the full continuum of care for all stages of life. The system has more than 4,100 licensed hospital beds, 6,400 physicians with active staff privileges and more than 26,000 employees. For more information about Texas Health, call 1-877-THR-WELL, or visit www.TexasHealth.org.