June 02, 2022
Kupferle Breast Center to work with five other facilities to identify best-practice standards
FORT WORTH, Texas — To win the battle against breast cancer, early detection is vital.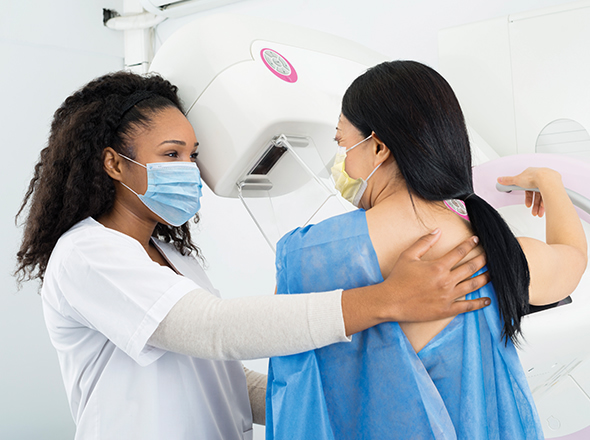 Clinicians at the Kupferle Breast Center will work to identify and share best practices for breast positioning during mammograms.
"Mammograms are the single most important examination that we can provide for the early detection of breast cancer," said Kelly Starkey, M.D., medical director of the Kupferle Breast Center and physician on the medical staff at Texas Health Harris Methodist Hospital Fort Worth. "With mammograms, we're finding these cancers very early and very small, which gives the patient a lot more treatment and surgical options."
To make this important tool even more effective, the Kupferle Breast Center has joined an initiative by the American College of Radiology aimed at improving diagnostic imaging across the nation.
Under the project, the Kupferle Breast Center and five other mammography centers from across the country will work to identify and share best practices for breast positioning during mammograms. The research is important, because studies have shown that poor breast positioning is the most common cause for image deficiencies and can contribute to undetected breast cancer.
"Some mammographers have been doing this for five years, some of us have been doing it for 35 years. The ones who were taught to position 35 years ago may have a little different way of doing things," said Rebecca Wallace, supervisor of the breast center and team leader of the project. "But if there's anything you could change that would get you one millimeter more of breast tissue, that's something we should all strive for."
Breast cancer accounted for approximately 11 percent of all cancers seen at Texas Health Fort Worth in 2020. Of the 271 breast cancers cases diagnosed and/or treated through the hospital that year, 199 were newly diagnosed cases.
"In our drive to be a high reliability organization, Texas Health is continually identifying and fine-tuning ways to provide safe, reliable care every time and every place for every person," said Amy Papst, M.D., M.S.-H.C.T., chief quality and medical officer at Texas Health Fort Worth. "That's why it's such an honor to be involved in this collaborative endeavor that will not only benefit our patients but women across the nation."
Throughout the year, the participating breast centers will be working with the American College of Radiation to grade screening mammograms, compare results and train technologists on the techniques found to improve scores on imaging.
"It's really going back to the basic building blocks of mammography to determine which characteristics make a mammogram good quality and then breaking down each of those characteristics even further to standardize the process," Starkey said.
Kupferle Breast Center applied for the initiative because of the diverse environments in which Texas Health Fort Worth provides mammograms. In addition to mammograms at the Kupferle Breast Center, the hospital oversees mammograms in the hospital's Wellness for Life Mobile Health program and at the Texas Health Neighborhood Care & Wellness Centers in Burleson and Willow Park.
"That was one of the reasons that we were chosen for this project, because of our variety of sites," said Lesley Kibel, manager of the breast center. "Because what may work in one area or location may not work in another."
Kibel said lessons learned through the initiative will then be shared across the Texas Health system and to improve mammograms nationwide.
"Even if all we get out of it is a better understanding of what we can do internally to improve positioning, then that's a win for us," Kibel said. "But the opportunity to be able to work nationally and create national best practices is really exciting. We're able to take our experience and help others learn about what works and what doesn't work in these unique situations."
Follow this link to learn more about the American College of Radiology initiative. Follow this link to schedule a mammogram at a Texas Health facility.
About Texas Health Resources
Texas Health Resources is a faith-based, nonprofit health system that cares for more patients in North Texas than any other provider. With a service area that consists of 16 counties and more than 7 million people, the system is committed to providing quality, coordinated care through its Texas Health Physicians Group and 29 hospital locations under the banners of Texas Health Presbyterian, Texas Health Arlington Memorial, Texas Health Harris Methodist and Texas Health Huguley. Texas Health access points and services, ranging from acute-care hospitals and trauma centers to outpatient facilities and home health and preventive services, provide the full continuum of care for all stages of life. The system has more than 4,100 licensed hospital beds, 6,400 physicians with active staff privileges and more than 26,000 employees. For more information about Texas Health, call 1-877-THR-WELL, or visit www.TexasHealth.org.