January 19, 2022
Medicus Integra© Award promotes efforts conducive to healthy organizational culture and essential to quality patient care
ARLINGTON, Texas, — Texas Health Physicians Group announced today that it was named the recipient of the prestigious Medicus Integra© Award. The Medicus Integra© Award was conceived and developed by The Coalition for Physician Well-Being. It is based upon the belief that resilience and well-being is not only good for physicians and advanced practice providers but is conducive to healthy organizational culture and essential to quality patient care.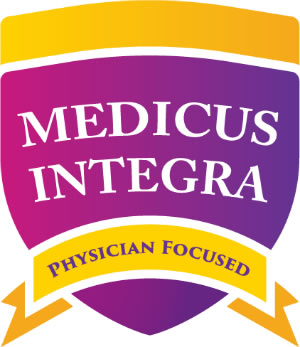 "It's no secret that a healthy and engaged workforce often means enhanced patient care, greater efficiency, better working relationships, and improved quality and safety," said Dianne McCallister, M.D., Coalition board member and president of Diagnosis Well, Inc., Denver, Colorado. "Now health care organizations can better gauge how they are doing in terms of the intentional programming and resources they are providing to help physicians and advanced practice providers achieve balance in their lives and derive joy in their practice of medicine."
It is in the best interest of healthcare organizations to give attention to the well-being of physicians and advanced practice providers and demonstrate intentionality in developing strategies and initiatives to help prevent burnout and promote well-being. To qualify, nominating organizations must submit comprehensive documentation identifying and itemizing their efforts and results in four key categories: Resilience, Learning, Business & Quality, and Culture.
"We know that balanced, healthy, fulfilled physicians and advanced practice providers are more likely to communicate and collaborate effectively with patients and staff, demonstrate care and compassion, and experience better outcomes," said Ted Hamilton, board chair of the Coalition and chief mission integration officer of AdventHealth. "I believe that if given a choice, most of us would prefer to go to, or work for, a health care organization that prioritizes physician well-being."
With more than 1,250 physicians advanced practice providers and other medical professionals in 259-plus locations, the highly skilled team at Texas Health Physicians Group covers the full range of health needs. From primary care medicine to OB/GYN, cardiology and hospice care, Texas Health Physicians Group is dedicated to serving patients and their families throughout a lifetime of changing medical needs.
"In the midst of a pandemic, the well-being of our physicians and advanced practice providers is more important than ever," said Lynn Myers, M.D., chief medical and quality officer for Texas Health Physicians Group. "Receiving the well-being designation from Medicus Integra reinforces our commitment to care for all those who have been working tirelessly through this pandemic."
About The Coalition for Physician Well-Being
Awarding organization, The Coalition for Physician Well-Being is a 501(c)3 nonprofit, based in Altamonte Springs, Florida with association of 50 healthcare systems, hospitals, and professional organizations, represented by over 245 individual members. The Coalition is committed to creating a physician-hospital paradigm that promotes personal and professional fulfillment, sustains physician families, builds collegial relationships, and enhances a healing culture, thereby benefitting patient care and contributing to overall hospital performance. The Coalition's Mission is "To promote meaning, purpose and joy in the practice of medicine."
About Texas Health Resources
Texas Health Resources is a faith-based, nonprofit health system that cares for more patients in North Texas than any other provider. With a service area that consists of 16 counties and more than 7 million people, the system is committed to providing quality, coordinated care through its Texas Health Physicians Group and 29 hospital locations under the banners of Texas Health Presbyterian, Texas Health Arlington Memorial, Texas Health Harris Methodist and Texas Health Huguley. Texas Health access points and services, ranging from acute-care hospitals and trauma centers to outpatient facilities and home health and preventive services, provide the full continuum of care for all stages of life. The system has more than 4,100 licensed hospital beds, 6,400 physicians with active staff privileges and more than 26,000 employees. For more information about Texas Health, call 1-877-THR-WELL, or visit www.TexasHealth.org.