October 03, 2022
Certified nurse midwife addresses misconceptions about her role
FORT WORTH, Texas — Sophie Purke knew she wanted a different birth experience for her second daughter.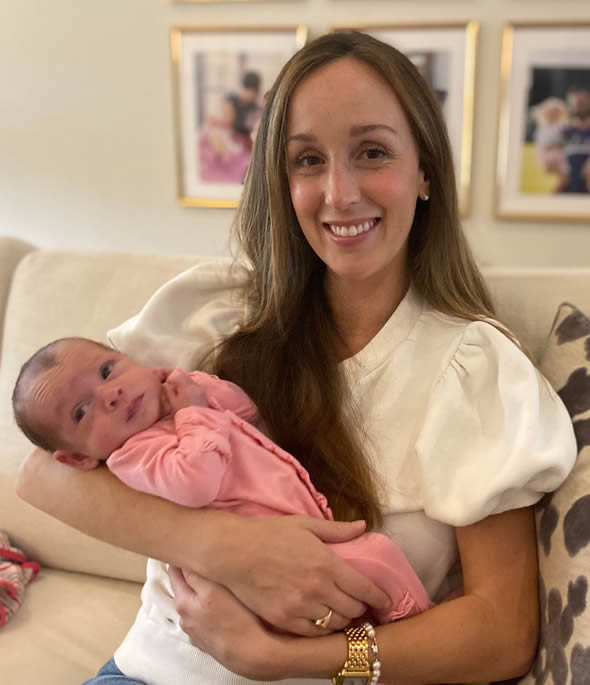 Sophie Purke and daughter Josie
So, after seeking advice from others, Purke picked a certified nurse midwife, an advanced practice registered nurse who is certified to provide women's healthcare.
"I had heard through friends and other nurses and health providers that they have a very hands-on engagement," Purke said. "They spend a lot of time explaining things and caring for the mom."
Purke chose Texas Health Nurse Midwife Care, a Texas Health Physicians Group practice located at Texas Health Harris Methodist Hospital Fort Worth. She liked the experience so much, she used the practice again upon the recent birth of her third daughter, Josie.
The use of midwives dates back thousands of years, when women would assist other women in childbirth.
Today, certified nurse midwives are highly educated, specialized professionals who provide a variety of services, from gynecological assistance to prenatal, labor and delivery, and postpartum care to menopausal management. Nationally, nearly 1 in 10 births is attended by a certified nurse midwife, according to the National Vital Statistics System.
"The philosophy of a midwife is really about providing a safe space, so that women can feel comfortable to ask questions, learn about their bodies and their pregnancies and really be a part of their care," said Monica Reno, APRN, CNM, one of the eight certified midwives at Texas Health Nurse Midwife Care. "We're really encouraging and empowering women to participate in their care and know what's going on, so that they can make the best decisions for themselves."
Reno said she spends much of her time with new patients explaining the many options available to them through the midwife practice, including methods of childbirth.
"There are so many misconceptions, like, 'Do I have to go unmedicated? Can I get an epidural?" Reno said. "Yes. Absolutely. There isn't one way to do anything."
At the Fort Worth practice, patients deliver at Texas Health Fort Worth. An in-house midwife is available 24/7, and the team collaborates with OB/GYNs and maternal fetal medicine specialists should their services or a consultation be needed.
"If somebody wants to go natural and unmedicated, they can come to our practice and have an unmedicated, natural, beautiful birth in the hospital setting. They can have a water birth. They can move around and eat and drink," Reno said. "We don't have to do interventions if it's not needed, but if something does come up, we're in the hospital setting, so we have more options."
Joseph DeLeon, president of Texas Health Fort Worth, said giving women more choices in their care is one of the many ways Texas Health is meeting people where they are.
"Every woman's pregnancy and desires for childbirth is unique," DeLeon said. "Patients should have a voice in their care, and we're proud that so many women have chosen to have their babies here under the care of a certified nurse midwife."
Purke credits her midwife with helping her deliver Hadley, now two, without medication.
"It was so magical to have that help," Purke said. "I ended up being able to do it without an epidural strictly because of how helpful the midwives were in coaching me through the breathing, the process, the pain."
With Josie, born in August, Purke chose to have a water birth.
"I wanted the best of both worlds. I wanted to be in a hospital and have that security of knowing I'm in the right place if there's an emergency but also knowing I could fulfill my desire to try to birth again without any medication, and I was able to do that. She was born in the water with the midwifes and it was amazing."
Follow this link to find a certified nurse midwife near you.
About Texas Health Resources
Texas Health Resources is a faith-based, nonprofit health system that cares for more patients in North Texas than any other provider. With a service area that consists of 16 counties and more than 7 million people, the system is committed to providing quality, coordinated care through its Texas Health Physicians Group and 29 hospital locations under the banners of Texas Health Presbyterian, Texas Health Arlington Memorial, Texas Health Harris Methodist and Texas Health Huguley. Texas Health access points and services, ranging from acute-care hospitals and trauma centers to outpatient facilities and home health and preventive services, provide the full continuum of care for all stages of life. The system has more than 4,100 licensed hospital beds, 6,400 physicians with active staff privileges and more than 26,000 employees. For more information about Texas Health, call 1-877-THR-WELL, or visit www.TexasHealth.org.