April 11, 2023
Thirteen percent of transplant surgeries at Texas Health Fort Worth involve living donors
FORT WORTH, Texas — Eileen Macias was 20 weeks pregnant when an ultrasound to learn her baby's gender also revealed that her unborn son had an enlarged bladder.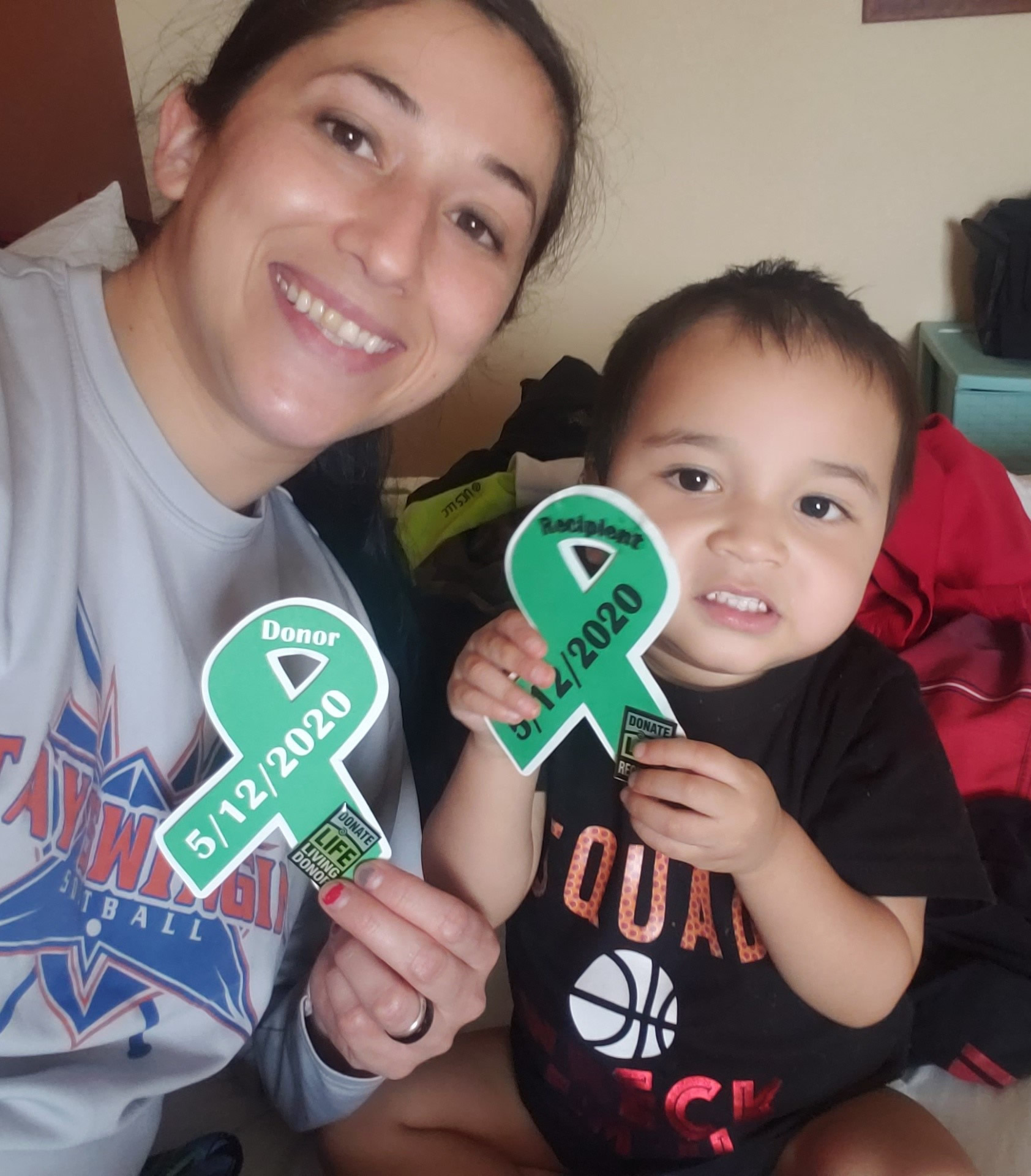 Eileen Macias and son Brixton
While still in his mother's womb, Brixton Marshall underwent his first procedure to have the bladder drained. Diagnosed with a rare urinary birth defect known as Prune Belly Syndrome, multiple surgeries would follow his birth to deal with the consequences of his dysfunctional bladder.
At age 1, Brixton began dialysis after his kidney function decreased and was later placed on the waiting list for a kidney transplant. But after having complications with his dialysis, the urgency for the transplant grew.
On May 12, 2020, two days after Mother's Day at Texas Health Harris Methodist Hospital Fort Worth, Macias gave a piece of herself to her son.
Tariq Khan, M.D., a transplant surgeon on the medical staff at Texas Health Fort Worth, assisted in removing one of Macias' kidneys and then, with the help of the surgical team at Cook Children's Medical Center, transplanted the organ into Brixton, then 2. Within hours after her own surgery, Macias crossed the skywalk that connects the two hospitals to visit her son in the ICU.
"I was overjoyed," Macias recalled of the moment she reunited with her son. "There were so many people involved in this journey that, at that point in time, I felt all of it. There was so much gratitude and love."
Since the Kidney Transplant Program began in 1986 at Texas Health Fort Worth, surgeons have completed 1,210 procedures. Of those, 153 involved living donors — three of which were collaborations with patients from Cooks.
"Whether someone chooses to be a living donor or signs up to be an organ donor upon their death, it's a beautiful, selfless decision that can provide the gift of life for so many," said Joseph DeLeon, president of Texas Health Fort Worth.
More than 90,000 people in the United States are currently awaiting a kidney donation. The average wait for a kidney from a deceased donor can be three to five years, according to Donate Life America. Live donor transplants often provide shorter wait times.
Live donor kidneys tend to last longer, function immediately after transplant and are closer in match when provided by family members, Khan said.
While both of Brixton's parents were willing to give their son a kidney, Brixton's dad, Mikey Marshall, was not a suitable donor because of his 6-foot-5-inch height.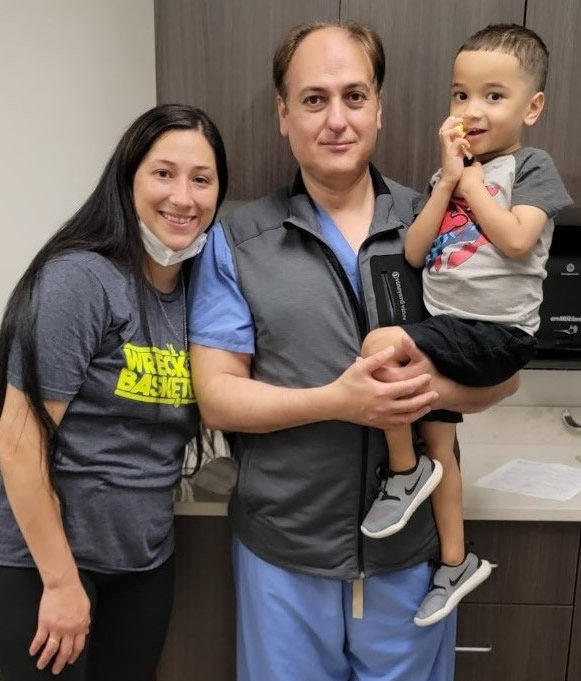 Eileen and Brixton with Dr. Tariq Khan
"Adult organs can be transplanted into pediatric recipients provided there is not a significant size difference," said Khan, a member of Texas Health Transplant Specialists, a Texas Health Physicians Group practice.
Macias' kidney, however, was a close match. That the organ came from a parent also provided additional immunologic advantages, Khan said.
Now 5, Brixton is back home in Lubbock with his parents and three siblings.
"Brixton is doing wonderful after his transplant," Khan said. He is achieving all his developmental milestones, is ready to start school and enjoy life with his family."
While his parents must still closely monitor his nutrition and health, they are amazed at how far he's come.
"His journey is still continuing, but his quality of life, because of this transplant, improved dramatically," Macias said. "He's a whole different kid."
Macias has been asked if she was scared to donate a kidney, but she said she feels only elation and hopes others will consider becoming donors.
"What wouldn't we give our kids as parents?" Macias said. "Every person on that (transplant waiting) list is a child, is a son, is a daughter, is a father, is a brother. They're all somebody like that to somebody else. If you would do it for your own kid, I would hope you would consider doing it for somebody else."
Follow this link to learn more about becoming a live kidney donor.
About Texas Health Resources
Texas Health Resources is a faith-based, nonprofit health system that cares for more patients in North Texas than any other provider. With a service area that consists of 16 counties and more than 7 million people, the system is committed to providing quality, coordinated care through its Texas Health Physicians Group and 29 hospital locations under the banners of Texas Health Presbyterian, Texas Health Arlington Memorial, Texas Health Harris Methodist and Texas Health Huguley. Texas Health access points and services, ranging from acute-care hospitals and trauma centers to outpatient facilities and home health and preventive services, provide the full continuum of care for all stages of life. The system has more than 4,100 licensed hospital beds, 6,400 physicians with active staff privileges and more than 26,000 employees. For more information about Texas Health, call 1-877-THR-WELL, or visit www.TexasHealth.org.