January 11, 2023
"I was reciting the Lord's Prayer, and everything went dark," Bob Richardson recalls.
DALLAS — Praise music surrounded Bob Richardson as he sat in church on a Sunday morning. He had no idea that in a matter of minutes, his life would be transformed by a physician sitting a few feet away. His remarkable journey would take him from CPR in the pew to quality, lifesaving cardiac care at Texas Health Presbyterian Hospital Dallas.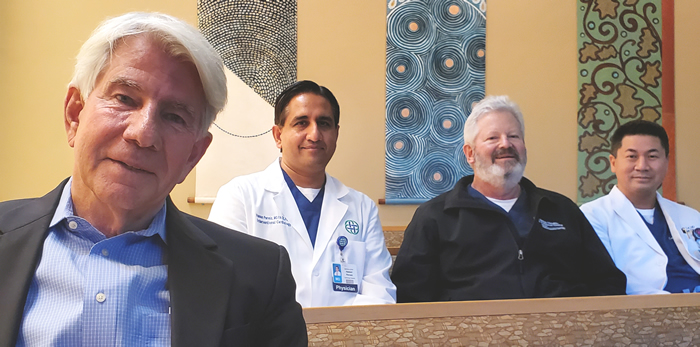 Bob Richardson with doctors Hassan Pervaiz, Gary Weinstein, and Brian Le.
"I was reciting the Lord's Prayer, and everything went dark," Richardson said. "The next thing I remember was opening my eyes, resting in a hospital bed and people talking all around me."
Thanks to bystander CPR, Richardson survived sudden cardiac arrest.
"If it wasn't for Dr. Weinstein, I wouldn't be here."
Caring outside hospital walls
"I heard a strange noise to my right and saw a woman trying to hold up her husband," said Gary Weinstein, M.D., a pulmonologist on the Texas Health Dallas medical staff. "He was ashen and turning blue — he did not look good."
Weinstein rushed over and checked for a pulse. He felt nothing. Immediately, he began CPR. A few minutes later, someone gave him an automated external defibrillator (AED). Weinstein placed the pads on Richardson's chest and the machine delivered a shock to his heart.
Still no pulse.
Weinstein continued CPR, allowing Richardson to breathe once more. A few minutes later, paramedics arrived and rushed him to Texas Health Dallas.
Continuing care inside hospital walls
Several exams were performed to rule out stroke and a heart attack. The next step was cardiac catheterization, performed by Hassan Pervaiz, M.D., a cardiologist on the Texas Health Dallas medical staff and a member of Texas Health Heart & Vascular Specialists, a Texas Health Physicians Group practice.* Making a small incision in the groin area, Pervaiz guided a narrow tube to Richardson's heart to determine how well it was functioning.
"No blockages were found in Mr. Richardson's blood vessels or his heart, so the likely cause of his cardiac arrest was an arrhythmia or an abnormal heart rhythm," Pervaiz said. To address future events of sudden cardiac arrest, an implantable cardiac defibrillator (ICD) was recommended.
"When a patient suffers from sudden cardiac arrest, the ICD immediately detects it and delivers a shock to the heart and hopefully prevents someone from dying," Pervaiz said.
Providing quality cardiac care
"All the nurses were calling me the 'miracle baby,' but I was just extremely blessed with the right people near me at the right time," Richardson said.
Brian Le, M.D., a cardiac electrophysiologist on the Texas Health Dallas medical staff, performed Richardson's ICD procedure. Le, who is also a member of Cardiology and Interventional Vascular Associates, a Texas Health Physicians Group practice*, made a small incision and placed the ICD under the skin near the collarbone.
"The electronic device is about the size of a stopwatch, and it's connected to the heart with small wires," Le said. "Mr. Richardson's ICD tracks his heart rhythm, and the device will send me an alert if he ever suffers another cardiac arrest. Technology allows us to monitor and immediately provide medical treatment."
Grateful, faithful and focused
According to the TX-CARES program (Cardiac Arrest Registry to Enhance Survival), nearly 60 Texans have a cardiac arrest outside of the hospital every day.
"Bystander CPR and AEDs are lifesaving, and it can be the difference between life and death," Le said. Richardson wholeheartedly agrees.
"It was just uncanny that this happened at a church, and Dr. Weinstein was there," he said. "It's a scary experience, but I'm so appreciative for my church family and everyone at Texas Health Dallas."
Richardson is back at work and grateful for the opportunity to focus on his faith and give back to others.
"I'll spend the rest of my life in service to the Lord," said Richardson. "After what I survived, I owe him that much and more."
Learn more about Texas Health's heart and vascular services.
*Physicians employed by Texas Health Physicians Group practice independently and are not employees or agents of Texas Health Resources hospitals.
About Texas Health Resources
Texas Health Resources is a faith-based, nonprofit health system that cares for more patients in North Texas than any other provider. With a service area that consists of 16 counties and more than 7 million people, the system is committed to providing quality, coordinated care through its Texas Health Physicians Group and 29 hospital locations under the banners of Texas Health Presbyterian, Texas Health Arlington Memorial, Texas Health Harris Methodist and Texas Health Huguley. Texas Health access points and services, ranging from acute-care hospitals and trauma centers to outpatient facilities and home health and preventive services, provide the full continuum of care for all stages of life. The system has more than 4,100 licensed hospital beds, 6,400 physicians with active staff privileges and more than 26,000 employees. For more information about Texas Health, call 1-877-THR-WELL, or visit www.TexasHealth.org.