February 28, 2023
Quick action and quality treatment lead to survival at Texas Health Fort Worth
FORT WORTH, Texas — Under a pitch-black sky, Cheryl Calvert, a patient billing specialist, clocked in for her early morning shift. Arriving before sunrise was her normal routine, but one December morning is still a complete blur. Calvert nearly died from sudden cardiac arrest. But, thanks to the quick action of caring co-workers and quality cardiovascular treatment received at Texas Health Harris Methodist Hospital Fort Worth, she is on the road to recovery.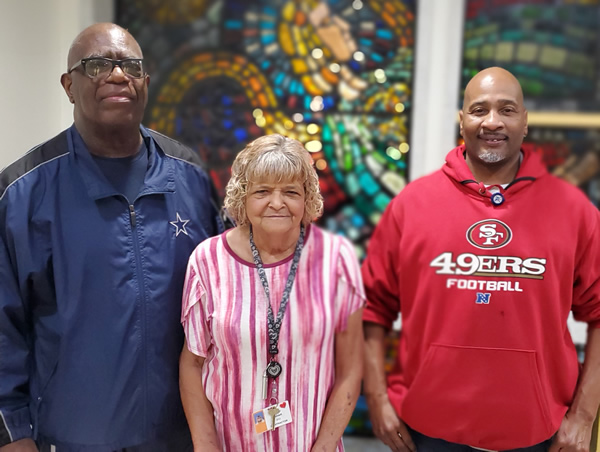 Cheryl Calvert with lifesavers, Officer Charles Smith (left) and Derone Mayfield
"God has his hands in everything," Calvert said. "Putting people in the right place at the right time saved my life."
Listening to an inner voice
Arriving early to work, Derone Mayfield, who serves as the hospital's audiovisual technician, was starting his routine — checking for equipment left on overnight — when he heard a voice say, "Go to the old Armstrong."
Looking around and seeing no one, Mayfield brushed it off. He continued his thorough walk-through in Harris Tower.
"That's when the male voice became louder and stronger, but the message remained the same," Mayfield said. Calvert's office happened to be in the same building as 'old Armstrong,' one of the hospital's conference rooms. When Mayfield arrived, the doors were locked. He called the Security department to open the doors. As Mayfield waited, just steps away from Calvert's office, something else happened.
"I heard a loud scream and a thud," Mayfield said. The noises came from Calvert's office. Security Officer Charles Smith arrived within seconds, and both men tried to open Calvert's door. It was locked. Using a master key, Smith opened the door.
Knowing every second counts
"We found her, arms outstretched, staring at the ceiling and turning blue," Mayfield said. "She was barely breathing, and I remember saying, 'It's not your time.'"
While calling a code blue, Smith and Mayfield grabbed an automated external defibrillator (AED) from a wall less than 10 feet from Calvert's office. Responding to the call, Derek Taylor, R.N., a cardiac administrative nursing supervisor, arrived seconds later. He and Smith used the AED and performed CPR.
Minutes went by; after being shocked four times with the AED, Calvert still had no pulse. She was rushed to the Emergency Department.
"Ms. Calvert's prognosis was very poor, because nearly 45 minutes went by before her pulse was stabilized, which is what's referred to as a return of spontaneous circulation (ROSC)," said Justin Martin, M.D.,* an interventional cardiologist on the Texas Health Fort Worth medical staff and with Texas Health Physicians Group.
According to Martin, published data has determined that less than 5 percent of cardiac arrest patients survive if ROSC takes longer than 30 minutes.
Receiving quality cardiac care
Calvert soon regained a steady pulse, and extensive exams were done to determine the cause of her cardiac arrest. Calvert had severe blockage in her right coronary artery, one of the main arteries responsible for sending blood and oxygen to the heart. To open and restore a pathway for blood flow, Martin placed three stents.
"Ms. Calvert's survival was a result of dedicated care and teamwork," Martin said. "It started with Mr. Mayfield's great intuition, and that compassion filtered over to Texas Health Fort Worth's multidisciplinary team, which includes individuals in nursing, critical care, pulmonary, cardiology and cardiac surgery."
Amy Papst, M.D., M.S.-H.C.T., Texas Health Fort Worth's chief quality and medical officer, wholeheartedly agrees.
"To know a fellow hospital employee is facing a dire situation can be stressful, but to see them survive and thrive is a feeling beyond wonderful," she said. "And to be a part of that transformation, from diagnosis, treatment to recovery, is truly special. It exemplifies the quality care we deliver at Texas Health Fort Worth."
Concerned colleagues and family members have helped Calvert fill in the gaps since the cardiac arrest. She has no recollection of her life nearly ending, but she does remember waking up in a hospital bed.
Calvert spent nine days in the hospital and is currently participating in cardiac rehabilitation at Texas Health Fort Worth. She's continuing the healing process by enjoying her family, playing with her dogs and bird-watching on her 20 acres of land in Johnson County.
"I don't think the severity of my situation has really hit me yet. I'm still in shock," Calvert said. "It feels like it happened to someone else, but for every person who helped save my life, I won't ever be able to thank them enough."
Follow this link to learn more about heart and vascular care at Texas Health Fort Worth.
*Providers employed by Texas Health Physicians Group are not employees or agents of Texas Health Resources hospitals.
About Texas Health Resources
Texas Health Resources is a faith-based, nonprofit health system that cares for more patients in North Texas than any other provider. With a service area that consists of 16 counties and more than 7 million people, the system is committed to providing quality, coordinated care through its Texas Health Physicians Group and 29 hospital locations under the banners of Texas Health Presbyterian, Texas Health Arlington Memorial, Texas Health Harris Methodist and Texas Health Huguley. Texas Health access points and services, ranging from acute-care hospitals and trauma centers to outpatient facilities and home health and preventive services, provide the full continuum of care for all stages of life. The system has more than 4,100 licensed hospital beds, 6,400 physicians with active staff privileges and more than 26,000 employees. For more information about Texas Health, call 1-877-THR-WELL, or visit www.TexasHealth.org.