June 13, 2023
Experience reminds young doctor what it means to serve patients with compassion
FORT WORTH, Texas — Mackenzie Ewart, D.O., grew up with tasty memories of Father's Day, complete with sirloin steaks and bison burgers.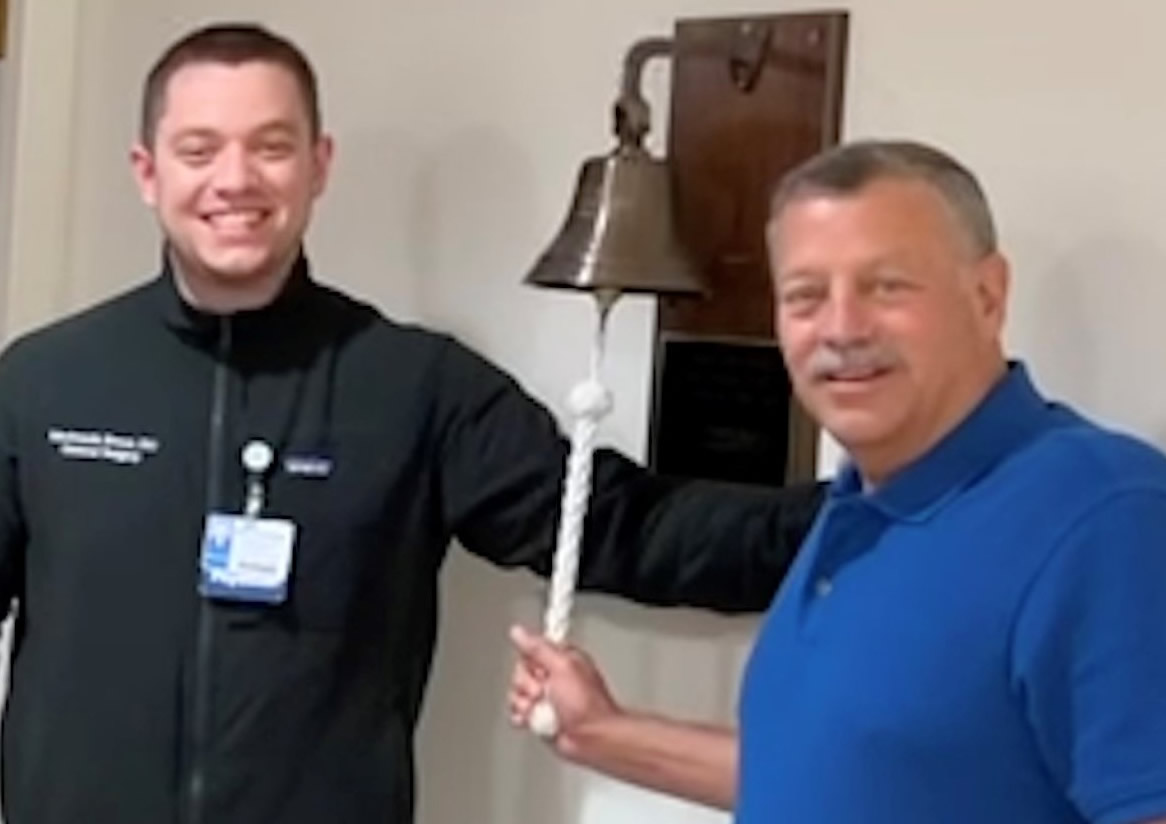 Mackenzie Ewart, D.O. and his father, Bradford
His dad, Bradford Ewart, showcases grilling skills every Father's Day. This year, their celebration will be extra sweet, because it arrives months after Bradford's successful fight against prostate cancer.
"It's a cancer-free Father's Day," Mackenzie Ewart said. "The special thing is the fact that we even can celebrate Father's Day."
Ewart, PGY-1 is a resident in the Texas Health Harris Methodist Hospital Fort Worth General Surgery Residency Program. In between surgical rotations, Ewart supported his 68-year-old father who was undergoing cancer treatments.
"My father needed his son more than he needed me to be a doctor," Ewart said, explaining that his father had weekly rapid sequence radiation treatments at Texas Health Fort Worth. "I stopped by in PACU (post-anesthesia care unit) to give him a hug."
Bradford Ewart said his son's support was comforting.
"When Mac was a little guy, he used to play by peeking around the corners of doorways before running off," Bradford Ewart recalled. "Seeing him peek around the corner of the PACU door before coming to stop by brought back those memories — even though he's a surgeon, he'll always be my little guy."
Amelia Tower, D.O., FACOS, and program director of the General Surgery Residency Program at Texas Health Fort Worth, witnessed Ewart's efforts.
"He was able to attend the last treatment and watch his dad ring the bell," Tower said. "I thought it was amazing to watch our intern not only be a great provider of care to our patients but to also be on the other side of healthcare — caring for his father as a son."
When Bradford rang the bell, he marked the end of radiation treatments and the beginning of a new chapter.
"It is like freedom — being liberated from cancer," Mackenzie Ewart said.
Delivering 'loving care'
The experience reminded him what it means to serve patients with compassion.
Ewart is the family's first physician. He attended medical school at The University of North Texas Health Science Center at Fort Worth (HSC). In 2022, he graduated from the Texas College of Osteopathic Medicine, located on the campus.
Ewart's father was under the care of Matthew Cavey, M.D., a radiation oncology physician on the Texas Health Fort Worth medical staff.
"He treated my dad like my dad was his dad," Ewart said.
Ewart wants to serve patients in the same manner.
"I'm going to strive to surround myself with people who deliver that type of loving care," Ewart said.
More at home in an operating room than in many other settings, he knows he found his place. "You know it's meant for you when you stop looking at the clock. It's like time doesn't matter."
Physicians often enter patients' lives in their darkest moments, Ewart said, and listening to and loving them is the key to serving them.
"We are in the service of healing, and it's a privilege," he said.
About Texas Health graduate medical education (GME)
Texas Health Resources offers post-graduates ACGME-accredited programs. Texas Health residents train at four campuses — Texas Health Presbyterian Hospital Dallas, Texas Health Harris Methodist Hospital Fort Worth, and a program with clinical rotations at Texas Health Presbyterian Hospital Denton and Texas Health Harris Methodist Hospital Hurst-Euless-Bedford. The next residency joining the Texas Health Graduate Medical Education (GME) platform will be internal medicine at Texas Health Presbyterian Hospital Plano next year. For more information, visit www.texashealth.org/gme.
About Texas Health Resources
Texas Health Resources is a faith-based, nonprofit health system that cares for more patients in North Texas than any other provider. With a service area that consists of 16 counties and more than 7 million people, the system is committed to providing quality, coordinated care through its Texas Health Physicians Group and 29 hospital locations under the banners of Texas Health Presbyterian, Texas Health Arlington Memorial, Texas Health Harris Methodist and Texas Health Huguley. Texas Health access points and services, ranging from acute-care hospitals and trauma centers to outpatient facilities and home health and preventive services, provide the full continuum of care for all stages of life. The system has more than 4,100 licensed hospital beds, 6,400 physicians with active staff privileges and more than 26,000 employees. For more information about Texas Health, call 1-877-THR-WELL, or visit www.TexasHealth.org.