April 27, 2023
Texas Health Plano patient, young father values compassionate, quality cardiac care
PLANO, Texas – As he finished his warmup exercise, Wilson Liu's stride became swifter and more intentional, his feet pounding on the treadmill. Seconds later, everything suddenly went black.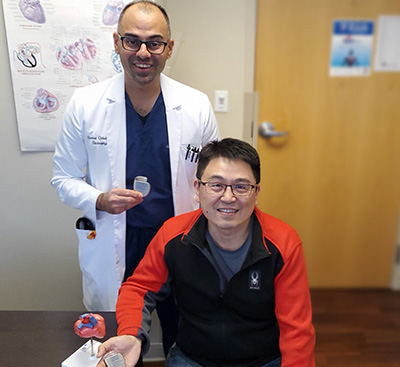 Dr. Sumeet Chhabra with cardiac arrest survivor, Wilson Liu
Wilson's morning workout became a life-threatening event, spanning several days and leading him to compassionate individuals and quality cardiac care at Texas Health Presbyterian Hospital Plano.
"I blacked out, with no chest pain or discomfort," Liu said. "I thought I'd just fainted for a few minutes, but days had gone by, and I was lying in a hospital bed."
For his wife, Ann Liu, every second felt more like an hour. After her husband's collapse, he had received bystander CPR and treatment with an automated external defibrillator (AED) at the gym. Paramedics with the Plano Fire Department transported him to Texas Health Plano.
Liu was evaluated for head trauma, but that was ruled out. A cardiac catheterization found no blockages in his coronary arteries. Physicians on the medical staff determined he'd suffered from sudden cardiac arrest, which prevents blood flow and oxygen from reaching the body's organs, including the brain. To prevent neurological impairment and help with Liu's recovery, therapeutic hypothermia was used for 24 hours.
According to the National Institutes of Health, therapeutic hypothermia, which is the process of lowering the patient's body temperature to around 89 F to 93 F, helps prevent the possibility of brain damage from a sudden cardiac arrest.
"I was sad and nervous, but everyone was so caring, especially the ICU nurses," Liu's wife said. "It was more than just taking care of my husband. It's such a tough job, but they still spent time talking to me, and that compassion clearly stood out for us."
After several tests, Liu learned his cardiac arrest was caused by hypertrophic cardiomyopathy. The cardiovascular condition is genetic in nature and causes the left portion of the heart muscle to become abnormally thick, leading to an irregular heartbeat and the potential for sudden cardiac arrest, said Sumeet Chhabra, M.D., a clinical cardiac electrophysiologist on the Texas Health Plano medical staff and program medical director of Electrophysiology Services.
Unfortunately, sudden cardiac arrest is quite common. In fact, the TX-CARES program (Cardiac Arrest Registry to Enhance Survival) has determined nearly 60 Texans experience a cardiac arrest outside of the hospital every day.
Chhabra said Liu's cardiac arrest was extremely serious. "Most patients don't survive, usually because recognition of cardiac arrest can be delayed and bystander intervention isn't always activated," Chhabra said. "Bystander CPR and AEDs are vital, and those crucial steps helped save Mr. Liu's life."
To address Liu's heart condition, Chhabra recommended an implantable cardiac defibrillator (ICD). "The device fits in the palm of your hand," he said. "It works like a pacemaker, but it can shock Mr. Liu's heart back into rhythm should he ever slip into an unstable heart rhythm."
Liu doesn't remember much about his cardiac episode or spending seven days in the hospital. Still, he remains grateful for the immediate action taken by those at the gym, his supportive family and the emergency treatment he received at Texas Health Plano.
"When I was in that patient bed, I felt grace and spirituality in that room," Liu said. "I was encouraged to get better, get back to my family and back to my normal routine. It's been a journey, but we did it, together."
Click here to learn more about cardiovascular services at Texas Health Resources.
About Texas Health Resources
Texas Health Resources is a faith-based, nonprofit health system that cares for more patients in North Texas than any other provider. With a service area that consists of 16 counties and more than 7 million people, the system is committed to providing quality, coordinated care through its Texas Health Physicians Group and 29 hospital locations under the banners of Texas Health Presbyterian, Texas Health Arlington Memorial, Texas Health Harris Methodist and Texas Health Huguley. Texas Health access points and services, ranging from acute-care hospitals and trauma centers to outpatient facilities and home health and preventive services, provide the full continuum of care for all stages of life. The system has more than 4,100 licensed hospital beds, 6,400 physicians with active staff privileges and more than 26,000 employees. For more information about Texas Health, call 1-877-THR-WELL, or visit www.TexasHealth.org.