March 13, 2023
'The best thing about having a twin sister is that you have a built-in best friend'
FORT WORTH, Texas — To say twin sisters Anna and Ellie Burnham are inseparable is an understatement.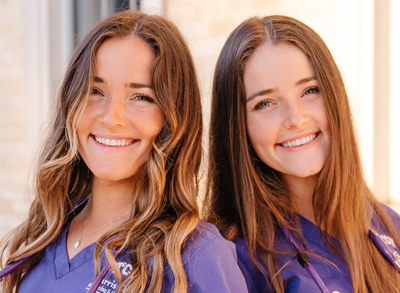 Anna and Ellie Burnham
"Compared to other twins, we've stayed close. We basically see each other as best friends instead of sisters," said Anna.
The identical twins from St. Louis, Mo, took the same classes in high school, had the same GPAs, joined the same college sorority and graduated at the same time with bachelor's degrees in nursing from Texas Christian University. It doesn't stop there. The twins accepted their first jobs out of college at Texas Health Harris Methodist Hospital Fort Worth and are now working in Women & Infants' services.
"For the most part, the only way people can easily tell us apart at work is when Ellie wears her glasses. Otherwise, my freckle on my cheek and Ellie's light-colored hair are what helps some people," Anna said, giggling. "Our colleagues always joke around with me and say I better not start wearing glasses."
Family ties are strong at Texas Health Fort Worth and around the entire Texas Health system.
"The twins are an example of the family-like environment found at one of our hospitals. It creates a positive and motivating culture which leads to a strong foundation of unity and trust." said Jennifer Chavez, D.N.P., R.N., chief nursing officer at Texas Health Fort Worth. "We are proud and grateful for our employees and the physicians on the medical staff who choose to serve our community with the goal of providing excellent care to all patients."
More than 2,000 nurses are employed at Texas Health Fort Worth serving patients and providing vital care in specialties ranging from primary care to emergency services, labor and delivery, and many more.
'Natural and normal to help'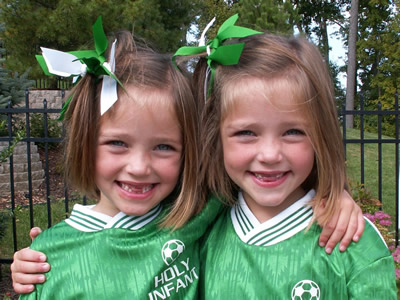 Sisters and best friends
The twins have grandparents with a medical background, but the sisters' early interest in nursing was sparked after witnessing the care their grandmother received when a serious fall sent her to the hospital.
"We would visit her at the nursing home often to help in any way we could," said Anna.
"For us, it was natural and normal to help," added Ellie.
The 22-year-old twins fell in love with Texas, so when they graduated in May 2022, leaving the state was not an option. Ellie was quickly offered a position in Labor & Delivery, and Anna joined the Women & Infants Supplemental Help team (WISH), a pilot program at Texas Health Fort Worth that introduces new graduate nurses to multiple aspects of care for women and infants. Upon completion of training, nurses in the WISH program enter a float pool that serves all areas in the Women & Infants Division, including Labor & Delivery, Neonatal Intensive Care Unit (NICU), Mother Baby and Antepartum.
Anna's flexible role often allows the twin sisters to work together on the same floor and, sometimes, in the same delivery room.
"We help each other out a lot at work, and it's pretty funny when we have the same patients," said Ellie. "We get so caught up with work at times that we forget to tell the patients we're twins. When they do ask, and I say yes, they laugh. It brings lots of joy to our patients."
Anna and Ellie successfully completed the residency program in December 2022 and now function independently, caring for patients on their own with the support of their team.
"It's been so humbling to have the opportunity to witness moms hold their babies for the first time," said Ellie.
So, what makes it special about having a twin sister, especially when she is alongside you as you begin your career?
"The best thing about having a twin sister is that you have a built-in best friend. There's always someone to have your back," said Anna. "But also, to just do life with in general. It makes it so much more fun."
To learn more about how to join the Texas Health team, visit https://jobs.texashealth.org/.
About Texas Health Resources
Texas Health Resources is a faith-based, nonprofit health system that cares for more patients in North Texas than any other provider. With a service area that consists of 16 counties and more than 7 million people, the system is committed to providing quality, coordinated care through its Texas Health Physicians Group and 29 hospital locations under the banners of Texas Health Presbyterian, Texas Health Arlington Memorial, Texas Health Harris Methodist and Texas Health Huguley. Texas Health access points and services, ranging from acute-care hospitals and trauma centers to outpatient facilities and home health and preventive services, provide the full continuum of care for all stages of life. The system has more than 4,100 licensed hospital beds, 6,400 physicians with active staff privileges and more than 26,000 employees. For more information about Texas Health, call 1-877-THR-WELL, or visit www.TexasHealth.org.