March 08, 2023
Cardiac rehab patient finds support, treatment with Texas Health Resources
ARLINGTON, Texas — Bustling away, analyzing software data at work, Wendy Robinson felt nauseated. Suddenly, tingling pain radiated up and down her left arm. Far from being a charm, Robinson knew that for the third time her life was in jeopardy. She sought treatment at Texas Health Arlington Memorial Hospital and Texas Health Harris Methodist Hospital Fort Worth to battle a life-threatening heart condition known as spontaneous coronary artery dissection, or SCAD.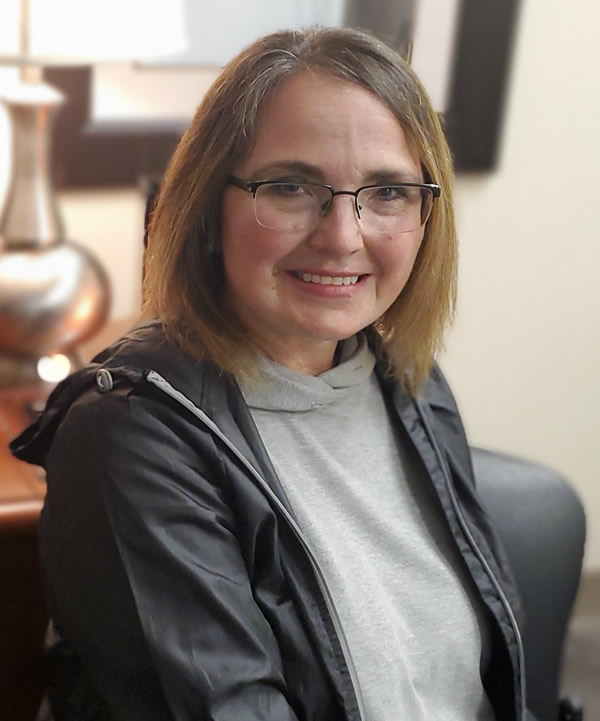 Wendy Robinson
It was 2018, and Robinson was having her third SCAD event. Her first incident happened in 2012. She was just 42. The second time happened in 2016.
"The same things happen every time, and my chest feels extremely heavy, too," Robinson added. "It feels like a huge elephant is sitting on my chest with no intention of getting off to let me breathe better."
"They told me one of my arteries had dissected, and I ended up getting three stents," she said. "It was so bizarre. I maintain a healthy diet, I don't drink alcohol and I don't smoke, yet I almost died."
Understanding recurring SCAD
SCAD tends to affect women 50 and younger and primarily those considered relatively healthy. Unlike a normal heart attack, where a clot blocks blood flow to the heart, SCAD develops when a bleed or a bruise causes a separation between layers of the artery wall, then expands and cuts off blood flow to the artery, as described by the American Heart Association (AHA).
"Mrs. Robinson's condition is quite serious, because it can happen more than once, and it has," said Joseph Ortenberg, M.D., a cardiologist on the Texas Health Fort Worth medical staff and with Texas Health Heart and Vascular Specialists, a Texas Health Physicians Group practice.
For a while, Robinson thought she was in the clear. Then SCAD struck again in 2022 — the fourth time it threatened Robinson's life.
Benefiting from cardiac rehabilitation
Unfortunately, more than 10 percent of SCAD patients have multiple events. Robinson found support and necessary resources at Texas Health Arlington Memorial, where she is participating in her second round of cardiac rehabilitation.
During cardiac rehab, patients commit to a tailored program involving physical activity, stress-reduction counseling, educational resources to improve the cardiac recovery process and more.
"Medical studies have determined that cardiac rehabilitation decreases the chances of death following a cardiac event by about 25 percent and lowers hospital re-admissions by 18 percent," said Brenda Doughty, M.B.A., R.N.-B.C., CVRN-BC, Texas Health Arlington Memorial cardiac rehabilitation manager. "A heart-healthy lifestyle and cardiac rehab have been two major benefits to Mrs. Robinson's survival story."
Receiving immediate, quality cardiovascular care
Ortenberg emphasizes another key component for addressing SCAD.
"Medical care, particularly from a cardiologist, is important," he said. "Paying attention to new symptoms, especially severe ones, is imperative to help reduce the risk of complications."
SCAD patients can experience symptoms similar to those of a heart attack: chest pain, shortness of breath, excessive sweating and dizziness.
Robinson appreciates the strong bonds she's formed with those at Texas Health Fort Worth and Texas Health Arlington Memorial.
"Everyone has been amazing, from the nurse at [Texas Health Fort Worth] who suggested cardiac rehab to me years ago as I recovered in my patient room, to Brenda and others in cardiac rehab," Robinson said.
"I'm so glad I didn't brush off my symptoms either. I listened to my body, got it checked out, received phenomenal care and met some wonderful people along the way."
*Providers employed by Texas Health Physicians Group are not employees or agents of Texas Health Resources hospitals.
About Texas Health Resources
Texas Health Resources is a faith-based, nonprofit health system that cares for more patients in North Texas than any other provider. With a service area that consists of 16 counties and more than 7 million people, the system is committed to providing quality, coordinated care through its Texas Health Physicians Group and 29 hospital locations under the banners of Texas Health Presbyterian, Texas Health Arlington Memorial, Texas Health Harris Methodist and Texas Health Huguley. Texas Health access points and services, ranging from acute-care hospitals and trauma centers to outpatient facilities and home health and preventive services, provide the full continuum of care for all stages of life. The system has more than 4,100 licensed hospital beds, 6,400 physicians with active staff privileges and more than 26,000 employees. For more information about Texas Health, call 1-877-THR-WELL, or visit www.TexasHealth.org.