May 16, 2023
Texas Health trauma teams offer classes on how to prevent hemorrhaging
ARLINGTON, Texas — Trauma experts nationwide have a message this month: Stop the Bleed training can help save a life.
National Stop the Bleed Day is May 25 and is observed during National Trauma Awareness Month. Stop the Bleed is a public health initiative by the American College of Surgeons aimed at helping prevent deaths by bleeding.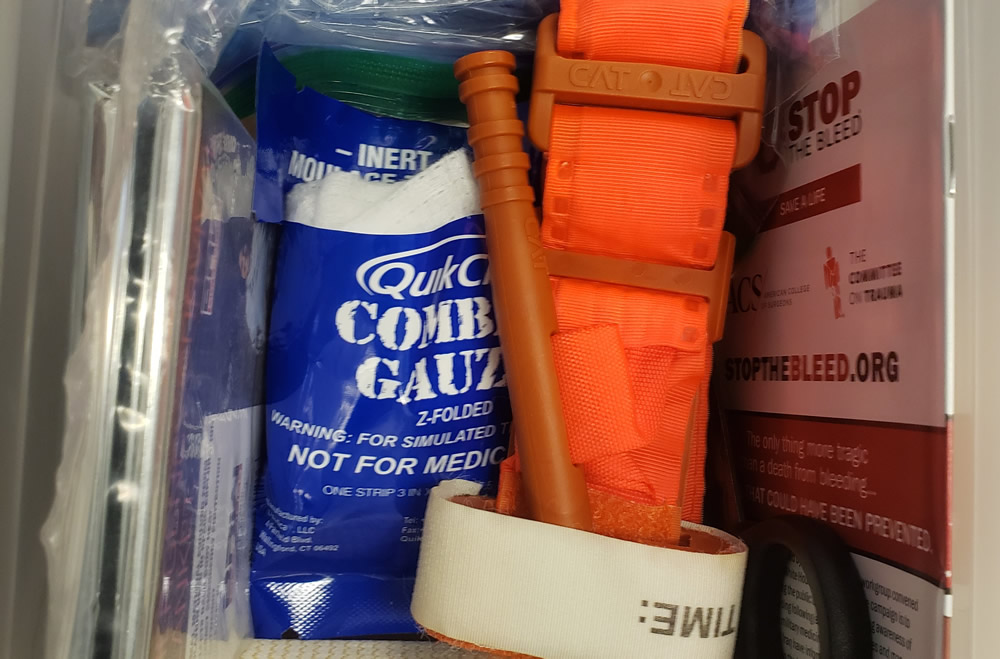 "When people have life-threatening bleeding resulting from injury, those on the scene can try to stop that bleed the best way they can," said Catherine Glenn, B.S.N, R.N., CEN, TCRN, EMT-P, injury prevention trauma outreach coordinator at Texas Health Presbyterian Hospital Dallas. "Applying pressure, packing a wound and applying a tourniquet are ways to stop bleeding during serious injuries."
Healthcare experts have been advocating this training to prevent deaths by severe hemorrhaging during accidents or multi-casualty emergency situations since 2015.
"We're dedicated to providing great care," said Kirk King, Texas Health's executive vice president and hospital channel chief operating officer. "Our trauma teams are partnering with communities to deliver tools and training that will help promote the health and safety of North Texans."
Educators stress this is valuable training open to both medical professionals and non-medically trained people. Community members are encouraged to learn more by taking classes available nationwide and offered at many locations, including hospitals, churches, schools and universities.
Healthcare and emergency professionals are asked to become instructors. More than 2 million people have received the training, according to the American College of Surgeons Stop the Bleed program.
Texas Health Dallas and Texas Health Harris Methodist Hospital Fort Worth, both designated Level I Trauma Centers, offer Stop the Bleed classes. Stop the Bleed resources are also available at other trauma services departments throughout the Texas Health system.
"I teach people how to stay safe," said Glenn, who is a liaison with the Dallas County area. "This training enables people to become active bystanders who can recognize life-threatening bleeding and intervene effectively."
Stop the Bleed Classes
What type of situations can result in severe bleeding?
Motor vehicle collisions, falls, industrial accidents, weather-related injuries, active shooter situations
What is included in the classes?
Students get hands-on training that includes learning how to apply direct pressure and how to use dressings and tourniquets.
Do instructors discuss how to help during an emergency?
Yes, class discussions cover the history of Stop the Bleed and how people help by serving as eyes and ears looking for emergency medical services to arrive during an accident.
Where do I find out more about classes or becoming an instructor?
Check with a Texas Health trauma services department near you. For classes offered through Texas Health Dallas, contact Catherine Glenn, injury prevention trauma outreach coordinator, at CatherineGlenn@texashealth.org. For classes offered through Texas Health Fort Worth, contact Paula Green, M.S.N., R.N., CCRN-K, CFRN, trauma injury prevention & outreach coordinator, at PaulaGreen2@TexasHealth.org.
Are there any classes coming up?
On Sunday, June 4, there is a free Stop the Bleed Basic Instruction class at Texas Health Dallas Professional Building 5 (Texas Health Resources University) 8194 Walnut Hill Lane, Auditorium, 1st floor, Dallas, TX 75231. More information is available on Eventbrite: https://www.eventbrite.com/e/stop-the-bleed-basic-instruction-tickets-607861840127
Directly following Stop the Bleed, a Civilian Response to Active Shooter Events (CRASE) class will be held at the same location. CRASE is taught by trained law enforcement officers who teach the community how to stay safe during an active shooter event. More information is available on Eventbrite: https://www.eventbrite.com/e/civilian-response-to-active-shooter-events-crase-tickets-607790376377
About Texas Health Resources
Texas Health Resources is a faith-based, nonprofit health system that cares for more patients in North Texas than any other provider. With a service area that consists of 16 counties and more than 7 million people, the system is committed to providing quality, coordinated care through its Texas Health Physicians Group and 29 hospital locations under the banners of Texas Health Presbyterian, Texas Health Arlington Memorial, Texas Health Harris Methodist and Texas Health Huguley. Texas Health access points and services, ranging from acute-care hospitals and trauma centers to outpatient facilities and home health and preventive services, provide the full continuum of care for all stages of life. The system has more than 4,100 licensed hospital beds, 6,400 physicians with active staff privileges and more than 26,000 employees. For more information about Texas Health, call 1-877-THR-WELL, or visit www.TexasHealth.org.