March 24, 2023
Program provides students with mental health services, access to healthy foods
FORT WORTH, Texas — A program that's made great strides in improving the mental health and resiliency of students and offering greater access to healthy foods in Sanger will soon come to a southeast Fort Worth high school.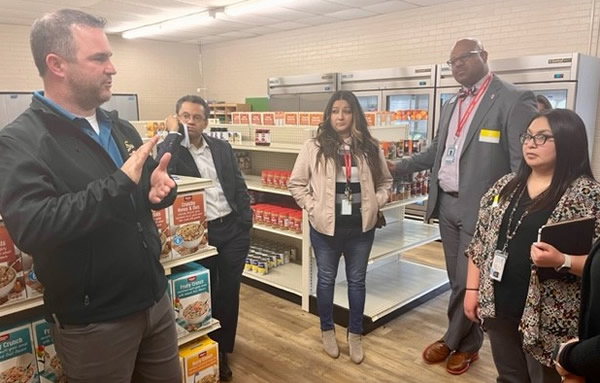 Staff members at Linda Tutt High School discuss operation of the student-operated food market on their campus.
The THRIVE North Texas program (Together Harnessing Resources to Give Individuals Voice and Empowerment) will be implemented this fall at O.D. Wyatt High School in the Fort Worth Independent School District thanks to the generosity of donors to the Texas Health Resources Foundation, including lead supporter Aetna.
"We know children do better in school and throughout life when they are equipped with the resources, support and coping skills to help carry them through adversity and when they're not worried about when their next meal will come," said Catherine Oliveros, DrPH, vice president of Community Health Improvement for Texas Health. "We have seen the wonderful impact this program has had in Sanger and are excited to now bring it to other campuses in North Texas."
The Texas Health Resources Foundation is raising funds to expand THRIVE North Texas into eight other schools across the region by the end of 2024, including in Dallas and Terrell.
The goal of the program is to teach resiliency skills to children to help them overcome trauma and improve their physical and mental health while also giving students and their families access to healthy foods.
"We are excited about the partnership with Texas Health Resources bringing the THRIVE program to O.D. Wyatt High School," said Howard Robinson, principal of the school. "This will provide multiple resources to our students to assist them with academic and social-emotional growth. The THRIVE program will help meet the needs of our students that will ultimately help them be productive citizens after graduating from high school."
THRIVE was implemented in Sanger ISD in 2019 through the first of two Texas Health Community Impact grants awarded to the school district in partnership with First Refuge Ministries, First Baptist Church of Sanger and the city of Sanger. The grants funded resiliency skills training and support services, including counseling and low-cost or free medical and mental health care from First Refuge.
The funding also helped establish two food pantries — one through First Refuge and the second through a unique student-operated food market inside Linda Tutt High School, at which youth can practice their learned skills while addressing food insecurity. A community garden started with the second grant helps stock the pantries with fresh produce while also serving as an agricultural learning environment for students.
Under Sanger's program in the 2021-2022 school year:
More than 2,500 students at the district's seven campuses were screened for behavior challenges with 156 students referred to wrap-around services, including counseling.
On average, resiliency scores increased 16.7 percent and self-efficacy scores by 10.6 percent for students who participated in the program.
The two food banks served over 500 families.
The 76119 ZIP code was identified as disproportionally experiencing health challenges and food insecurity through Texas Health Resources' 2022 Community Health Needs Assessment. The area has a higher prevalence of high blood pressure and diabetes than the city overall, and residents' per capita income is less than half of the state and DFW metro averages.
"This amazing program is only one of the many ways Texas Health Resources has demonstrated its commitment to addressing the needs of our students, teachers and the Fort Worth community," said Fort Worth ISD Superintendent Angélica M. Ramsey. "It is inspiring to see they genuinely care for our students and their well-being, and that makes all the difference."
Texas Health Resources Foundation began a fundraising campaign in 2021 to expand the program beyond Sanger. To date, the foundation has raised more than $1.64 million of its $2.6 million goal.
"Donations received have come from companies like Aetna, along with foundations and individuals touched by the impact the program can have in the lives of students and their community. Generous supporters are eager to see it implemented in other North Texas communities," said Laura McWhorter, president of the Texas Health Resources Foundation. "We are truly blessed by this outpouring of support and look forward to this program helping many more students and their families across North Texas."
"Improving the health and well-being of individuals and families begins with building a network of social services in the community," said Stephanie Rogers, CEO of Aetna Better Health of Texas. "The THRIVE program will leverage the strength of the school community to promote access to food resources, mental health services and resilience training."
To donate to the fund, visit www.TexasHealth.org/DonateTHRIVE.
About Texas Health Resources
Texas Health Resources is a faith-based, nonprofit health system that cares for more patients in North Texas than any other provider. With a service area that consists of 16 counties and more than 7 million people, the system is committed to providing quality, coordinated care through its Texas Health Physicians Group and 29 hospital locations under the banners of Texas Health Presbyterian, Texas Health Arlington Memorial, Texas Health Harris Methodist and Texas Health Huguley. Texas Health access points and services, ranging from acute-care hospitals and trauma centers to outpatient facilities and home health and preventive services, provide the full continuum of care for all stages of life. The system has more than 4,100 licensed hospital beds, 6,400 physicians with active staff privileges and more than 26,000 employees. For more information about Texas Health, call 1-877-THR-WELL, or visit www.TexasHealth.org.