February 14, 2023
Honor bestowed by Texas Hospital Association for early recognition and treatment of ischemic stroke
ARLINGTON, Texas — Texas Health Resources received the 2022 Bill Aston Award for Quality from the Texas Hospital Association for implementing a process designed to help with early detection of ischemic strokes in patients.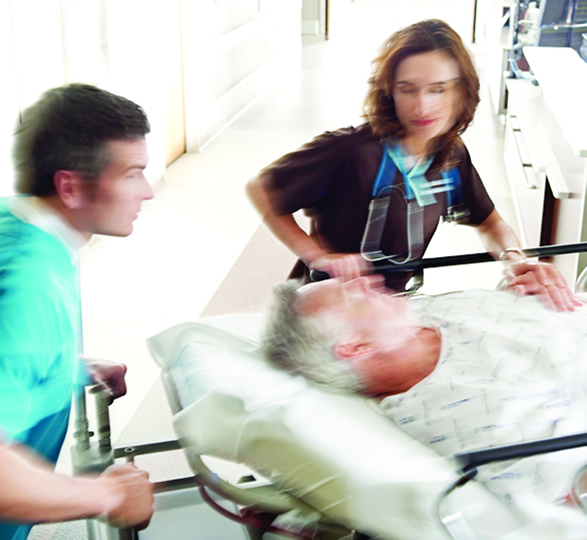 Stroke is a leading cause of death in the United States, with almost 800,000 occurrences annually.
This marks the fourth time Texas Health has received the recognition for a hospital system's measurable success in improving quality and patient outcomes through the sustained implementation of a national and/or state evidence-based patient care initiative. Previous awards came in 2014, 2018 and 2020.
"It's an honor to earn this prestigious award," said Winjie Miao, senior executive vice president and COO of Texas Health Resources. "It recognizes our dedication to quality and mission-driven work delivering exceptional care to our patients. We are working every day to find new and innovative ways to improve the health of the patients we are so privileged to serve."
The award commends Texas Health's Early Recognition and Treatment of Ischemic Stroke Reliable Care Blueprinting® module (RCB) as an innovative approach to improve care and mortality of stroke patients. The most common type of stroke is ischemic which occurs when blood flow to the brain is obstructed by a blocked vessel.
Texas Health cares for the most stroke patients in North Texas, according to a 16-county analysis of data from the DFW Hospital Council. Texas Health continually works to enhance healthcare quality, including reducing stroke inpatient mortality and 30-day readmissions. Texas Health scores at the top 25 percent among hospital systems collaborating and sharing this focus on quality improvement.
The RCB care model is designed to provide patients a safe, reliable experience at every Texas Health location, every time.
"We are deeply committed to fighting one of the world's leading causes of death," said Dr. Mark Montgomery, chief quality & medical officer at Texas Health Harris Methodist Hospital Southwest. "We are helping save lives with improved assessment, identification and treatment of patients who have suffered ischemic strokes."
Stroke is a leading cause of death in the United States, with almost 800,000 occurrences annually, according to the Centers for Disease Control (CDC) and Prevention. Every 40 seconds, someone in the U.S. has a stroke, with one person dying from stroke every three-and-a-half minutes. Those who survive often experience devastating long-term side effects and disabilities.
In 2019, Texas Health focused on early identification of patients with ischemic stroke to improve patient outcomes. The RCB model standardizes use of tools and technology to develop reliable processes which help clinicians know which tests to immediately perform with patients experiencing stroke so that treatment can begin efficiently and quickly.
With strokes, quick treatment is vital to avoiding long-term impairments. Using the tools, the number of patients getting treatments within 45 minutes of arrival increased by more than 21%.
In addition, by further engaging a variety of disciplines of care, inpatient mortality for stroke patients decreased 86.7% during the first year after implementation.
Advancing stroke care is a key mission for the hospital system. Stroke care calls for advanced technology and an experienced medical team. At Texas Health, the physicians on the medical staff use specialized procedures to quickly diagnose and treat strokes. Additionally, several Texas Health caregivers are involved in important research to advance stroke treatment.
Three Texas Health hospitals are designated as Comprehensive Stroke Centers – Texas Health Texas Health Presbyterian Hospital Dallas, Texas Health Harris Methodist Hospital Fort Worth and Texas Health Presbyterian Hospital Plano. Stroke treatment at these hospitals was rated "High-Performing" among Common Procedures and Conditions by the U.S. News & World Report 2022-2023 rankings.
About the Texas Hospital Association
Founded in 1930, the Texas Hospital Association is the leadership organization and principal advocate for the state's hospitals and health care systems. Based in Austin, THA enhances its members' abilities to improve accessibility, quality and cost-effectiveness of healthcare for all Texans. One of the largest hospital associations in the country, THA represents more than 488 of the state's non-federal general and specialty hospitals and healthcare systems, which employ some 400,000 healthcare professionals statewide. Learn more about THA at www.tha.org or follow THA on Twitter at https://twitter.com/texashospitals.
About Texas Health Resources
Texas Health Resources is a faith-based, nonprofit health system that cares for more patients in North Texas than any other provider. With a service area that consists of 16 counties and more than 7 million people, the system is committed to providing quality, coordinated care through its Texas Health Physicians Group and 29 hospital locations under the banners of Texas Health Presbyterian, Texas Health Arlington Memorial, Texas Health Harris Methodist and Texas Health Huguley. Texas Health access points and services, ranging from acute-care hospitals and trauma centers to outpatient facilities and home health and preventive services, provide the full continuum of care for all stages of life. The system has more than 4,100 licensed hospital beds, 6,400 physicians with active staff privileges and more than 26,000 employees. For more information about Texas Health, call 1-877-THR-WELL, or visit www.TexasHealth.org.