March 17, 2023
Nationwide, senior medical students are paired with training hospitals on Match Day
ARLINGTON, Texas — Forty-five physicians in training will join Texas Health Resources graduate medical education (GME) programs in July.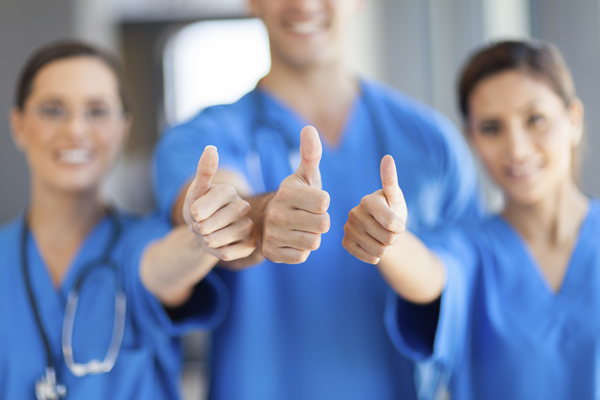 Texas Health has residency training programs at four system hospitals.
The new physicians learned they secured a position in Texas Health Resources GME programs on Match Day 2023, an annual event during which the National Residency Matching Program pairs senior and recently graduated medical school students with residencies to complete their chosen medical specialty training.
"Match Day is a milestone in the career of every doctor," said Shelly Monks, chief academic officer for Texas Health. "These physicians have completed four years of medical school and are now ready to embark on training within their selected specialty as the next step in their medical career. We are excited to welcome the new residents to Texas Health and to provide them with a high-quality training experience that will prepare them for successful careers as physicians where they will contribute to the health of the communities we serve."
Match Day, which fell on March 17 this year, is marked by celebrations at medical schools nationwide.
In July, the new Texas Health residents will begin training at four campuses — Texas Health Presbyterian Hospital Dallas, Texas Health Harris Methodist Hospital Fort Worth, and a program with clinical rotations at Texas Health Presbyterian Hospital Denton and Texas Health Harris Methodist Hospital Hurst-Euless-Bedford.
Texas Health is growing its GME platform in North Texas. Its first program started in 1977 at Texas Health Dallas with an internal medicine residency. In 2021, a general surgery residency launched at Texas Health Fort Worth. In 2022, Texas Health added an internal medicine residency at Texas Health Fort Worth as well an internal medicine program with clinical rotations at both Texas Health Denton and Texas Health HEB.
The next residency joining the Texas Health GME platform will be internal medicine at Texas Health Presbyterian Hospital Plano, with the first physicians in training starting in July 2024.
The investment in graduate medical education is a Texas Health mission-driven effort that aims to increase the health of North Texas communities by addressing recognized shortages in the physician workforce. A May 2022 report by Texas Health and Human Services states there will not be enough physicians to meet future demand, according to projections based on medical education enrollment data.
"We are helping build the physician workforce needed to meet current and future healthcare needs in Texas," Monks said.
About Texas Health Resources
Texas Health Resources is a faith-based, nonprofit health system that cares for more patients in North Texas than any other provider. With a service area that consists of 16 counties and more than 7 million people, the system is committed to providing quality, coordinated care through its Texas Health Physicians Group and 29 hospital locations under the banners of Texas Health Presbyterian, Texas Health Arlington Memorial, Texas Health Harris Methodist and Texas Health Huguley. Texas Health access points and services, ranging from acute-care hospitals and trauma centers to outpatient facilities and home health and preventive services, provide the full continuum of care for all stages of life. The system has more than 4,100 licensed hospital beds, 6,400 physicians with active staff privileges and more than 26,000 employees. For more information about Texas Health, call 1-877-THR-WELL, or visit www.TexasHealth.org.