February 15, 2023
Expansion comes as growing number of adults and adolescents face struggles
ARLINGTON, Texas — Through her work at Texas Health Behavioral Health Center Arlington, nurse Cecilia Mora has seen firsthand the increase in adults and adolescents struggling with mental health issues.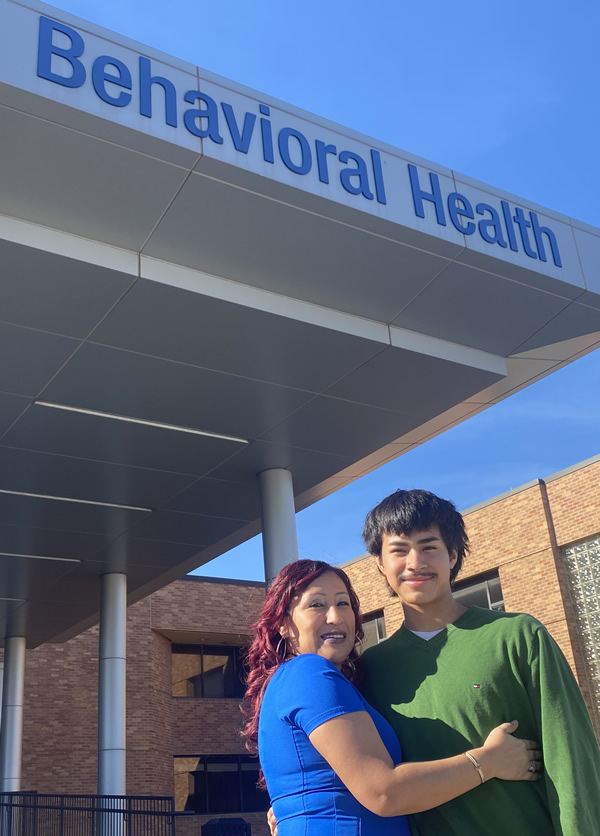 Cecilia Mora and son, Joel Salas
But there were no red flags to warn her that the mental health crisis had hit much closer to home — her 16-year-old son, Joel Salas.
"He was happy, always going out dancing, always fun," Mora said. "It was a shocker. I got a call from his father saying he was in the hospital and that he had called the cops and told them he wanted to commit suicide."
Mora enrolled her son in an adolescent partial hospitalization program at the center, located on the Texas Health Arlington Memorial Hospital campus, where he attended two weeks of daily group therapy and had access to a nurse, doctor and therapist. Within a couple weeks, Mora began seeing improvements in the teen and said the experience really drove home to her the importance of professional help.
"Most parents don't seek help, especially in our community as Hispanics. They feel like, 'Oh, it's just a phase. They'll get over it,'" Mora said. "But he didn't want to talk to us about it. Now he's doing so much better. He's taking his medication. He's more interactive, smiling. Mental health struggles are real, and they can happen to anyone."
To meet the increased need, the behavioral health center is now offering more mental health programs for adults and adolescents.
"This expansion was vital to provide even more individuals and families with the care and support that they so desperately need to improve their mental health and well-being," said Aliza Hirani, director of Clinical Services.
"Many stressors arose because of the pandemic, such as social isolation, children suddenly doing virtual schooling at home and adults who lost their jobs or had to adjust to working from home," Hirani added. "As a result, repeated studies have shown that more people experienced mental health issues like depression and anxiety and even drank more to try to cope."
Expanded services include partial hospitalization programs, where patients have access to a nurse, doctor and group therapy five to six hours every weekday but are not admitted overnight, and intensive outpatient care programs with three-hour group therapy sessions three days a week.
New services are:
Women's Partial Hospitalization Program: In-person group therapy where women can address issues and challenges in a safe, therapeutic setting including postpartum depression, menopause, domestic violence and sexual abuse.
Women's Intensive Outpatient Program: In-person or virtual group therapy for women to address issues including postpartum depression, menopause, domestic violence and sexual abuse.
Adolescent Intensive Outpatient Program: In-person group therapy offered from 4 to 7 p.m. to help adolescents ages 13 to 17 struggling with issues such as depression, anxiety, bullying, abuse, trauma or boundaries to balance school and their mental health without sacrificing one for the other.
Adult Co-Occurring Disorders Program: In-person group therapy tailored for adults who struggle with both mental health and substance use issues.
The hospital continues to offer inpatient care, an adult mental health partial hospitalization program and adolescent mental health partial hospitalization program.
For Joel, Mora's son, the program enabled him to share what he was going through with a therapist and other teens in ways that he couldn't with his parents, because "I felt like it would have changed the way they saw me."
Joel said his struggles had begun years earlier after his move to a new city and middle school to live with his father had left him overwhelmed with feelings of loneliness — emotions only compounded by the COVID-19 pandemic.
"I 100 percent believe that the program helped me with a lot of coping skills and different ways of thinking," Joel said. "It really opened me up to talk more and be OK with getting help."
Visit https://www.texashealth.org/Health-and-Wellness/Behavioral-Health to schedule a free assessment or learn about behavioral health services offered by Texas Health.
About Texas Health Resources
Texas Health Resources is a faith-based, nonprofit health system that cares for more patients in North Texas than any other provider. With a service area that consists of 16 counties and more than 7 million people, the system is committed to providing quality, coordinated care through its Texas Health Physicians Group and 29 hospital locations under the banners of Texas Health Presbyterian, Texas Health Arlington Memorial, Texas Health Harris Methodist and Texas Health Huguley. Texas Health access points and services, ranging from acute-care hospitals and trauma centers to outpatient facilities and home health and preventive services, provide the full continuum of care for all stages of life. The system has more than 4,100 licensed hospital beds, 6,400 physicians with active staff privileges and more than 26,000 employees. For more information about Texas Health, call 1-877-THR-WELL, or visit www.TexasHealth.org.