September 06, 2023
Program gives students access to healthy foods, additional mental health support
TERRELL, Texas – A program that helps fight hunger with an in-school grocery store that allows students to make purchases with points earned for things like good behavior, is now in place at Herman Furlough, Jr. Middle School.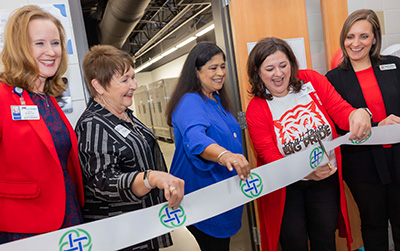 The expansion of THRIVE North Texas into Terrell's only middle school is made possible thanks to the Texas Health Resources Foundation and its generous donors, including lead supporter UnitedHealthcare.
THRIVE stands for Together Harnessing Resources to Give Individuals Voice and Empowerment. In addition to addressing food insecurity, the program will increase the school's capacity to provide mental health counseling services. Currently, one mental health counselor serves the school's almost 1,300 students.
"We know children do better in school and throughout life when they have access to mental health resources and aren't worried about where their next meal will come," said Catherine Oliveros, DrPH, vice president of Community Health Improvement for Texas Health. "This program has a proven record of improving food insecurity and the mental health of students, impacting their health and well-being today and for generations to come."
Initially implemented in Sanger ISD through a Texas Health Community Impact grant in 2019, the program was so successful that Texas Health Resources Foundation launched a fundraising campaign to expand it into 10 other schools across North Texas by the end of 2024. Since then, THRIVE North Texas has been implemented at DeLay Middle School in Lewisville. This coming fall, the program will start at O.D. Wyatt High School in Fort Worth.
When officials from Lewisville ISD heard about the THRIVE program at Linda Tutt High School in Sanger, Charde Dockery, then principal at DeLay Middle School, advocated for bringing it to her campus. With support from the Texas Health Resources Foundation and other community partners, DeLay implemented the THRIVE model, including an on-campus grocery store.
The store, Harvey's Haven, began operating last September. It has since given away more than $5,500 in groceries to families, serving an average of 15 families a week.
"It has been a phenomenal program to support the families and students of DeLay," said the school's current principal, Dr. Victor Jones.
Though Dockery left DeLay to become director of family and community services at Terrell ISD just prior to the store's opening, she brought her passion for the program with her.
"The first thing I did was to make the connections with Texas Health Resources in Terrell, because I felt, if that opportunity comes, we're bringing it to Terrell," Dockery said.
Dockery said needs in rural communities are like those in big cities but are often compounded by the lack of help available.
"Poverty is poverty. In rural communities, it's the same needs – if not a higher need – but way less resources," Dockery said.
In Terrell's 75160 ZIP code, the percentage of families receiving help from the Supplemental Nutrition Assistance Program (SNAP) is 60.3%, almost four times the state percentage of 16%. In addition, 15.9% of families in that ZIP code live below the poverty level.
Alexis Dennis, principal of Furlough Middle School, said she believes the implementation of THRIVE will have an immediate impact on the health and well-being of students.
"Middle school students already have enough to worry about during their transitional years. Access to food should not compound their situations," Dennis said. "I'm thankful that the counseling and food resources provided by this foundation will contribute to some positive outcomes for the students and families of Terrell."
The store, known as Tiger Mart, will be run by students.
The Texas Health Resources Foundation is continuing its fundraising campaign to expand the program across North Texas. To date, the foundation has raised $1.84 million of its $2.6 million goal.
"Thanks to gifts from our community, the THRIVE program can provide the resources to affect lives now and create a lasting impact on the future," said Texas Health Foundation President Laura McWhorter. "We are truly grateful to UnitedHealthcare for the generous lead gift that helped bring the THRIVE program to Terrell."
"UnitedHealthcare recognizes that health is impacted by more than what happens in the doctor's office, which means working with like-minded organizations, such as Texas Health Resources Foundation, to expand access to care and address social determinants of health for underserved and uninsured individuals and communities," said Don Langer, CEO, UnitedHealthcare Community Plan of Texas. "Access to healthy food options is one of the greatest barriers to health for many people, and through this THRIVE program at Furlough Middle School, we can help families receive the care they need when they need it."
To donate to the fund, visit www.TexasHealth.org/DonateTHRIVE.
About Texas Health Resources
Texas Health Resources is a faith-based, nonprofit health system that cares for more patients in North Texas than any other provider. With a service area that consists of 16 counties and more than 7 million people, the system is committed to providing quality, coordinated care through its Texas Health Physicians Group and 29 hospital locations under the banners of Texas Health Presbyterian, Texas Health Arlington Memorial, Texas Health Harris Methodist and Texas Health Huguley. Texas Health access points and services, ranging from acute-care hospitals and trauma centers to outpatient facilities and home health and preventive services, provide the full continuum of care for all stages of life. The system has more than 4,100 licensed hospital beds, 6,400 physicians with active staff privileges and more than 26,000 employees. For more information about Texas Health, call 1-877-THR-WELL, or visit www.TexasHealth.org.