August 02, 2023
Studies show lack of connection with others can harm mental and physical health
ARLINGTON, Texas — Sharon George had long considered herself an extremely social person.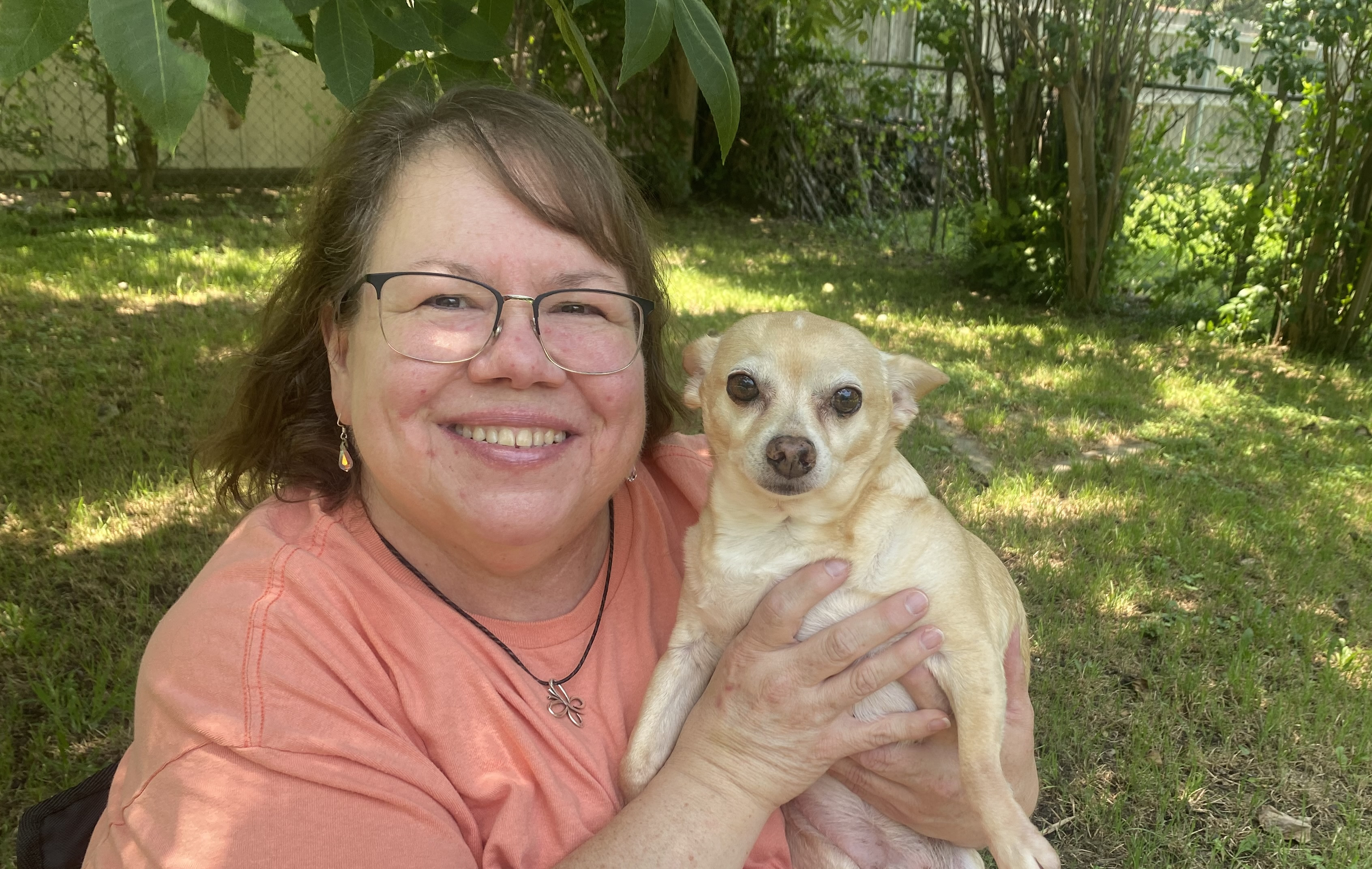 Sharon George
But undergoing chemotherapy while battling breast cancer changed that. No longer able to make white blood cells and fight off infection, George required weekly blood treatments and began to suffer from hypogammaglobulinemia, a disorder that makes her hypersensitive to smells such as perfumes, colognes and candles.
Those challenges forced her to quit her job, stop going to church and avoid hanging out in big groups.
"Being disabled, not being at work, having my physical limitations, it creates a different type of isolation," George said. "When COVID happened, it made the isolation particularly worse."
But following a doctor's appointment two years ago, George received a survey from Texas Health in which she acknowledged feeling isolated and anxious. She was soon contacted by a Texas Health community health worker and enrolled in an AARP-funded program, Reduce Social Isolation and Lift Outcomes for Seniors, or Reduce SILOS.
The program, started by Texas Health in 2020, connects participants to organizations and programs in their community.
"Studies have shown that a person's social calendar can affect his or her health," said Catherine Oliveros, DrPH, vice president of Community Health Improvement for Texas Health. "By facilitating these meaningful connections, clients are becoming more socially connected, supported and less at risk for depression. The program exemplifies Texas Health's commitment to Our Mission of improving the health of the people in the communities were serve."
Recently, U.S. Surgeon General Dr. Vivek H. Murthy declared loneliness a public health epidemic. He compared the mortality impact of being socially disconnected to that caused by smoking up to 15 cigarettes a day and even greater than that associated with obesity and physical inactivity.
According to AARP, those isolated from friends and family have a higher risk of medical issues, including:
A 29 percent increased risk for heart disease
A 32 percent increased risk of stroke
A 50 percent increased risk of dementia or loss of memory
Reduce SILOS is geared toward low-income individuals, age 50 and older living in southeast Fort Worth, east Arlington and the Springtown area.
To identify those at risk, Texas Health incorporated brief screenings into its clinical settings and electronic health records, enabling physicians to refer patients to the program. Surveys about social isolation or loneliness are also available to qualifying patients through their MyChart app and sent via text 30 days after discharge from a Texas Health facility or an appointment with a Texas Health Physicians Group provider.
Those determined to be at risk are then contacted by a community health worker with Reduce SILOS, who does a more in-depth screening to determine the level of participant's social isolation, risk of depression and specific needs. The worker also tracks the participant's progress multiple times over the next 12 months.
"You can't address isolation by saying, 'Just don't be isolated anymore,'" explained Marsha Ingle, senior director of Community Health Improvement for Texas Health. "It's a process in getting reconnected to society and having support to do that is important."
Those at risk or who show signs of depression are also referred to PEARLS (Program to Encourage Active, Rewarding Lives), a nationally recognized program run by The Women's Center of Tarrant County, a grant partner, that provides in-home and community-based counseling for managing depression.
Between December 2021 and April 2023, 2,471 participants were screened through Texas Health for social isolation or loneliness. Of the 2,258 later given an assessment, 66.1 percent were determined at risk.
Victor Moore has battled a myriad of health problem since 2015. Several bouts of pneumonia has left him on oxygen 24/7 with only 34 percent of his lung capacity. With limited family nearby and limited mobility, the Azle man often stays at home by himself.
Sherry Kincade, a community health worker with Texas Health, quickly connected Moore to organizations and programs that could help him with transportation and meals.
"I've been relying on close friends for transportation, but now I have another source. They have volunteers who will take you to the doctor and now I'm back on Meals on Wheels," Moore said. "That's all because of Sherry."
Kincade also connected Moore to the Good N.E.W.S. 4 Seniors program, through which he enjoys breakfast with other seniors every Tuesday morning.
"Sherry Kincade is absolutely marvelous. I love her to death," Moore said. "She's done all kinds of things for me, connecting me to help that I didn't realize was out there. This is good news for seniors. It's so wonderful for me."
Kincade also worked with George, connecting her to Mission Arlington to get a rolling walker, a necessity due to severe arthritis in her right knee that was aggravated in a recent wreck. George has also been provided with options for socializing virtually and was recently paired with a TCU grad student who interviewed her about her life and with whom she's grown a close bond.
"The program was helpful to me. It gave me options to connect to others in nontraditional ways, like Zoom group meetings and classes. It helped me stay connected more and linked me with resources that I really needed," George said.
The program is helping others, too. Recent statistics show a 68 percent improvement in social connectedness scores from when clients first enter the program to their first three-month check in, Ingle said.
Kincade said working with Reduce SILOS clients is meaningful to her as well.
"It is rewarding to serve our clients, reconnecting them back to their communities and interests and seeing the positive outcomes as they improve their quality of life and overcome barriers," Kincade said. "It is truly a blessing to witness."
About Texas Health Resources
Texas Health Resources is a faith-based, nonprofit health system that cares for more patients in North Texas than any other provider. With a service area that consists of 16 counties and more than 7 million people, the system is committed to providing quality, coordinated care through its Texas Health Physicians Group and 29 hospital locations under the banners of Texas Health Presbyterian, Texas Health Arlington Memorial, Texas Health Harris Methodist and Texas Health Huguley. Texas Health access points and services, ranging from acute-care hospitals and trauma centers to outpatient facilities and home health and preventive services, provide the full continuum of care for all stages of life. The system has more than 4,100 licensed hospital beds, 6,400 physicians with active staff privileges and more than 26,000 employees. For more information about Texas Health, call 1-877-THR-WELL, or visit www.TexasHealth.org.