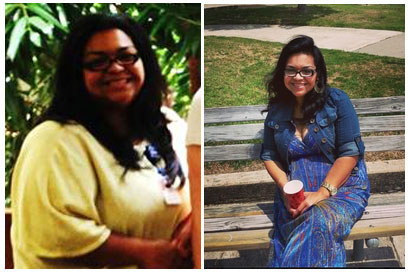 Constantly cycling through weight gain and loss has been a life-long struggle for Sonia. "I have always struggled with weight loss. My highest weight was 319. I have 3 boys and after every pregnancy I gained more and more weight."
She recognized that she needed to gain control over her life and her well-being to better take care of her children after being diagnosed with Gestational Diabetes, Polycystic Ovarian Syndrome and high blood pressure all at the young age of 30. After doing her research on bariatric surgery, she was convinced that dieting and exercise weren't enough anymore and that her obesity was punishing her body like a compounding high interest loan. She was determined to learn from other people's experiences and have surgery while she was younger with less overall medical risk so she could live a longer and healthier life and watch her family grow.
With the help of her coworkers in the Diabetes Management Clinic she started eating healthier and began losing a modest amount of weight even before seeing anyone at the Bariatric clinic as she knew that pre-op success would be the key to post-op success. "I weighed 276 and we decided that the Sleeve Gastrectomy would be best for me after being informed of all my options."
Much to her and her family's benefit, she is no longer obese and can expect to live the next 50 years or more with a much higher quality of life. "I am so happy and thankful that I had my surgery and that everything turned out great! I no longer have Polycystic Ovarian Syndrome or High blood pressure and I feel great! I went from a size 24 to a size 12. I still have a lot of work but I am very proud of how far I have come. Thank you to the bariatric team for all your great work and belief in me!"
Individual patient results vary. Please discuss your specific options for weight loss surgery with your physician.