Key Points
Induces malabsorption of nutrients causing rapid weight loss
Highest risk/benefit profile
Usually performed as a two part staged operation
On average, 85% excess weight loss is achievable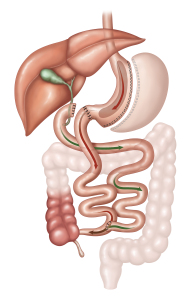 The duodenal switch combines a Sleeve with a malabsorptive operation to create massive weight loss. On average, 80% of excess weight can be lost with this operation.
This operation is usually done in staged fashion to lower overall risk in extremely morbid obese patients. A sleeve gastrectomy is performed at the first operation and once the patient loses a significant amount of weight in 3-6 months, the small intestine is rerouted to result in malabsorption of food.
Contact Lee Bariatrics today to learn more about this bariatric surgery option.