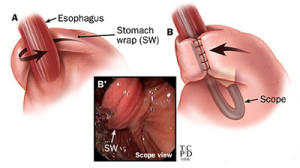 Antacids such as Prevacid, Nexium, and Prilosec cause many harmful long-term side effects such as bone thinning/osteoporosis, polyps to form in your stomach, and lung infections/pneumonia. If you struggle with severe gastroesophageal reflux disease (GERD) despite medication, laparoscopic Nissen fundoplication may be your minimally invasive surgical answer to lasting relief. This minimally invasive surgery involves wrapping the upper part of the stomach 360 degrees around the lower end of the esophagus to act as a valve preventing stomach acid from regurgitating back upwards. Dr. Michael Lee is a renown fellowship-trained minimally invasive surgeon experienced in treating complex acid reflux disease and performs laparoscopic Nissen fundoplication surgery through few small incisions to get his patients home quicker and safer usually same day.
Who is a good candidate for this procedure?
If your BMI or body mass index is within normal range 18-25 and you have severe heartburn that is not responding to medication, a Nissen fundoplication may help to alleviate acid reflux symptoms and may help to reduce cancerous changes to the esophagus due to chronic acid exposure. If your BMI is greater than 35, talk to Dr. Lee about the advantages of bypass surgery to potentially alleviate both acid reflux and obesity.
What to expect in a laparoscopic Nissen fundoplication procedure
Dr. Lee and the rest of our surgical team perform Nissen fundoplication laparoscopically. This method has several advantages over the traditional open approach, including improved cosmesis, reduced morbidity, shorter hospital stay, decreased respiratory complications, and faster recovery. The surgical procedure itself is usually done within an hour. We work diligently to achieve excellent results with every laparoscopic Nissen fundoplication procedure we perform. Contact Dr. Lee 's team today to find out if this procedure may be right for you.