October 26, 2020
Parkinson's patient at Texas Health Fort Worth grateful for compassionate care, advanced surgical technology
FORT WORTH, Texas — As a payroll coordinator for more than 15 years, having a keen eye for detail came naturally for Christine Montoya. She knew something wasn't right as the muscles and joints in her right hand stiffened, day by day.
Four years ago, Montoya's body slowly began to turn against her.
But thanks to deep brain stimulation (DBS), a life-changing procedure offered at Texas Health Harris Methodist Hospital Fort Worth, Montoya now has the quality of life Parkinson's disease was painfully trying to take away from her.
"I was standing in the shower and my right arm went completely rigid and wouldn't bend properly," Montoya said. "I immediately contacted my doctor to get some answers. I was very concerned."
Visiting several physicians and completing countless neurological exams, in 2016, Montoya was diagnosed with Parkinson's at the age of 56.
"It was the worst day of my life," she said. "It felt like someone had just given me a death sentence."
According to the Parkinson's Foundation, close to 1 million people in the U.S. are living with Parkinson's. More than 50,000 of those individuals live right here in Texas.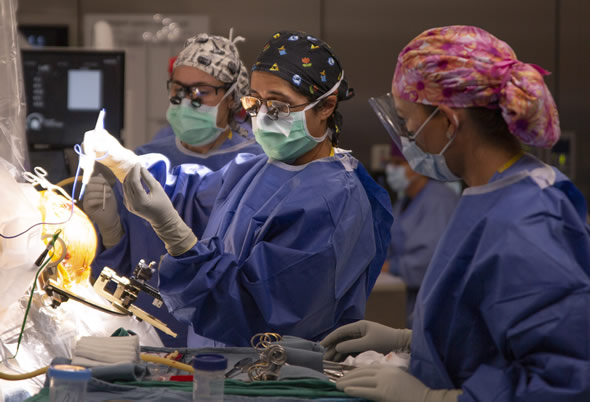 Anita Bhansali, M.D., center, performs a deep brain stimulation procedure with assistance from Angela Meraz, PA-C, left and Chi Purkey, a certified surgical technologist.
"Movement disorders, specifically Parkinson's, can severely limit or put an end to daily activities," said Debbie Phillips, M.S., R.N., FNP-C, Texas Health Fort Worth's director of Ortho, Neuro Trauma and Stroke programs. "That's why we've dedicated an entire program to the treatment of movement disorders, offering personalized treatment to address the frustrating setbacks of Parkinson's — the slowness, stiffness and tremors in the limbs — so individuals can get back to enjoying life."
Montoya's symptoms continued to worsen, despite her commitment to daily exercise and medication. In 2018, Montoya began to suffer from dystonia in her right foot — a repetitive twisting or tightening of a muscle — along with trouble walking a year later.
"Every day was bad," Montoya said. "This year, it got even worse. I was walking very slowly, and it was disabling."
DBS surgery was recommended, and Montoya's patient journey led her to Texas Health Fort Worth, and on July 13, she met Anita Bhansali, M.D., a neurosurgeon on the medical staff and a member of Texas Health Neurosurgery & Spine Specialists, a Texas Health Physicians Group practice.*
DBS involves a neurosurgeon using MRI-guided images to complete a two-step procedure. Bhansali keeps patients awake to allow intraoperative symptom evaluation. A small hole is drilled into the skull, and a thin electrode wire, or lead, is inserted through the hole and placed at the target area of the brain. An electrical current is passed through the lead, and the patient is tested for relief of symptoms in real-time. The intraoperative team checks for side effects of stimulation, including slurred speech, double vision and tingling, which can be caused by activating brain areas neighboring the target.
The second step involves the surgeon putting the patient to sleep to place an internal pulse generator, or battery pack, under the skin of the chest near the collarbone.
"The generator is about the size of a sports stopwatch, and it delivers a pattern of electrical stimulation to the target where the lead sits," Bhansali said. "The problem with Parkinson's disease is that the normal circuitry of the brain is progressively lost, causing symptoms like tremors, dyskinesia (involuntary, erratic movements) and other complications. DBS allows us to harness other neuronal pathways to mask these symptoms and return function."
Bhansali added that DBS doesn't slow down the neurodegenerative disorder's progression, but it does help control Parkinson's motor symptoms. The stimulation can be adjusted over time, too.
On September 1, Montoya's DBS procedure took place at Texas Health Fort Worth.
"My dystonia was causing my right foot to cramp, and a nurse rubbed my foot to comfort me," Montoya said. "We even had a moment of silence to put me at ease, and those acts of kindness completely calmed me."
Montoya remembers every minute of the three-hour surgery, too.
"I was in awe," Montoya said. "My brain was displayed on several monitors in the operating room, and when the surgery wrapped up, I could move my right hand again."
Moving on her own once more, Montoya is grateful for a successful surgery.
"With my dystonia gone, I'm walking normally, and I feel so much better," she said. "It can be devastating to learn you have Parkinson's, but you have to overcome your fears and keep on going."
To learn more about personalized care at Texas Health Fort Worth, click on Neuroscience Services.
Physicians employed by Texas Health Physician Group practice independently and are not employees or agents of Texas Health Resources hospitals.
About Texas Health Resources
Texas Health Resources is a faith-based, nonprofit health system that cares for more patients in North Texas than any other provider. With a service area that consists of 16 counties and more than 7 million people, the system is committed to providing quality, coordinated care through its Texas Health Physicians Group and 29 hospital locations under the banners of Texas Health Presbyterian, Texas Health Arlington Memorial, Texas Health Harris Methodist and Texas Health Huguley. Texas Health access points and services, ranging from acute-care hospitals and trauma centers to outpatient facilities and home health and preventive services, provide the full continuum of care for all stages of life. The system has more than 4,100 licensed hospital beds, 6,400 physicians with active staff privileges and more than 26,000 employees. For more information about Texas Health, call 1-877-THR-WELL, or visit www.TexasHealth.org.