Welcome to Texas Health Fort Worth
Texas Health Harris Methodist Hospital Fort Worth has a longstanding history of providing advanced medical care. Serving North Texas as a designated Emergency Center of Excellence by Emergency Excellence, the hospital has also been awarded the highest advanced certification by The Joint Commission as a Comprehensive Stroke Center and is the first hospital in the country to earn the prestigious designation as a Joint Commission Primary Heart Attack Center. Additionally, it is only the second hospital in the nation to earn the Gold Seal of Approval for Brain Tumor Certification by The Joint Commission. We also offer outstanding care for growing families and have been voted the "Best Place to Have a Baby" 20 times by readers of Fort Worth Child magazine. After 90 years of service, our commitment to the growing community remains strong.
Parking & Transportation
Six parking areas surround Texas Health Harris Methodist Hospital Fort Worth.
For more information on where parking is available, view or print a copy of the adjacent campus map.
---
Visitor Information
Hospital Inpatients
Effective 4/6/2021, two visitors per patient per day.
Labor & Delivery/Postpartum
Two support persons and/ or doula may be allowed depending on the COVID-19 status of the mother, support persons and/ or doula. If the patient does not have COVID-19 or symptoms, the doula may be present. However, if the patient tests positive for COVID-19 at admission, the doula must leave immediately. The same support persons must remain throughout labor and delivery. Once moved to postpartum, visitors can be switched out each day.
Neonatal ICU (NICU)
Two parents/guardians may be allowed depending upon their COVID-19 status.
Emergency Department
Effective 11/24/2020, one visitor per patient per day.
Behavioral Health
For safety, positive/suspected positive COVID-19 patients will not have visitors.
Note: Dining Options currently limited; Gift Shop temporarily closed.
Dining Options
---
Cramer Café
Location: Ground floor, between Bloxom Tower and Ben Hogan Center
Monday through Friday
7 a.m. – 2 a.m.
Plaza Café
Location: Plaza level, Richardson Tower
Monday through Friday
11 a.m. – 2 p.m.
CaTed's Coffee Shoppe
Location: Ground floor, between Jones Tower and Harris Tower
Monday through Friday
7:30 a.m. – 3 p.m.
Subway
Location: Ground floor, Ben Hogan Center
Monday through Friday
7:30 a.m. – midnight
Saturday and Sunday
8 a.m. – 9 p.m.
Einstein's Brother's Bagel
Location: Ground floor, Harris Center
Monday through Friday
8 a.m. – 2 p.m.
Fresh Market Café
Location: Ground floor between the Jones and Harris Towers
The Fresh Market Café offers traditional vending options along with fresh fruit, sandwiches and healthy snacks. Credit cards and cash are accepted.
Pharmacy
---
Texas Health Pharmacy Kiosk
Location: First floor, Emergency Department
Stocked with medications to save you a trip to the pharmacy. Talk to your ED Provider or call 682-236-2500.
Available 24/7
Walgreen's
Ground floor, Harris Center
Monday through Friday
8:30 a.m. – 6 p.m.
817-882-8670
Gift Shops
---
Main Hospital Lobby
Monday through Friday
7 a.m. to 9 p.m.

Saturday and Sunday
9:00 a.m. to 8 p.m.
Phone: 817-250-3152
For after hours ordering: 1-877-887-3200


Lori's Online Gift Shop
With the online gift shop, loved ones can send gifts from anywhere—24/7. The online store has items that can be delivered to patients on the same-day in most cases. Browse the virtual aisles of the online gift shop to send flowers, balloons, gift baskets, and more to patients staying in the hospital.
Place your orders online
Chapels
---
People of all faiths are welcome to use the chapels on the campus of Texas Health Fort Worth. If you need a chaplain, please ask the nurse or call 817-250-2092.
Castleberry Chapel
Plaza level, Richardson Tower
Meditation Chapel and Garden
Ground floor, Heart Center
Smith Chapel
First floor, Harris Tower
Virginia Clay Dorman Chapel
Ground floor, Emergency Department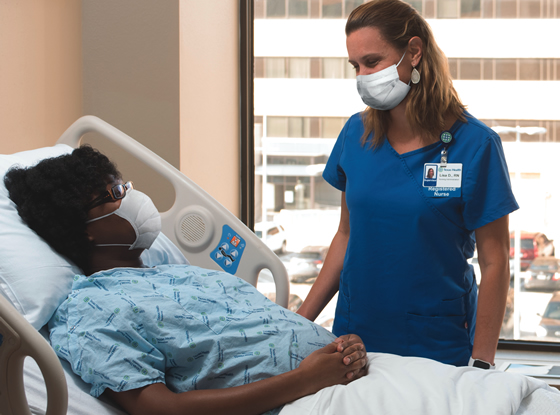 Visitor Guidelines & Your Upcoming Visit
We have modified many of our guidelines to help keep our patients, their visitors, our care teams and the entire North Texas community safe. Find information to help you prepare for your procedure or visit.
Joseph DeLeon

Joseph DeLeon, became president of Texas Health Harris Methodist Hospital Fort Worth in January 2018. As president, DeLeon shares leadership responsibilities with Chief Medical Officer Michael Thornsberry, M.D., M.B.A., FACHE, FAAPL, and Chief Nursing Officer Elaine Nelson, D.N.P., R.N., NEA-BC, CENP.

DeLeon returned to Texas Health Fort Worth after almost five years as president of Texas Health Harris Methodist Hospital Southwest Fort Worth. He is a former captain of the United States Air Force Medical Services Corps and has served in health care management since 1991.

DeLeon first joined Texas Health in 2005 as vice president of professional services and business development at Texas Health Fort Worth, where he was responsible for all ancillary functions, strategic planning and business development activities for the hospital. In January 2013, DeLeon was named president of Texas Health Southwest. Under his leadership, Texas Health Southwest achieved the Truven 100 Top Hospital two years in a row and the Pinnacle of Excellence Award for Patient Experience from Press Ganey. The Texas Health Southwest leadership team also worked to bring Texas Health Clearfork online and become a joint replacement destination.

DeLeon is an active leader in the community, serving as chairman of the boards of Texas Rehabilitation Hospital and the Tarrant County March of Dimes, and on the boards of North Texas Community Foundation and the Healthy Tarrant County Collaboration. He previously served as president of the Fort Worth Hispanic Chamber of Commerce. DeLeon has been recognized many times for his leadership of the hospital, including a 2017 Minorities in Business Award from the Fort Worth Business Press. The awards recognize Tarrant County's top minority leaders in business and the community. Honorees are chosen based on professional achievements, community contributions, philanthropy and other milestones.

A graduate of Leadership North Texas, Leadership Fort Worth and Leadership Bryan-College Station, DeLeon was previously named to the Fort Worth Business Press 40 under 40 and holds a Certificate of Leader Development from the U.S. Army War College Commandant's National Security Program. He is also an associate with the American College of Healthcare Executives.

DeLeon earned a bachelor's degree in political science and a minor in business management in 1991 and a master's in public administration in 1994 from Texas A&M University.

Elaine Nelson, Chief Nursing Officer

Elaine Nelson

Elaine Nelson, D.N.P., R.N., NEA-BC, CENP, serves as the chief nursing officer and vice president of patient care services at Texas Health Fort Worth. Prior to assuming chief nursing officer responsibilities on an interim basis in March 2011, she had served as the hospital's director of restorative services since 2004.

As chief nursing officer, Nelson oversees the strategic, operational, clinical and financial performance of the hospital's nursing services. She brings more than 20 years of nursing leadership to the CNO position.

Prior to joining Texas Health Fort Worth, Nelson worked at Baylor Health Care System in a variety of positions. She began as a staff nurse in the medical surgical intensive care unit at Baylor University Medical Center at Dallas, became nurse manager of the intensive care unit and later nurse manager of a vascular surgery and cardiac telemetry unit. She also served as the director of nursing and vice president at Baylor Medical Center at Waxahachie.

A native of Canada, Nelson started her nursing career in Edmonton, Alberta, in medical-surgical and cardiovascular services. Throughout her career she has developed a passion for critical care and assisting patients and their families with extremely stressful situations.

Nelson received a Bachelor of Science degree in Nursing from the University of Manitoba in Canada and a Master of Science in Nursing from Baylor University. She holds certifications as a critical care registered nurse and board-certified advanced nurse executive.

Michael Thornsberry, Chief Medical Officer

Michael Thornsberry

Michael Thornsberry, M.D., MPH, FACHE, FAAPL, is chief medical officer for Texas Health Harris Methodist Hospital Fort Worth and Texas Health Specialty Hospital.

Dr. Thornsberry previously was chief medical officer for Hospital Corporation of America's Coliseum Health System in Macon, Ga. He previously held leadership positions with Veterans Health Administration in Birmingham, Alabama, and at Wellmont Health Systems' Jonesborough Medical Associates, where he served as chief of staff and medical director, respectively.

He received his Bachelor of Arts in biology and his Doctor of Medicine degree from the University of Missouri-Columbia. Dr. Thornsberry completed his family medicine residency at the University of Alabama-Birmingham and his Master of Business Administration with a Certificate of Healthcare Administration from King University. He earned his Master of Public Health degree from Liberty University.

Dr. Thornsberry and his wife, Susan, married in 1980 and have two daughters, Melissa and Sarah. In his free time, he enjoys hiking, canoeing and fly fishing, and has a special interest in humanitarian outreach and service.