September 17, 2020
Schwannoma tumor patient grateful for spine procedure at Texas Health Plano
PLANO, Texas — Driving down a winding back road in Frisco, Julio Molina lost control of his car, which flipped and hit a tree. Amazingly, he walked away with a few bumps and bruises, but his car was totaled.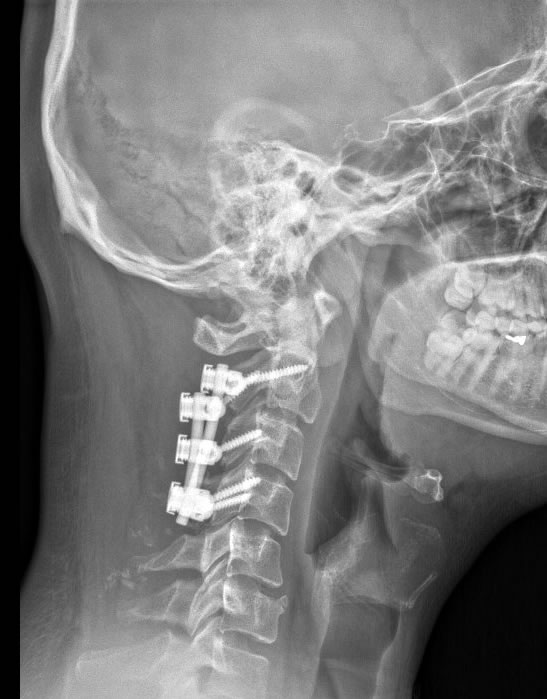 Julio Molina underwent an intricate procedure that resulted in several screws and two rods now holding his spine in place.
To make sure he didn't have internal injuries, Molina went to the ER at Texas Health Hospital Frisco. X-ray images revealed something unrelated to the car wreck. A significant and possibly cancerous tumor was growing on his cervical spine, threatening his mobility and quality of life.
"I was dealing with so many obstacles — the total wreckage of my car, finding out I had a tumor — and a week after the accident I learned my girlfriend and I would soon welcome our first child into the world," Molina said. "That was a lot to digest at one time."
Two months after the accident, Molina underwent an intricate, eight-hour spine procedure performed at Texas Health Presbyterian Hospital Plano to remove the tumor.
"He had a large Schwannoma tumor destroying his spine," said Ricky Kalra, M.D., a neurosurgeon on the medical staff at Texas Health Plano and chair of the hospital's surgery department. "Located at the base of his skull, the tumor was compressing his cervical spinal cord and the vertebral artery. Because of their size and location, these types of tumors can cause devastating symptoms, including muscle weakness and numbness, hearing problems and even facial paralysis."
For more than two years, Molina unknowingly experienced one of those symptoms.
"At the time, I just thought I had a pinched nerve in my back," Molina said. "Sometimes my neck and the back of my head would feel numb, and every couple of months my hands would become numb. I didn't know it, but the tumor was putting pressure on my spinal cord."
To stop the tumor from corroding the vertebrae in Molina's spine, Kalra performed a laminectomy, in which he removed the corroded vertebrae. He then performed a spinal fusion to permanently connect several vertebrae in Molina's spine.
"It's an intricate process that involves a surgeon using an intraoperative CT scanner and a GPS navigation system along with a high-powered microscope, all to find and extract the tumor," Kalra said.
Molina's tumor, about the size of a lemon, was surgically removed.
"My mind was racing. I didn't know the outcome of the surgery, and I still didn't know if I had cancer," Molina said. "I just knew I couldn't give up. I had to be there for my unborn child."
Spending several days recovering at Texas Health Plano, Molina worked with physical therapists. "I started out using a walker, and then the therapists tied a belt around my waist to help me with my balance," he said. "By the time I left, I was walking without assistance, which was great."
A pathology report soon determined the tumor was non-cancerous, and Molina now has six screws and two rods securely holding his spine in place.
"I have to admit, I was depressed at times, but my faith in God and my family got me through everything," he said. "I never imagined I'd be where I am today. After surgery, I had to learn how to walk all over again. But now I'm back at work and walking on my own. I'm enjoying life and looking forward to welcoming my child into the world next year."
To learn more about customized care at Texas Health Plano, click on Neuroscience Services.
About Texas Health Resources
Texas Health Resources is a faith-based, nonprofit health system that cares for more patients in North Texas than any other provider. With a service area that consists of 16 counties and more than 7 million people, the system is committed to providing quality, coordinated care through its Texas Health Physicians Group and 29 hospital locations under the banners of Texas Health Presbyterian, Texas Health Arlington Memorial, Texas Health Harris Methodist and Texas Health Huguley. Texas Health access points and services, ranging from acute-care hospitals and trauma centers to outpatient facilities and home health and preventive services, provide the full continuum of care for all stages of life. The system has more than 4,100 licensed hospital beds, 6,400 physicians with active staff privileges and more than 26,000 employees. For more information about Texas Health, call 1-877-THR-WELL, or visit www.TexasHealth.org.