October 08, 2021
Texas Health taking multipronged approach to bring education, resources and vaccines to underserved communities
ARLINGTON, Texas — Texas Health Resources is continuing to make strides in bringing vaccines to underserved communities that have been hit the hardest by the COVID-19 pandemic but face the greatest barriers in getting vaccinated.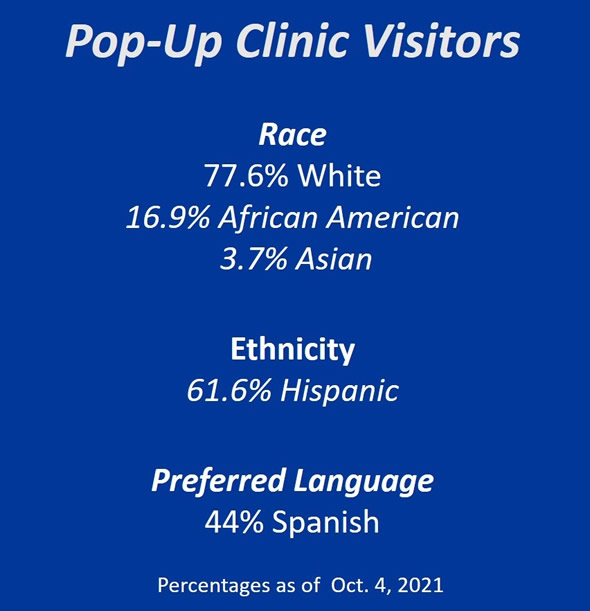 By teaming up with community organizations, businesses and churches already trusted in these communities, Texas Health has administered more than 9,800 vaccine doses at more than 130 pop-up clinics in Tarrant, Erath, Johnson and Kaufman counties.
The pop-up clinics are part of a three-pronged approach that also includes providing education and resources.
"We are not just bringing vaccines to these underserved areas. A lot of outreach and education oftentimes needs to happen upfront to change behavior and mindsets and get individuals to our pop-up clinics," said Catherine Oliveros, Dr.PH, vice president of Community Health Improvement at Texas Health.
Vaccinating underserved communities, including some minorities, has been a challenge throughout the country. Vaccination rates for Blacks and Hispanics continue to lag behind that of Whites despite reports by the CDC that the minority groups are two times or more likely to be hospitalized or die from COVID-19 compared to White non-Hispanic persons.
As of Oct. 4, the CDC reported race/ethnicity was known for 60.5 percent of people nationwide who had received at least one dose of the vaccine. Of that group, 60.1 percent were White, 17.3 percent were Hispanic/Latino, 10.5 percent were Black and 6.0 percent were Asian. The remaining were American Indian/Alaska Natives (1.0 percent), Native Hawaiian/Other Pacific Islander (0.3 percent) and multiple/other (4.6 percent).
Below is a summary of the ways that Texas Health is working to bring education, resources and vaccines to underserved communities and how members of the community can access these services.
Pop-up Clinics
Texas Health has teamed up with community, business and faith organizations in underserved communities to host pop-up vaccine clinics, giving residents easy access to vaccines within their own neighborhoods. Through these clinics, Texas Health has administered nearly 10,000 vaccine doses to hard-to-reach populations.
What began as clinics throughout Tarrant County has now expanded to Erath, Johnson and Kaufman counties thanks to a $1 million grant from the Communities Foundation of Texas' W.W. Caruth, Jr. Fund. Bilingual and bicultural mobile teams are available at all pop-up clinics.
To date, the Texas Health Mobile Health team has held more than 130 clinics at roughly 40 different locations, vaccinating more than 9,600 North Texans and counting. A list of upcoming pop-up vaccination clinics can be found here.
For appointment scheduling, call 1-855-318-7696. Walk-ins are welcome.
Education
Using social media ads aimed at specific geographical locations and with the help of trusted authorities and community partners, Texas Health is raising awareness about our pop-up clinics and debunking myths about the vaccines.
With a recently awarded grant of almost $1 million from the Health Resources and Services Administration (HRSA), Texas Health is joining forces with local universities to create and deploy a vaccine education plan that engages students as representatives of their local vulnerable and vaccine hesitant communities. Each university will implement a master's level, credit-based course in which students from multidisciplinary majors will develop and implement outreach and education strategies that are culturally appropriate and relevant. The effort will focus on underserved communities in Dallas, Collin and Kaufman counties.
Community Outreach Resources
Texas Health has created educational and awareness resources in multiple languages that are being provided for free to leaders and organizations of influence to share within their communities. These resources address common fears and myths about the vaccine, explain how the different types of vaccines work and give tips on ways to support one's community.
"Texas Health knows that those who often have the biggest impact in raising awareness and sharing information about vaccines are trusted members of the very communities we're trying to reach," said David Tesmer, M.P.A., Chief Community and Public Policy Officer.
The public can access these free resources on the Texas Health website at TexasHealth.org/CommunityResources.
Texas Health also provides information about COVID-19 and the vaccines, including where to get tested, vaccine eligibility criteria, how to replace a lost vaccine card, and a COVID-19 Symptom Checker, on its website here.
About Texas Health Resources
Texas Health Resources is a faith-based, nonprofit health system that cares for more patients in North Texas than any other provider. With a service area that consists of 16 counties and more than 7 million people, the system is committed to providing quality, coordinated care through its Texas Health Physicians Group and 29 hospital locations under the banners of Texas Health Presbyterian, Texas Health Arlington Memorial, Texas Health Harris Methodist and Texas Health Huguley. Texas Health access points and services, ranging from acute-care hospitals and trauma centers to outpatient facilities and home health and preventive services, provide the full continuum of care for all stages of life. The system has more than 4,100 licensed hospital beds, 6,400 physicians with active staff privileges and more than 26,000 employees. For more information about Texas Health, call 1-877-THR-WELL, or visit www.TexasHealth.org.