August 23, 2022
Researchers looking for additional participants
DALLAS — Lower leg warming therapy may have a positive effect on your blood pressure. That's what researchers from the Institute for Exercise and Environmental Medicine (IEEM) in Dallas are studying in older women who suffer from hypertension or high blood pressure.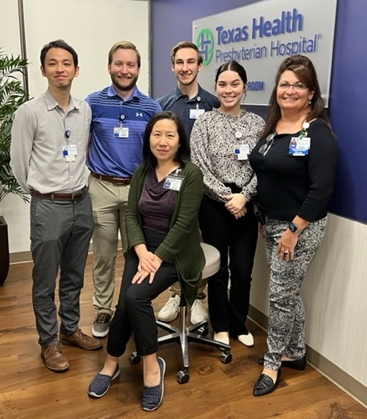 IEEM research team
"We're trying to determine if lower leg heating, in combination with a drug treatment, may lower blood pressure more effectively than the drug treatment alone," said Qi Fu, M.D., Ph.D., director of the Women's Heart Health Laboratory at the IEEM.
"It's basically like providing a sauna for the legs," said Benjamin Levine, M.D., director of the IEEM and professor of Medicine and Cardiology at UT Southwestern. "If this strategy works, it will provide a novel, safe, and easy way to improve blood pressure control in older women, a group for whom treatment of hypertension is often very challenging and hopefully reduce the risk of heart attack or stroke."
Researchers at the IEEM, a joint program between Texas Health Presbyterian Hospital Dallas and UT Southwestern Medical Center, are three years into the study, which involves women ages 60-85 who have high blood pressure or are taking blood pressure medication but are otherwise healthy.
So far, 70 women who have completed pre-testing have been provided a portable foot spa to take home. Over the course of eight weeks, participants warm their lower legs for 45 minutes per session, four times a week. Each participant keeps a daily record of their blood pressure, heart rate and skin temperature during each heating session.
"Participants are in contact with one of our team members and may come into the clinic every two weeks for further evaluation," said Sierra Proctor, a research associate at the IEEM.
Nearly half of adults in the U.S. have high blood pressure, which increases their risk for heart attack, stroke, kidney disease and many other health conditions. Women age 70 and older are more likely to have uncontrolled hypertension even if they are being treated, according to the American Heart Association.
"While we take pride in delivering quality care to our patients, we also have researchers on our campus who are studying ways that people can make a positive impact on their health," said Jim Parobek, president of Texas Health Dallas.
Researchers are still looking for about 80 more participants, in hopes of publishing preliminary data next summer.
In addition to participants in the study being compensated for their time, they will receive study-related assessments at no cost, including blood pressure checks and bloodwork.
About Texas Health Resources
Texas Health Resources is a faith-based, nonprofit health system that cares for more patients in North Texas than any other provider. With a service area that consists of 16 counties and more than 7 million people, the system is committed to providing quality, coordinated care through its Texas Health Physicians Group and 29 hospital locations under the banners of Texas Health Presbyterian, Texas Health Arlington Memorial, Texas Health Harris Methodist and Texas Health Huguley. Texas Health access points and services, ranging from acute-care hospitals and trauma centers to outpatient facilities and home health and preventive services, provide the full continuum of care for all stages of life. The system has more than 4,100 licensed hospital beds, 6,400 physicians with active staff privileges and more than 26,000 employees. For more information about Texas Health, call 1-877-THR-WELL, or visit www.TexasHealth.org.