September 14, 2022
Texas Health Dallas Patient Went from Cancer Diagnosis to Chemo in Hours
DALLAS, Texas – In a span of several hours on May 17, 2013, Beth Lyons' life changed dramatically.
At 3 p.m., the Dallas teacher was telling her kindergarten class to have a great weekend before rushing off to an appointment with a hematologist to discuss recent blood test results that seemed "a bit off."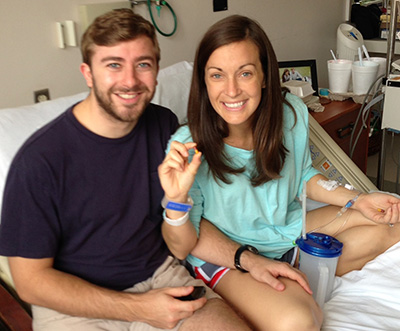 Less than two hours later, the 23-year-old, who had gotten married less than four months earlier, was being told she had blood cancer by Jaya Juturi, M.D., a hematology oncology specialist on the medical staff at Texas Health Presbyterian Hospital Dallas. Not only that, but she had to go to the hospital immediately to begin chemotherapy.
For the next 34 days, Lyons would call the hospital's oncology unit home as she underwent the first of several rounds of chemo for what blood tests would later confirm was acute myeloid leukemia (AML), a rare cancer in which the body's bone marrow produces too many abnormal white blood cells, clogging up the marrow and spilling into the blood and different organs.
Today, Lyons remains cancer free and is sharing her story to educate others for Blood Cancer Awareness Month. She credits God and caregivers at Texas Health Dallas with giving her a second chance at life.
"I was in the right place at the right time with the right doctor," Lyons said. "We just created such incredible relationships with these staff members – these nurses, these doctors. They saved my life."
Dismissed Symptoms
In the weeks before her diagnosis, Lyons had attributed numbness in her leg to her sciatic nerve and the tiredness she felt to the closing of the school year. Nor did she pay much mind to the bruises that had begun appearing on her body.
She is grateful that her family convinced her to get checked out, as she later learned just how close she'd come to death.
Lyons recalls a conversation with Juturi. "She said, 'Beth, if you hadn't started chemo when you did, you would not have lived through the weekend.' You're supposed to have 200,000 to 400,000 platelets. I had 17,000 left in my body. I would have bled out."
Lyons' more than two-year treatment journey was at times rough, but family, friends and her students helped keep her spirits high.
"I will never forget what a fantastic experience it was to see her be cured," Juturi said. "Beth is one of the most grounded young patients I have taken care of with this grave disease. She went through some very difficult times with toxicity during treatment yet always had a spirit of kindness and positive attitude."
Purpose in life
Months after completing chemotherapy, Lyons said she and her husband were blessed again when they learned she was pregnant with their first of two children.
Even before telling other family members, the couple took the sonogram picture to Juturi's office. Days into Lyons' treatment, Juturi had been the one to break the difficult news to the then newlyweds that the treatment would leave Lyons unable to get pregnant.
"I just handed her the picture. She said, 'Whose is this?'" Lyons recalled. "I said, 'Dr. Juturi. This is our baby' and she said, 'This isn't possible with what I did to your body.'
"She starts crying, and we start crying. It was just so sweet to be able to celebrate with her."
Lyons believes God creates everyone for a purpose and that her reason for survival was to help two students later diagnosed with leukemia.
"I hope people know they're here for a reason; they have purpose even when their world is dark and heavy, and it doesn't always feel that way," Lyons said. "At some point, you're going to impact someone's life, whether you know it or not."
Learn more about Texas Health's oncology services and find a cancer specialist at our website.
About Texas Health Resources
Texas Health Resources is a faith-based, nonprofit health system that cares for more patients in North Texas than any other provider. With a service area that consists of 16 counties and more than 7 million people, the system is committed to providing quality, coordinated care through its Texas Health Physicians Group and 29 hospital locations under the banners of Texas Health Presbyterian, Texas Health Arlington Memorial, Texas Health Harris Methodist and Texas Health Huguley. Texas Health access points and services, ranging from acute-care hospitals and trauma centers to outpatient facilities and home health and preventive services, provide the full continuum of care for all stages of life. The system has more than 4,100 licensed hospital beds, 6,400 physicians with active staff privileges and more than 26,000 employees. For more information about Texas Health, call 1-877-THR-WELL, or visit www.TexasHealth.org.